I have been a longtime admirer of Heath Ceramics, the eponymous ceramics company launched by Edith and Brian Heath in 1948, before being purchased and revitalized by Robin Petravic and Catherine Bailey in 2003. So when a recent trip to San Francisco provided me with time and opportunity to visit their tile factory and showroom, I arrived for the 11:30 AM tour as if prepared for a job interview. I had anxiously registered for the Saturday tour after discovering the Friday "working" tour was at capacity for the next month. After promptly checking in upon arrival—like an overeager, and highly unpopular student yelling "Here! Here!"—I browsed the sets of iconic dinnerware and waited.
While coddling the classic Coupe collection I overheard a couple ask if there was room to join the tour. They were told the tour was technically full but they would be added to the wait list, and that they should stay close because only one person had checked in. Me! Me!
I barely had time to set down the Coupe bowl before joining the lucky couple at the starting point of the factory tour. It had been raining relentlessly since my arrival in the city two days before, and because the sun had returned, the three of us enjoyed a nearly private tour!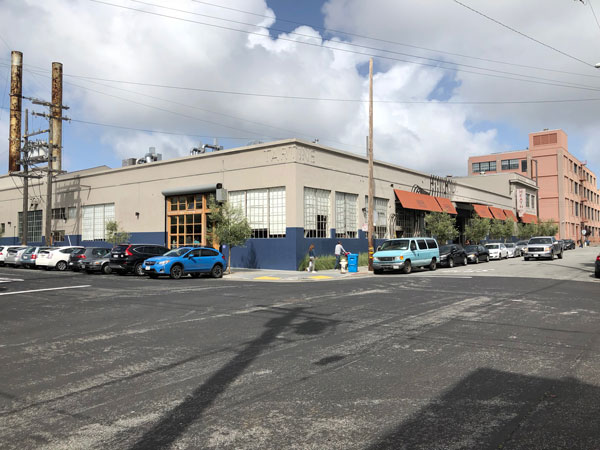 Heath Tile factory and showroom
The building we were standing in was a relatively recent addition to the Sausalito-based Heath. (Other locations include a sales gallery in the Ferry Building and another studio and showroom in LA.) The San Francisco location in the Mission occupies a former linen factory, renovated for Heath in 2012. Before even beginning the tile tour, we were introduced to members of the Heath Collective—a group of maker-kin and collaborators, including Japanese design store Playmountain, the Aesthetic Union letterpress print shop, and the delectable Tartine Manufactory (to name only those on street level).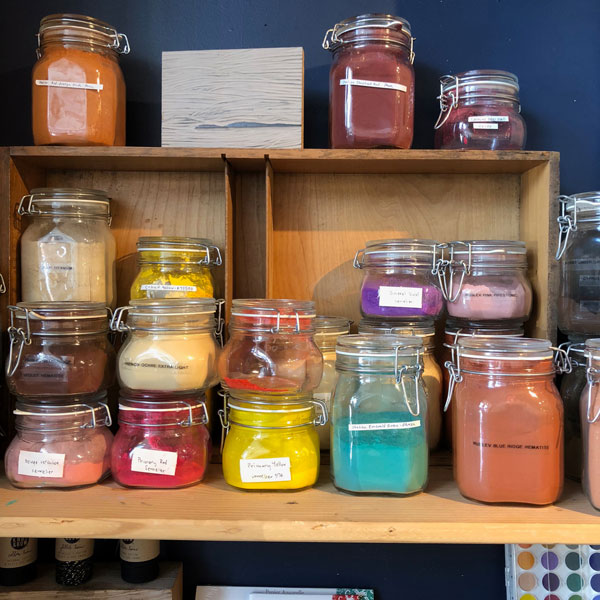 Watercolor pigment at Aesthetic Union
At the center of it all is the Heath Tile factory, artfully and functionally organized under a radiant clerestory that was easily the most photogenic manufacturing facility I can even imagine.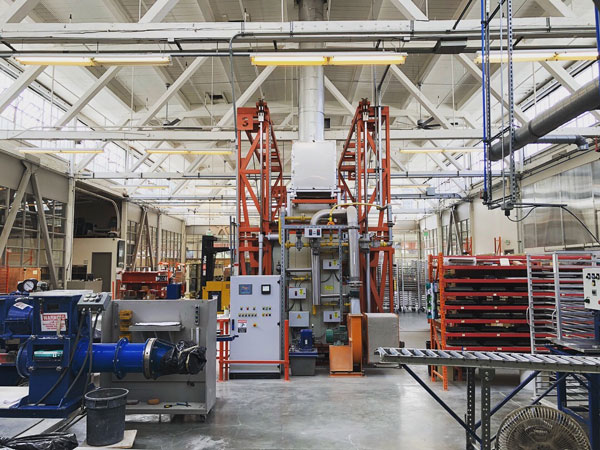 Factory floor and clerestory
The tile factory includes a team of about 20 employees. Machines extrude US-mined white and brown clay like pasta rollers before being cut to size. Textured tiles are pressed three at a time on a small hand-operated press and bullnose tiles are contoured on a belt sander by two patient artisans. After an overnight drying process the glaze is hand-sprayed in a vented booth until a desired—and precise—weight is achieved. Finally, the tiles are fired in one of two kilns, with an "in-stock" line of tile added to fill open space around custom orders. The result is stoneware tile in 100 glazes with defined acceptable color variation that achieves an authentically handcrafted finish in a highly refined and resource-efficient production process, benefitting employees, planet, and end user.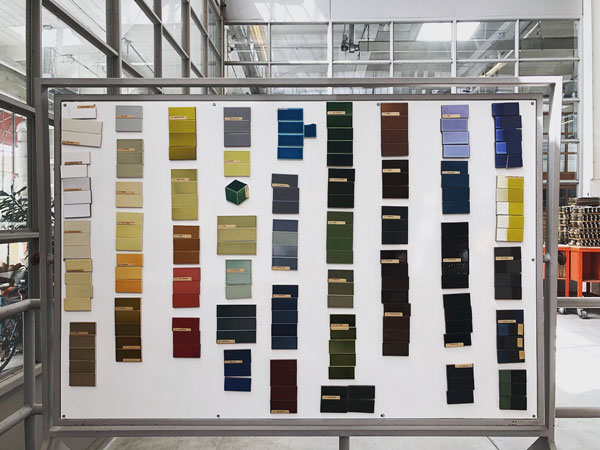 Glaze color variation range
What has always piqued my interest in Heath Tiles is the texture and subtle variation in color. I was expecting, and excited, to learn about process. What surprised me was the holistic nature of the experience. The existence of the factory in a rehabilitated building bursting with industrial-chic inspiration—from the individual panes of glass in the steel windowed clerestory to the original boiler room smoke stacks—and fellow creatives and makers. My tour was a reminder that great design is supported by, and supports, its collaborators. It was a great tour, and a better lesson.
Catherine Bailey and Robin Petravic | Imagine A Day from The Do Lectures on Vimeo.