I enjoy books and over the years have collected quite a few, from slim paperbacks to oversized architecture tomes, but my partner and I recently moved into a house that offered no place to visibly store them. After a semi-exhaustive search, we identified a freestanding unit with potential, but wondered if we couldn't design something built in for the same amount of money. I did a scaled sketch of the fireplace wall with a custom design and sent the drawing to three cabinetmakers for review and estimates. To our delight, the high estimate came back at only a few hundred dollars more than the freestanding option.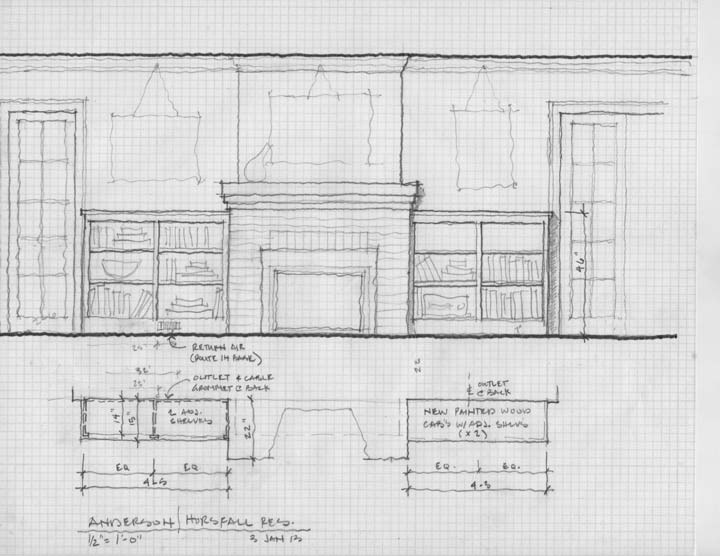 Custom cabinets are more expensive than flat-packed or semi-custom varieties, but it's important to remember that custom cabinet costs usually include installation. This is especially beneficial in an old house like ours where few surfaces are level or square. A cabinetmaker will work with you to make adjustments for a perfect fit.
Our goal was to make the cabinets look original, so the design borrows from existing details in other parts of the room, including dimensions of window trim and baseboards. We also accommodated a return air duct with a routed custom grille and a notable slope in the floor with a taper to the base.
Our cabinetmaker scribed and caulked the cabinets into place and we painted, using the same color as the fireplace and trim for continuity. Professionally painted cabinets are always stunning, but ran the risk of looking too perfect in our storied home. We're thrilled with the result, and grateful for our cabinetmaker, Ken Zehoski, for helping us make our old house feel much more like home.