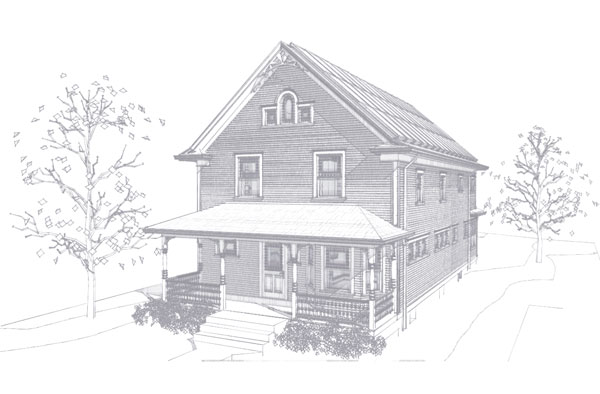 September 16 from 8:00AM-4:00PM will see an unusual groundbreaking. The 107-year-old house at 2021 Harriet, (Whittier neighborhood of Minneapolis) is being renovated to achieve the 'net zero' energy standard. A 'net-zero' house produces at least as much energy as it uses.
There are dozens of 'net zero' houses in US, mainly in Oregon.  What sets this project apart is that it appears to be the first in the Twin Cities — and one of only two or three in the entire US—to  retrofit a 100+ year old house to produce as much energy as it uses.
The house will use solar electricity to run geothermal heating and cooling, as well as all other household energy needs.  The house is anticipated to produce some 20,000 kW hours of electricity per year, while using only 19,000.(subject to continuing modelling)
The house is intended to blend into its Whittier neighborhood.  It will be wrapped in a thick new blanket of insulation–more than 7 inches–yet retain its traditional shape and appearance.  Other than a modest addition at the rear to accommodate a mudroom, the house will remain within its current footprint.
The project has been designed by SALA Architects, and is being constructed by Morrissey Builders.  Both firms were selected for their experience with 'net-zero' design in new houses.
The reconstruction involves using the latest technologies, including high-efficiency solar panels on the roof, wallboard that 'eats' airborne formaldehyde, and blankets of foam that minimize emissions of global-warming chemicals like carbon. The Andersen Window and Door Company is providing a new line of three-paned windows.  The domestic water heater and clothes dryer will be energized by heat pumps.
The owners are aiming at the new 'net-zero' standard set by Green Star, a rigorous third-party certification process that encourages architects and builders to take a holistic approach to sustainable design.
For more information please contact Stewart Herman at 701-541-9172 or Marc Sloot at 612-767-4217.