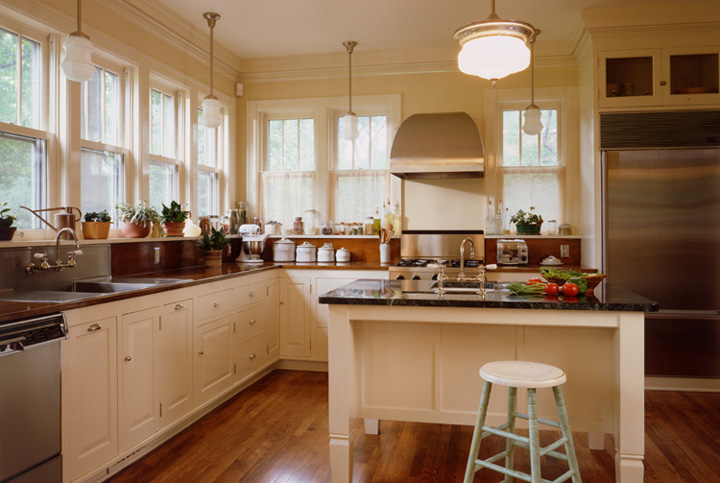 City living is different from suburban living. This is at least partially because the homes are different. New homes, usually found where there is plenty of open land, often do a better job of accommodating our contemporary lives. Those of us who live in old city homes often need to adapt to our homes. But why not instead adapt your old home to contemporary life?
More than anything else, isolated old house kitchens require us to adapt. In most cases we simply put up with the isolation of anyone in the kitchen from the rest of the family. New suburban homes recognize the kitchen as the hub of contemporary family life by usually including a family living area open to the kitchen. Whether the kitchen and family room comprise a single "great room" or the family room adjoins, and opens to, the kitchen, these spaces create an informal living area for the family. Even if a city dweller wanted to add a large family room to an old home there are usually problems of space and appearance. But it's often possible to create a scaled-down family space that's an extension of the kitchen that can meet the needs of contemporary life.
This family space, scaled to be appropriate to a city house and lot, might accommodate anything from a space for kids to do their homework to a sitting area to talk or read that is close to the "action" of the family. Even though small in size, the additional space can transform the way a family lives in their house and results in less need to adapt to the house. And since it's common for guests to congregate in the kitchen when entertaining no matter how small the space, any additional space can keep guests just enough out-of-the-way if kitchen tasks haven't been completed. Furthermore, the small size of these family spaces makes them easier to integrate into an old home in a sympathetic manner.
In one southwest Minneapolis residence, the space needed for such a family space was available with only minor modifications. While the kitchen was being remodeled, architect Eric Odor replaced a wall that separated an existing porch from the kitchen with a decorative archway. With other simple changes the nearly 200 square foot porch became a small family room mostly open to the kitchen.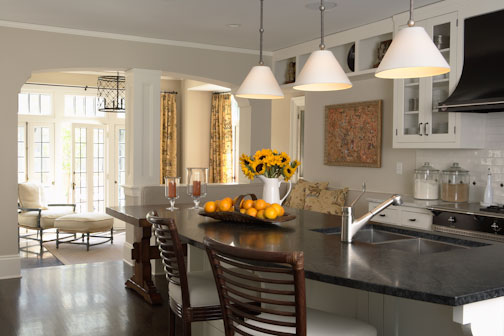 This residence used found space to create family space adjacent to the kitchen. (photo by Susan Gilmore)
Not everyone will be lucky enough to have a space positioned adjacent to the kitchen and readily convertible into family space. More typical is the situation found at another south Minneapolis residence where the family space needed to be created from scratch. The house below had a small kitchen with a work area of only 48 square feet because of two doors located at one end of the room. The kitchen was hardly functional for the homeowners, one of whom was also a serious cook. The homeowners decided to create a small addition scaled to be appropriate to the home for a new kitchen and convert the original kitchen space into a ¾ bath and hallway.
The homeowners' desire for a fireplace somewhere became the impetus to create a "family alcove" of sorts off the kitchen. A fireplace inglenook provides sitting space while a home office area was created by accommodating the homeowners' antique drop front desk. The inglenook required less than 60 square feet and space for the desk added only 10 more. The resulting "family alcove" incorporates a tremendous amount of functional area in a very small footprint.
It may not be possible, or even desirable, to add a large, suburban-style family room to most old homes but that doesn't mean an old home can't adapt to contemporary life. A scaled-down family space open to the kitchen is often possible in old homes while still maintaining the home's historic character.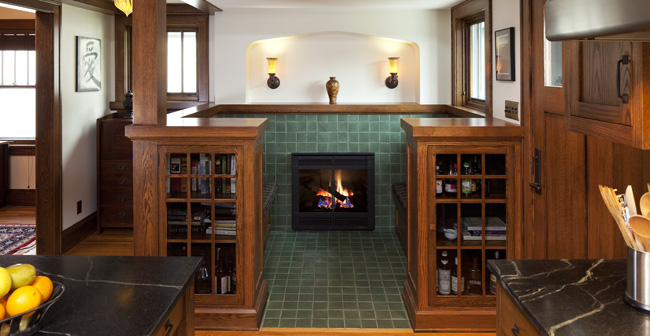 A fireplace alcove was included as part of this new kitchen. (photo by Troy Thies)
Joe Metzler has a wealth of experience on remodels and restorations along with holding seats on local historic preservation boards. You can browse more of Joe's projects on his profile page. You can see more of his commentary where this post originally appeared in ConvenientOldHouse.com.