No matter one's profession, we all are appreciative when we receive recognition for good work. As an architect, most of the work we get is from referrals; from people we have had the pleasure of working with telling someone else about what we did together. Listening intently to their needs, goals, and dreams and always working to exceed their expectations is what an architect strives for.
Kitchen Before Remodel.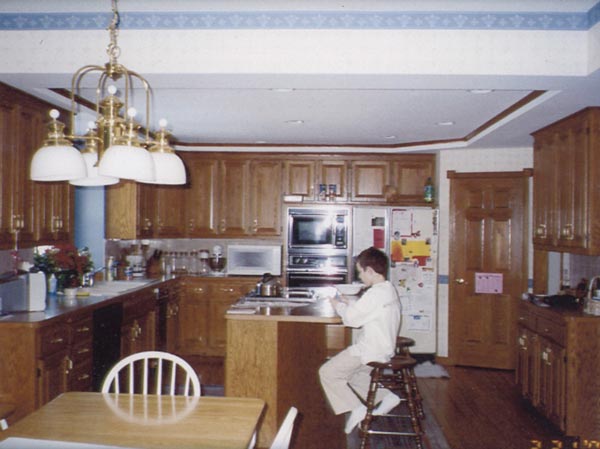 Once in a while, something unexpected comes that makes your day, week, month…, from a project done in 2001. An email I just received from a former client:
"Hi Paul,
Recently, Annie and I had a conversation about the possibility of moving into a smaller home or condo.  After all, our four children are now grown and on their own.  The 6,000 square feet of our home is no longer practical.
In trying to identify what we would want in another place we kept coming back to our current abode.  We love how we live in the house.  A fantastic, well-equipped kitchen, a unique record room, a quaint family room, a charming den and our great bedroom all work well for our purposes.  When we boiled it all down, it all goes back to you.  You designed a perfectly functional space after just a few meetings with us.  You listened to what we wanted and executed a plan that clearly illustrated what we were addressing.  We continue to be grateful for all you did to make us so comfortable in our home.  We plan to stay here a little while longer.  I just wanted to say "thank you!""
This is what an architect tries to achieve with every project!
Kitchen After Remodel.