Architectural photography is an art and a skill honed through years of experience that I am not qualified to explain, but on a recent photo shoot I was reminded of a few challenges worthy of illumination. In this case, it was my own recently completed kitchen that was the subject. It gave me the rare advantage of knowing the space and patterns of light and color variation that architects rarely have access to experience as intimately in the homes of our clients.
The morning we photographed the kitchen was heavily overcast with bouts of intermittent rain. I was immediately disappointed. I wanted light streaming through the windows, dashing across the face of surfaces like in this September shot from our SALA calendar.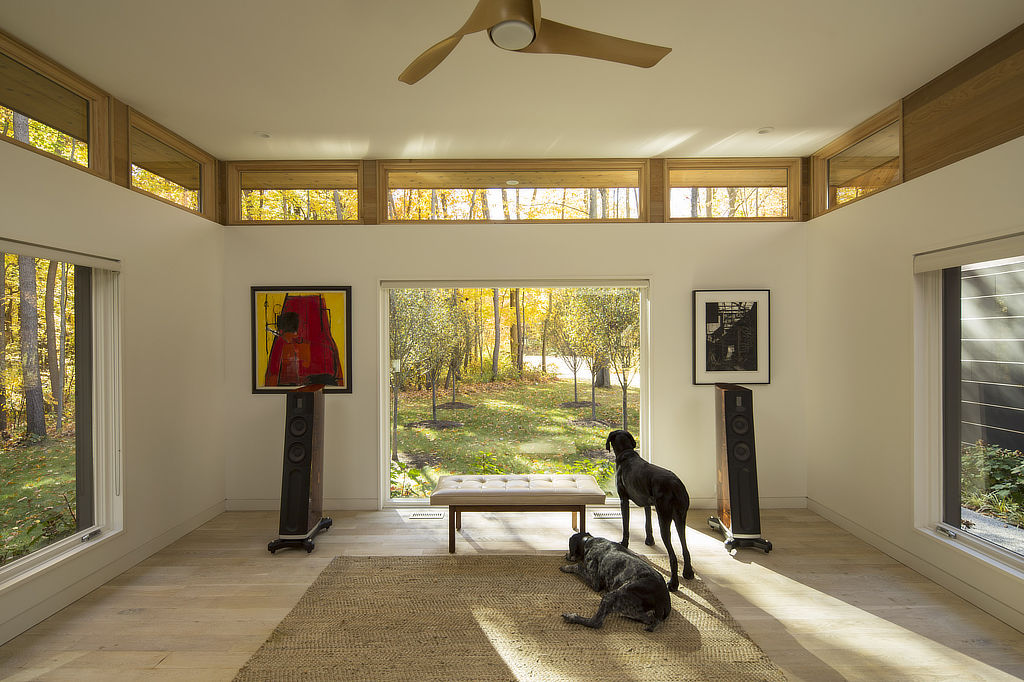 Unfortunately, there were no such dramatic rays to catch. Troy Thies, a regular photographer of our work, was unfazed. "I'm going to shoot natural," he said, and then I proceeded to watch him line up the next five shots without any flash or electric light. And I was thrilled with the result! They captured the soft, natural and slightly austere space we had designed and were enjoying on a daily basis.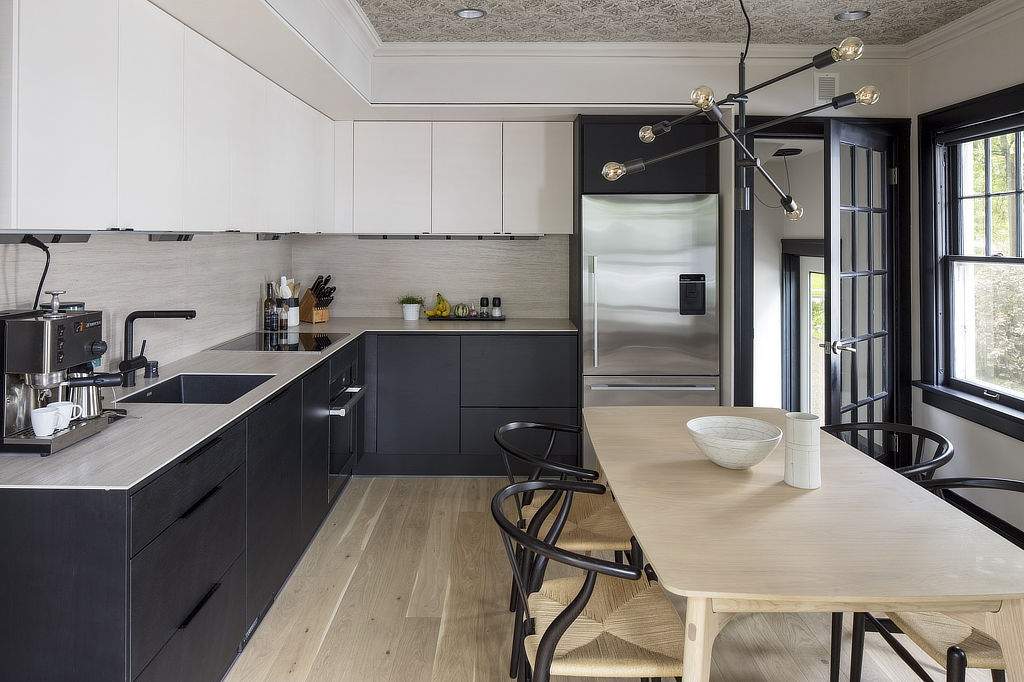 Despite my initial disappointment, shooting naturally on a cloudy day avoided two common challenges of architectural photography: sun and light. These related muses are instrumental to design, but a potential bane to photography!
Take for example this iPhone shot, taken by me on a sunny day in my enthusiasm to capture the spirit of our newly functional kitchen, and compare it to the professional shot from the same vantage point. Note also the limitation of my phone's lens width compared to Troy's "real" camera.
Keep in mind these were both shot with natural daylight only, the difference being a sunny versus rainy day. Let my shot serve as fair warning that the sun is a difficult beast to tame. Though one of my favorite photo shoot memories is of my colleague Katherine Hillbrand attempting to tame it herself during a shoot in Michigan.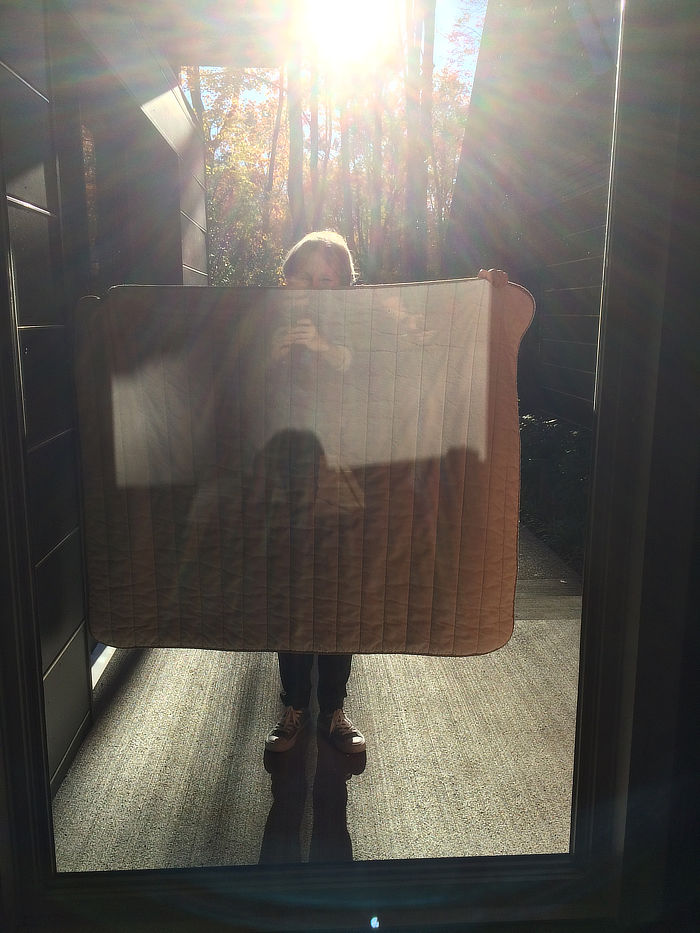 That shoulder-strengthening (and laughter-inducing) exercise served to block the potent rays of the setting autumn sun to capture this image, allowing more muted daylight to be revealed beyond.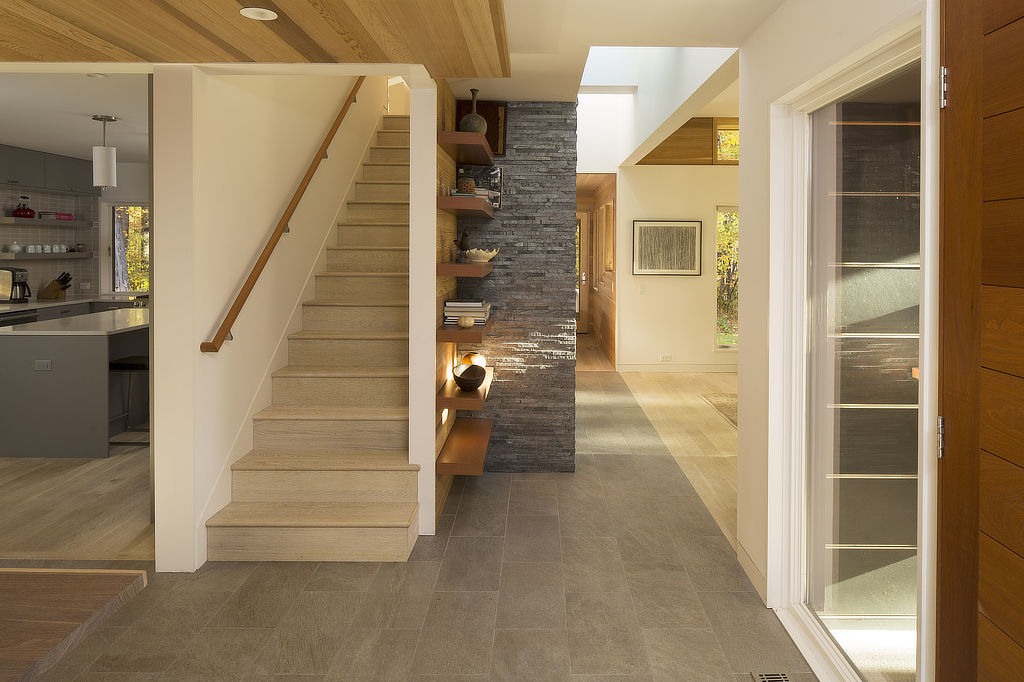 The other difficult challenge for a professional photographer shooting interiors, on any day, is electric light. Anyone who has ever navigated the prolific catalogue of replacement bulbs at Home Depot is aware of how many varieties exist: daylight, bright white, soft white, CFL, LED, filament, filament LED, incandescent, fluorescent! It turns out these limitless options can be confusing and overwhelming to homeowner and camera alike. Many of these varieties are captured differently in digital images than they appear to the human eye, and often need tedious color correction to mitigate the difference for a final image.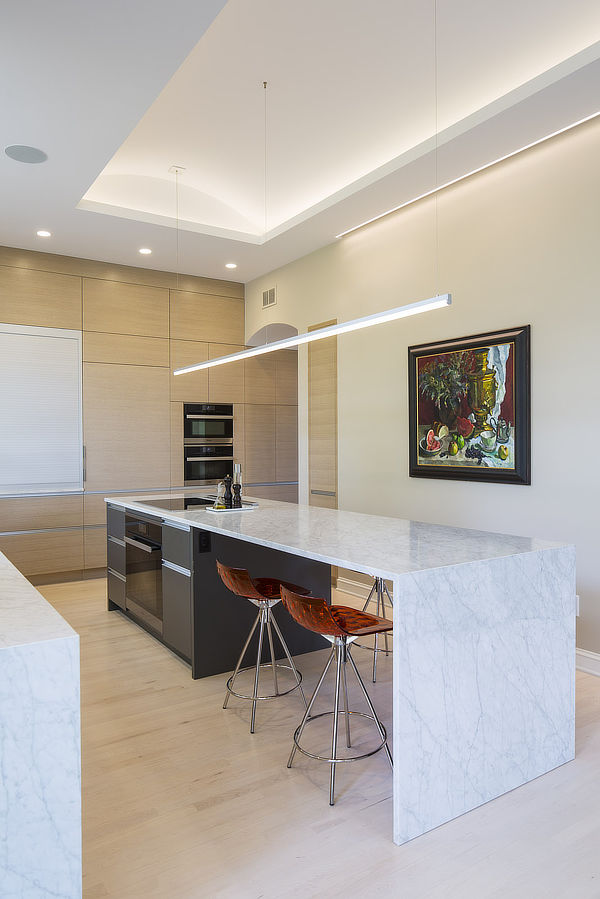 This professional image from an Edina kitchen renovation was easily captured with every light on because all electric light sources—in recessed cans, continuous tape, and suspended channels—were uniformly 3000K LED diodes. Indirect daylight also benefited the shot from behind the camera.
Compare that to another snapshot from me. Our continuous under-cabinet LED lights are 3000K (pretty white) and the LED filaments in our chandelier are 2200K (very warm), and both are downright yellow looking into daylight. The color temperature variety we selected was intentional to create a range of moods, but using all in a photograph would have appeared downright combative in a raw digital image, without some post-production color correction.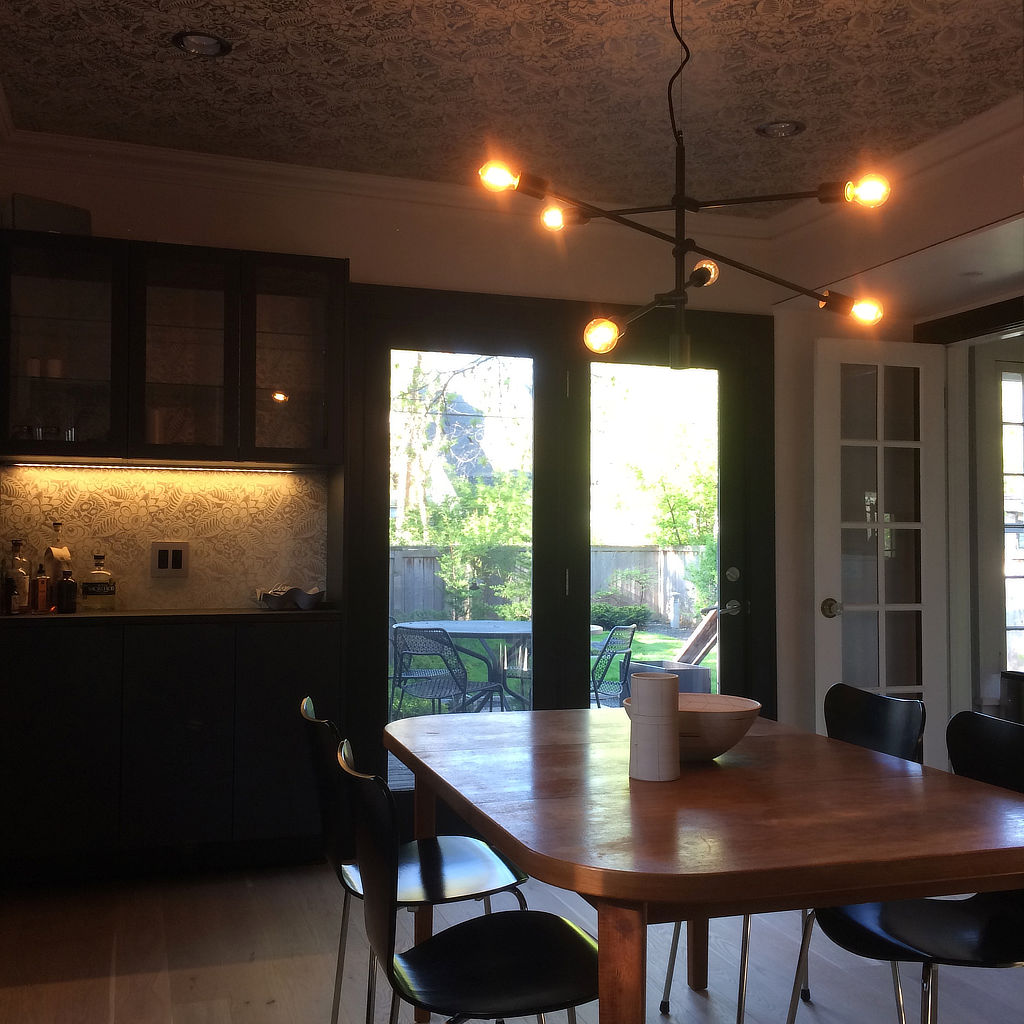 Having experienced these lessons personally, I thoroughly enjoy flipping through glossy magazine images wondering how many flashes might be popping during the shot or who may be posed just outside the frame with an enormous umbrella. Architectural photographers are pro's, with only a few hours to try to capture the experience that a homeowner may take weeks, months, or years to discover and enjoy.