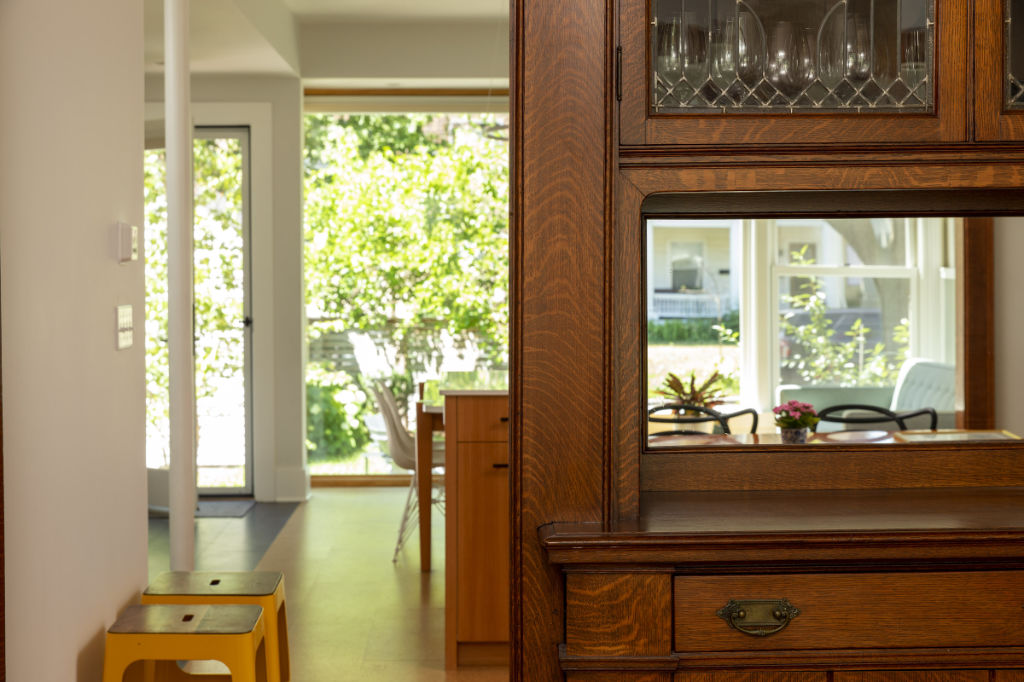 I have been on a run of project photography and promotion this summer, and coincidentally all for projects that represent significant transformations. After spending so many months in design and construction—and all to some extent impacted by the pandemic—it's easy to forget where each one started. But it's incredibly rewarding to revisit!
Take for example this pied-a-terre overlooking Bde Maka Ska. In an effort to visually open and lighten the existing industrial aesthetic without sacrificing all the embodied energy that went into extensive concrete block and iron work, we plastered masonry walls with a light finish and complemented corrugated metal ceilings with warm Douglas Fir-veneered plywood.
Or this walk-out rambler that began with a desire to add a screened porch into a park-like backyard and culminated in a thermally improved enclosure with substantially increased daylight and open floor plan. You can read more about this home in a recent feature from the Star Tribune.
A visit to a cabin renovation in northern Minnesota was a literal "before and after" for me, having not been on site since the cabin's purchase by our client in 2019. Between distance and pandemic, our involvement during construction was virtual, making my arrival for photography a highly anticipated experience! Most transformative was the gathering space where a previously flat and low ceiling at seven-feet was replaced with a gentle arch to increase actual and perceived height without raising the existing bearing walls. Finishing the curve with painted tongue-and-groove boards creates forgiveness from perfection and opportunity for light to refract across the surface.
Closer to home, in the Whittier neighborhood, this transformation is barely conceivable from the exterior—and that was the point. Extending a unique cross-gambrel roofline on this small Dutch Revival home added space for a basement exercise room, main-level family gathering and mudroom, and upper-level primary suite, increasing the usable floor space by almost 40%. Strategic placement of a skylight brings daylight to the center of the expanded floor plan and oversized windows in the addition provide visual connection to the landscaped yard. This home will be on the 2022 Homes by Architects Tour, September 18-19. Click here for tickets.
There is a photograph from the Dutch Revival home that captures the essence of transformation. It is a detail image taken at the edge of a century-old dining room hutch. The hutch is built of plain sawn oak with rich, curving grain, and features antique pulls and leaded glass doors. The mirror in the hutch gives the appearance of looking through, but is instead a reflection of the dining room and new sun porch behind the viewer. To the left of the hutch is the new kitchen and family gathering extension and access to the garden beyond. Near and far; front and back; past and present—all captured in the same image.
This is the essence of transformation: assessing what is while imagining what could be. It's not always obvious. In fact, it's rarely obvious. Most commonly, successful transformations are the result of a studied and iterative process, involving collaboration between architects, designers, owners, builders and consultants. Rarely does any individual possess the fully developed resolution. The art is in seizing the spark of potential and nurturing it into fruition, so thank you to all the visionary collaborators and clients who place their trust in the process of creating the unimaginable.