On my way to a recent camping trip on the north shore, I stopped to visit a project site near Beaver Bay for a new cabin I'd be working on with my colleague Dale. This was an undeveloped site, and required a bit of weed whacking through some fallen pines and underbrush (this is part of the fun of being an architect, along with constantly appearing to be somewhere you shouldn't while snooping around interesting buildings). Upon making it down to the water's edge, I gazed across Lake Superior at my family's cabin on the south shore (or at least close to it!) and thought about what it meant to build on the opposite side of the lake.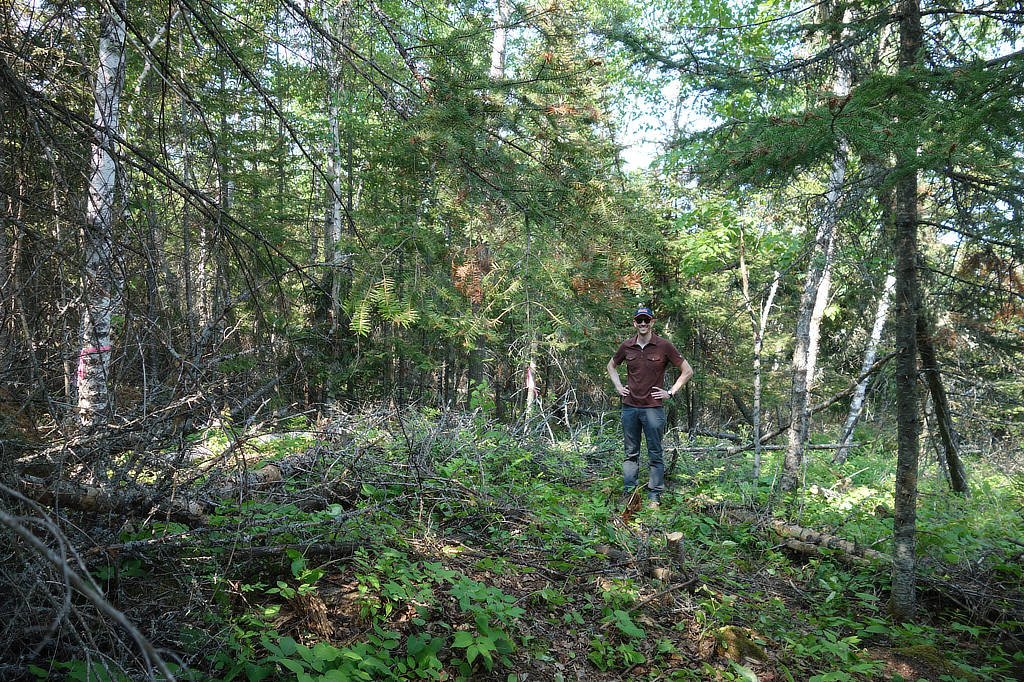 The thing that first struck me was the rocks. On the south shore we have sandy beaches on which to lounge, but on the north shore the crystal clear water swirls against huge boulders. While this affects how cabin go-ers access the water, it also makes a difference from a building perspective. On the north shore, bedrock is close to the surface and emerging out of the ground in many places, changing the way we plan for a basement or foundation. When building a house directly on rock, you no longer need to dig down to place footings below the frost line, where soil remains unfrozen in winter. It's also much harder to scoop out any space for a basement! Across the lake, the soil is clayey and soft. We must plan for the footings to extend down 4 feet or be protected from frost with insulation because there's no bedrock in sight.
A primary desire among cabin owners when planning their new retreat is capturing views of the lake. On the south shore, we faced a bit of a conundrum because the primary views and sunlight are found in opposing directions. How to prioritize as we planned the living spaces? Luckily, we were able to appease everyone with a large Great Room on one end of the cabin that had windows to the north, west and south, allowing us northern lake views AND southern sun. On the north shore, the views and sun lie in the same direction, making it somewhat easier to plot the orientation of the cabin.
Lake Superior is not your average Minnesota lake! I know it to be reliably colder on either shore than even a mile or two inland, and neither cabin has any need for air conditioning. In this climate, a wood stove can be an asset even in June, and it's a staple on Memorial Day weekend. Minnesota's big lakes like Mille Lacs and Kabetogama can certainly get rough in big winds and storms, but these are nothing compared to what Lake Superior can throw down, especially in the late fall and winter. The rocky north shore doesn't have much to fear from lashing waves, but the south shore faces significant erosion of its clay cliffs in some areas. Even the landscape of sand beaches can be completely rearranged after a winter of fierce storms! These are all things to bear in mind while siting a cabin and planning its insulation and exterior finishes.
As I left the new cabin site, I spied some familiar wildflowers that looked similar to the flora around my family's cabin; the northern tree species of pines and poplar matched as well. And then there was the view– whether looking from one shore or the other, it's hard to beat the view across the big lake.