Nothing informs our actions and intentions quite like experience. Touch a hot pan on the stove and you're unlikely to do it again. Savor a delicious flavor you never imagined and expect to try another. We learn from what works and are best to avoid what doesn't.
As architects and designers, empirical knowledge is gained in the iterations of our work and the precedents of architectural history. But our world is wide and this knowledge is not universal, so it's particularly exciting to step out of what we know to experience something new. A few weeks ago, I traveled to Phoenix to visit dear friends from architecture school, excited to tour a few local buildings and hike the Grand Canyon.
Unless you arrive in the middle of the night during monsoon season, the first two things you'll experience in Phoenix are the desert dry heat and blazing sun. (Neither of which are particularly notable during fall in Minnesota.) Mitigating the intensity of each is essential to inhabiting the region. Shade, mass, and ventilation have allowed for habitation in the desert since cliff dwellings and early adobe structures. While our modern construction industry continues to advance its technological capabilities, the essential means of maintaining comfort is simple climate-responsive empirical know-how. Our tour through the desert southwest illustrated what works there. Mass stores heat. Shade prevents burn. Ventilation cools.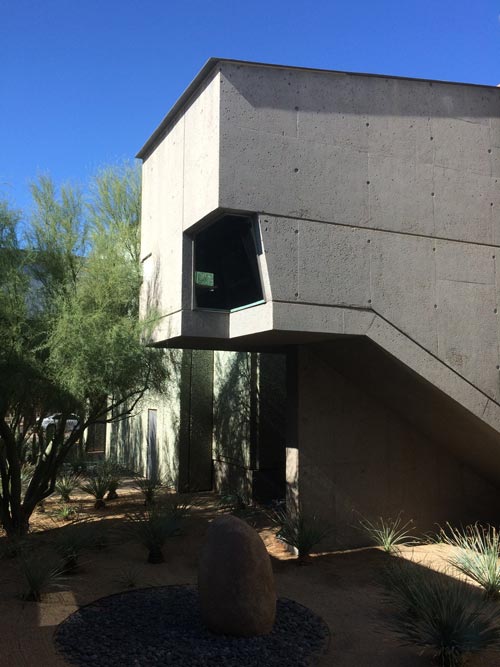 Our first stop was a long awaited return for me to the Phoenix Art Museum. Designed in two phases by Tod Williams Billie Tsien Architects, I had anxiously visited the first in the early 2000's. The first phase includes a combination of tilt-up and cast in place concrete panels working as a thermal mass to temper building heat during the day and radiate it inwards at night when desert temperatures drop.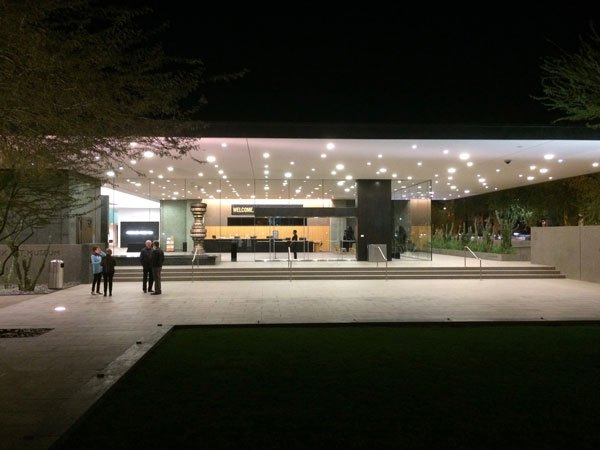 In contrast, the recent entry pavilion addition seeks to eliminate mass almost entirely, instead choosing shade as its priority. The expansive ceiling hovers like a starlit night and keeps heat gain at bay during the day. Both strategies, inherent in two distinctly elegant design solutions, help to reduce the energy demands on the building.
Next we were off to the Health Sciences Education Building, a City of Phoenix Partnership with the University of Arizona and Northern Arizona University and designed in collaboration by CO Architects and Ayers Saint Gross Architects. My friend Michelle, a Senior Associate with ASG, worked on this building for the better part of five years and I was thrilled to see it in person.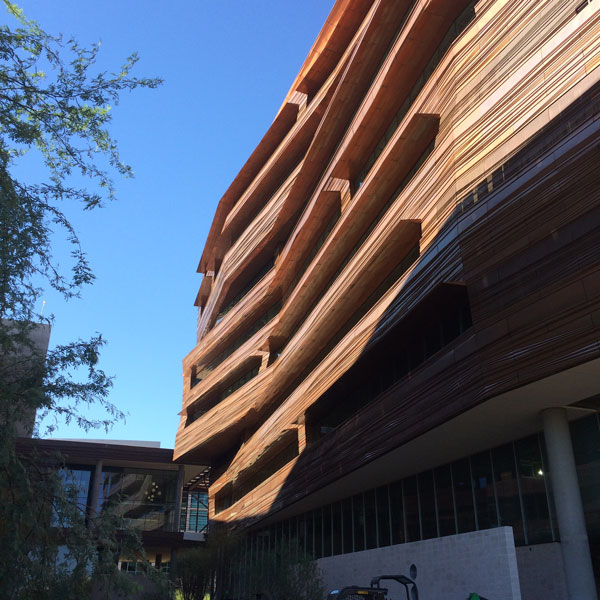 The building proved an elegant precursor to the Canyon. Striated in undulating layers, the south façade of the second phase, Biomedical Sciences Partnership Building (under construction during our visit) uses its form and depth to shade ribbons of glass from the extreme sun. Copper cladding is a frequently used throughout the Phoenix area for its durability and familiar coloring, and contrary to the patina developed in northern climates, it turns a rich brown color in the desert sun.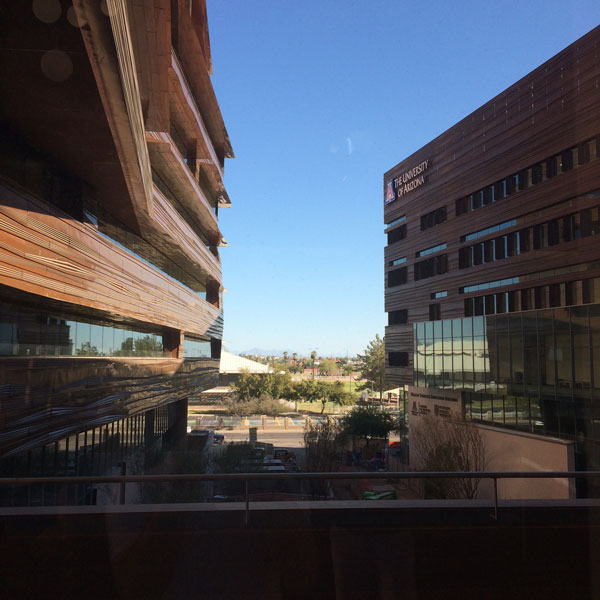 Viewing the first and second phases of the HSEB and BSPB together is a how-to diagram for solar shading. In contrast to the south-facing undulating and deeply shaded façade of Phase II, the north façade of Phase I is relatively flat and exposed. Spared from the abuse of the mid-day sun, its exterior shading control system is a series of vertical fins that effectively shade intense early morning and late afternoon sun.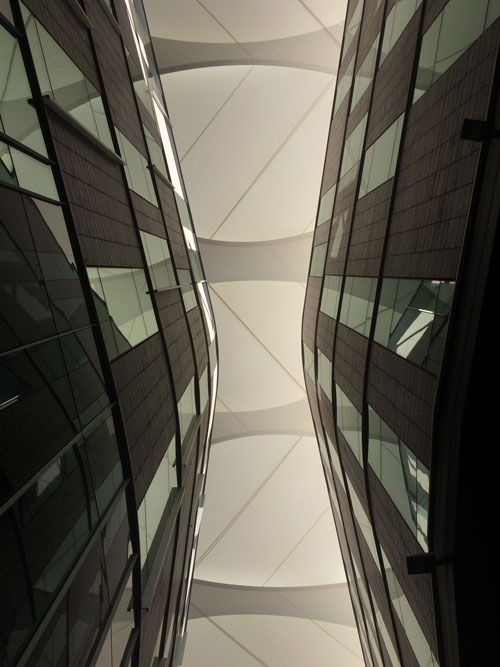 In an exterior courtyard reminiscent of a slot canyon, cool air is drawn in through exterior circulation spaces at grade, pulled upwards by the stack effect of warming air, and finally exhausted at the roof edge beneath a tensile shade canopy. Windows in the courtyard provide daylight to offices and education spaces without concern for heat gain.
With our Phoenix tour complete, we headed to Grand Canyon National Park, where it didn't take long to recognize the influence of the Canyon in the DNA of HSEB and other regionally designed buildings. The geographic striations in tan and bronze, intense light, and temperature fluctuations were obvious ingredients in the architecture.
With day packs of food, water, and electrolytes, we were prepared to hike 4800 feet down on the South Kaibab trail, through Phantom Ranch, and back 4400 feet back up Bright Angel trail over the course of 16 miles. In multiple layers we planned for a temperature delta of 40-plus degrees Fahrenheit.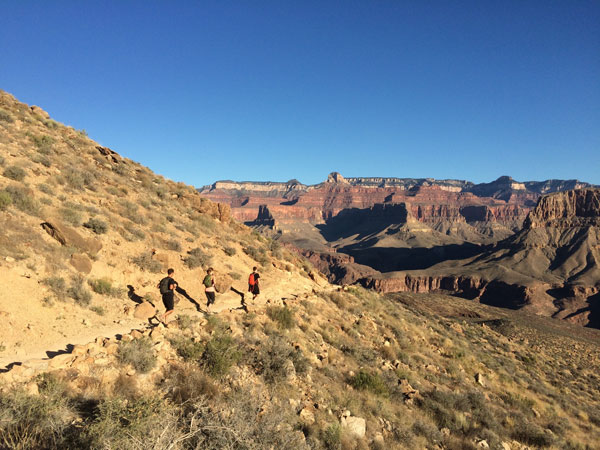 At the famous Phantom Ranch, a comparably lush oasis for lunch and a stretch, I was charmed by the modest cabins and support buildings designed by architect Mary Jane Colter in the familiar National Park aesthetic. The humble buildings incorporate shade, mass and cross ventilation to maintain their occupants' comfort, and have since 1922.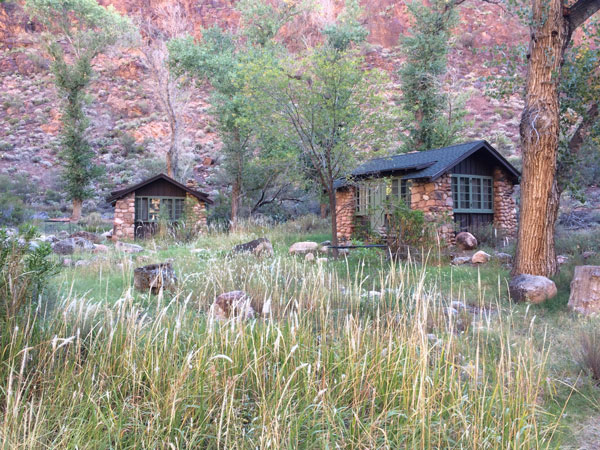 I was particularly taken with these little cabins because they were so relatable in scale and intent to our work in Minnesota, yet designed for an entirely different place. On our way to the Canyon we saw any number of housing developments that were identical to their counterparts in Minneapolis, Seattle, or Washington D.C.; a universal housing type altered only by regional "themes." Our modern way of building too often forgets, or disregards, the empirical lessons of our built environment and instead relies on technology—and needless energy—to provide comfort. The Phoenix Art Museum and HSEB are good buildings in no small part because they are responsive to their place.
Our 4400 foot ascent on the Bright Angel trail was mostly in shade. Sweaty, chilled and exhausted, we were near the top when we felt the sun and Michelle embraced the Canyon wall as if it were a long lost friend. It was a memorable human experience, a recognizable comfort in a unique environment that is certain to influence my own future design.