When my partner Scott and I bought our charming little bungalow in the fall of 2012 I was immediately sketching possibilities—a little bump out here, a brise-soleil there. However modest, these ideas were always about addition. Now, after nearly four years in the house, we are ever more aware of its personality, its petulant squeaks and generous light, and our focus has shifted from adding space and features to the selective editing of existing conditions. One of our delights in the home is the intimate scale of its rooms and axial floor plan, but its biggest drawback is the lack of a dining room. The current kitchen was renovated, presumably from the original, in the late 1990's to add an island with cooktop into the center of the room. Unfortunately, passage between the perimeter counter and the island is a mere 24 inches, and there is no way to seat more than 4 people and still walk through the room.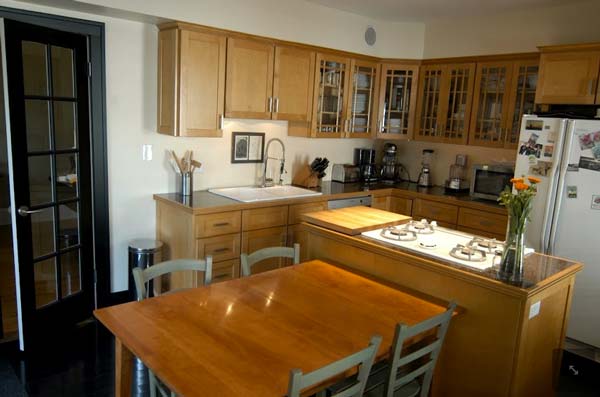 The Challenge
Adding a dining room and expanding the kitchen cabinetry is an easy design solution on paper, but reality poses more challenges: the existing structural shortcomings of the house, our limited budget, and financial impact on future goals. I often encourage clients to "design smaller to build better," and the message applies to us as much as anyone! So we have intensified our focus on how to make our existing eat-in kitchen more enjoyable.
Fundamentally our issue is with the obtrusive island that cramps any potential for entertaining guests, but I will confess longing for a more compelling aesthetic as well. Thankfully, Scott shares this desire. We've explored other projects, too, but have selected this one, feeling it will return the biggest daily reward.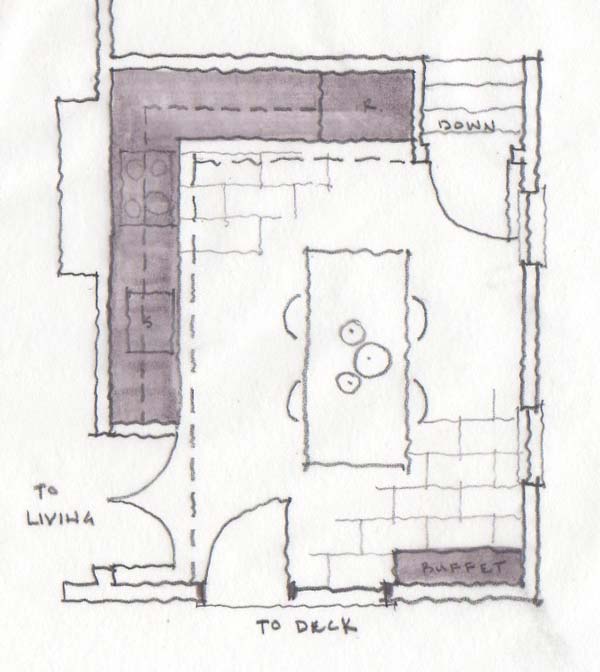 The Design Solution
Because we've ruled out adding a dining room to the small footprint of our house, the solution requires finding space for one within the house, ideally near the cooking area. So borrowing from a centuries old tradition—there is no need to reinvent the wheel here—we've chosen to treat the 12 x 15 room as a contemporary farmhouse kitchen by surrounding a table with cooking functions. That being said, we don't want it to look like a farmhouse kitchen. The ultimate goal of this solution is an illusion of sorts: for guests to perceive the renovated space as dining room first, and kitchen only after a slow reveal.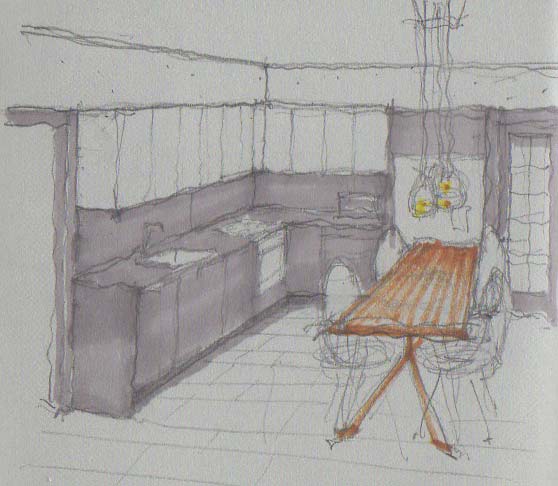 The Details
By moving all of the functional parts—the storage, plumbing and appliances—to the existing L-shaped perimeter and placing it all under an extended soffit, the table is centered under the taller ceiling in the middle of the light-filled room. This solution relies on a few unconventional selections including a single-basin sink, 18-inch dishwasher, Euro-sized oven, and smooth glass induction cooktop. Black enameled trim already exists in our kitchen and we've grown to enjoy it. Taking a cue from this existing quirk for the base cabinets will allow them to recede into the background in low light (i.e. dinner parties) while off-white enameled upper cabinets will bounce light around the room to keep it from feeling too "moody" during everyday use. By contrast, the table will be natural wood, a warm and inviting centerpiece around which to gather.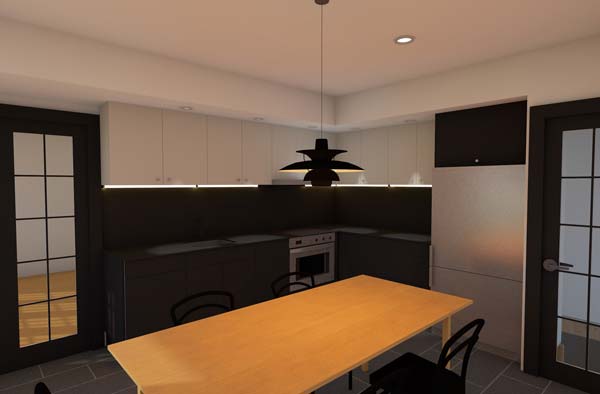 A Nod to the Future
We know our kitchen solution will not be for everyone. Our mothers, for instance, will almost certainly prefer the "cuteness" of the former iteration, and the removal of our kitchen island will likely mean a strike against us on any future appraisal, but design is personal, and sometimes has to buck current trends. Scott and I both are fortunate to work within walking distance of fresh food and we don't have a large family to feed. For these reasons we see our solution aligned with generations younger than our own—future inhabitants of our home—who prefer preparing simple meals or ordering delivery to maximize time engaging their guests in a thoughtfully designed and flexible space.
Stay Tuned
Many selections are yet to be made, and pricing still to be determined, so details will evolve, but we are committed to a design that works within the existing walls of our home to improve the daily activities and social interactions it supports.