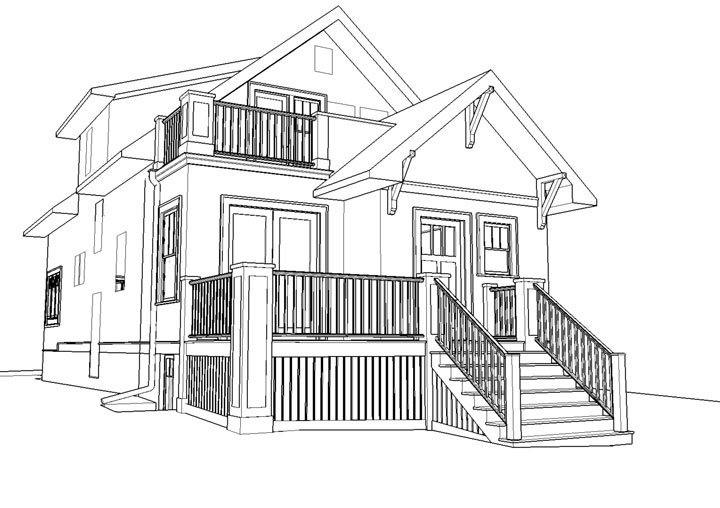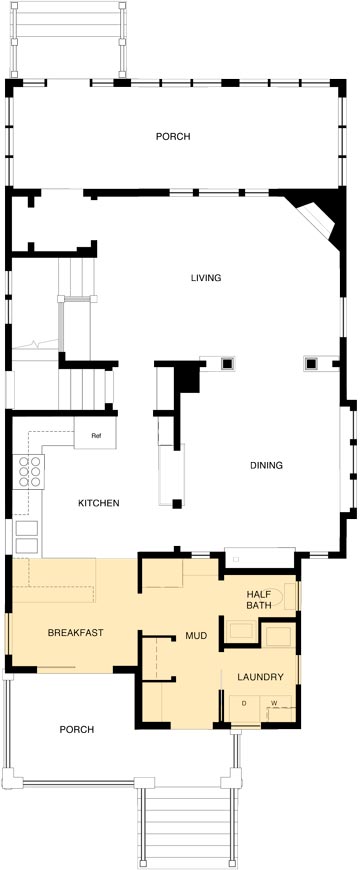 Sometimes just a little space can make all the difference in the way a home functions and its livability. That was the case with a home I recently worked on that will be included in the 2013 Remodelers Showcase organized by the Builder's Association of the Twin Cities. The home had many of the problems common to any other 1914 home.
The home had a kitchen that wasn't the greatest (even though it had been remodeled by a previous owner) and was isolated from the rest of the house. There was only minimal physical and visual access to the rear yard. The laundry room was in an unfinished basement and there wasn't a bathroom on the main floor. There also wasn't any place to hang coats or store boots when coming in from the garage. The closest door put you smack dab in the kitchen and the closest closet was at the front of the house inside the main entrance.
Given the size of the lot and the desire to build a new, two-car detached garage, there wasn't much room to add on. And given the size and form of the house, an addition that was too large would have been out of scale. As it turned out all that was needed to correct these problems was an addition of about 210 SF.
About half of this space provided for an extension of the kitchen. The original plan was to replace the rear wall with peninsula cabinets that would transform the kitchen's "L" shaped work area into a "U". Counter seating was to be provided on the back side of the peninsula and beyond that double French doors were used to provide lots of natural light and a visual connection with a new rear deck. The big change during construction was the decision to replace the existing kitchen cabinet with all new cabinets, countertop, appliances, and arrangement. While this new kitchen provided a greatly improved work area, great connection to the yard, and a place for guests to visit in the kitchen, the wall between the kitchen and dining room was partly removed and replaced with new cabinets to open the kitchen to the rest of the house.
The rest of the addition provided space for a half bath, small laundry room with enough space for a full size washer and dryer and a large utility sink. A hall connecting the laundry and bath with the kitchen functions as a mudroom of sorts since it includes a closet, built-in bench, and storage cabinets.
The addition demonstrates one way of adding convenience and livability to a home without altering its original scale and charm. The home will be open to the public during the Remodeler's Showcase on September 27 – 29, 2013. More information is available on the SALA News page, or the Parade of Homes Remodeler's Showcase Page!