Guardrails, required on decks by code and common sense for horizontal platforms 30" or higher than any adjacent surface, are meant to insure that users won't harm themselves in an accidental fall. In residential applications they are required to be 36" tall and able to resist a lateral force at their top rail of 200 pounds. They must also be constructed such that a 4" ball (think "child's head") is unable to pass through the guardrail. By code, this ball was formerly 9" and then 6" before it's current required diameter of 4". Besides increasing the cost of a railing by 50% with each change, these new diameters also decreased transparency by a commensurate increase in material unless, of course, the guardrail were made of a continuous sheet of transparent material such as glass. But since the glass solution is typically a more expensive and labor-intensive (think "window washing") solution for residential applications, another solution was needed that would satisfy the 4" rule while still maximizing transparency.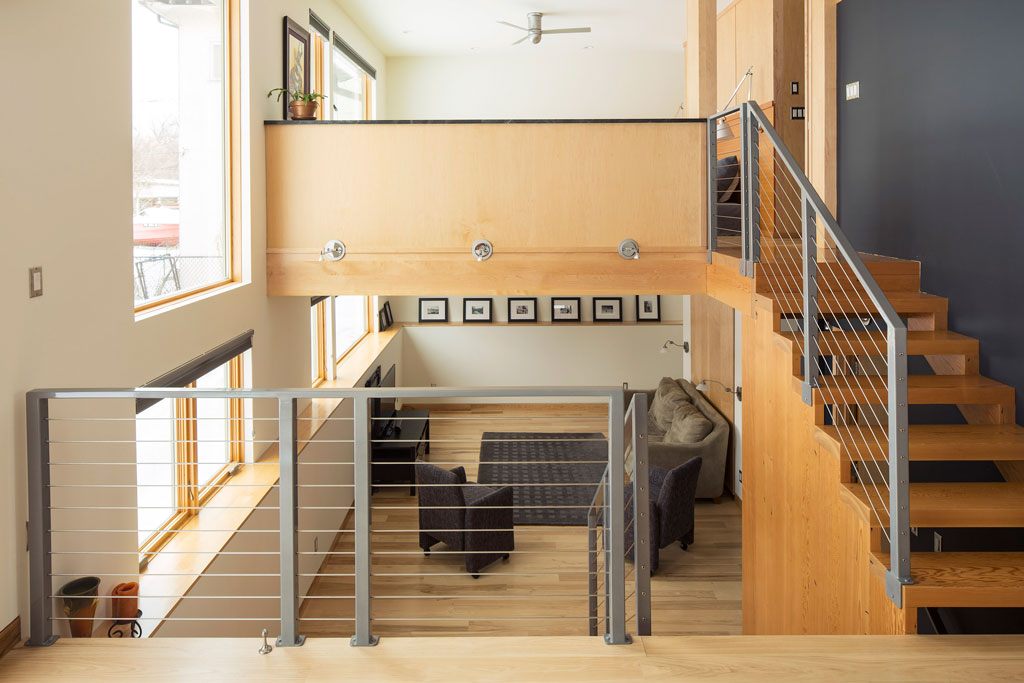 I've found that cable guardrails are often the best and most attractive solution for maximizing transparency and eliminating virtually all maintenance. My first encounters with cable rails were on sailboats where going overboard in rough water was always a real possibility and cables a handy alternative. One will find that nautical rigging relies heavily on lightweight stainless steel cables that are extremely strong and pretty much indestructible.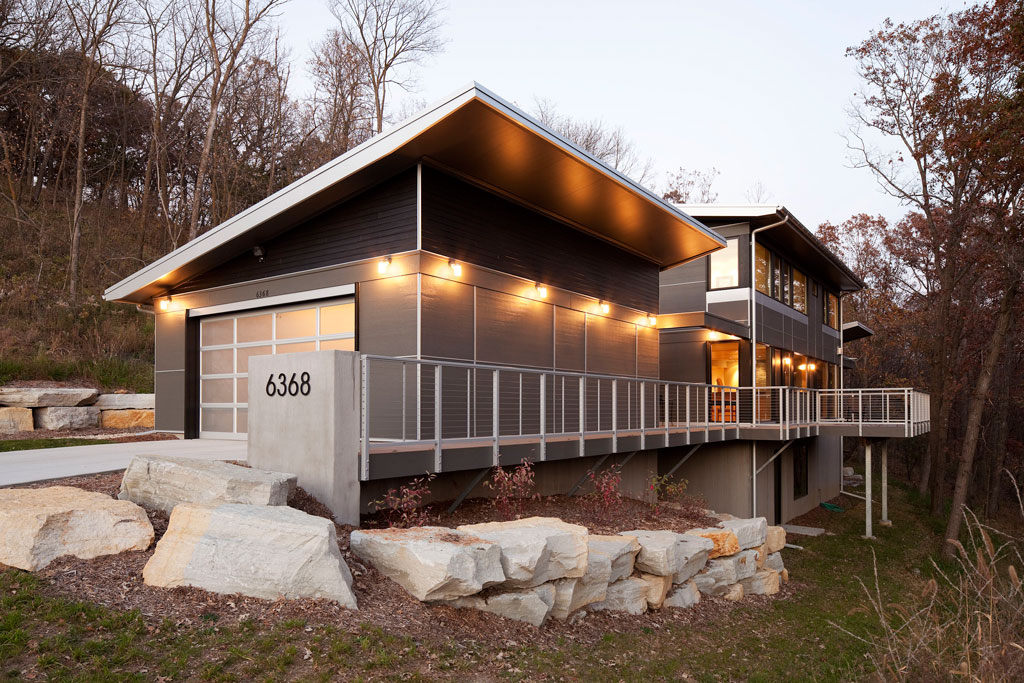 Most cable guardrails that I employ today basically consist of a sturdy metal frame and a series of horizontal cables with tensioning hardware at the ends. Where permitted, tensioned horizontal cables are typically required to be 3" on center instead of 4" and supported vertically every 3' by either an end post or an intermediate support. A single run of cable may be as long as 70' as long as the vertical end posts are stiff enough to resist the lateral tensioning required for that distance. Most commonly they are much shorter than that which allows for a more slender frame profile. As to cost, it's the end tensioning hardware that is the expensive part so, generally speaking, the fewer ends the cheaper the guardrail. A word of warning here, some governing bodies do not permit horizontal members of any kind (think "ladder") on guardrails and others that do may still not permit them to be cables due to the fact that if they are not properly tensioned the cables can be sufficiently separated to allow a 4" ball to pass through.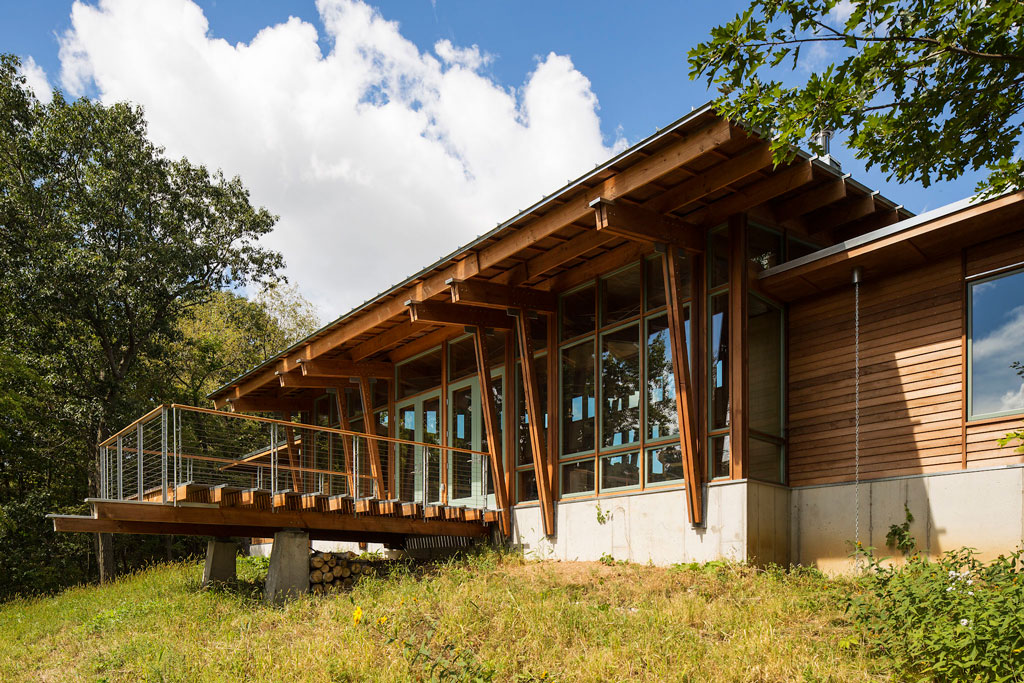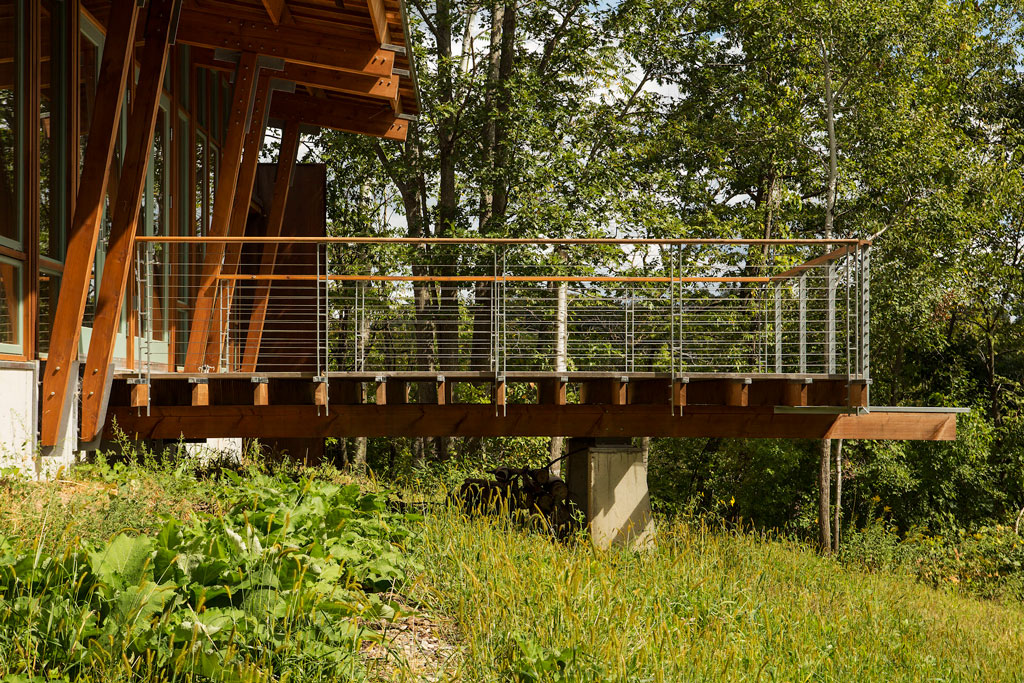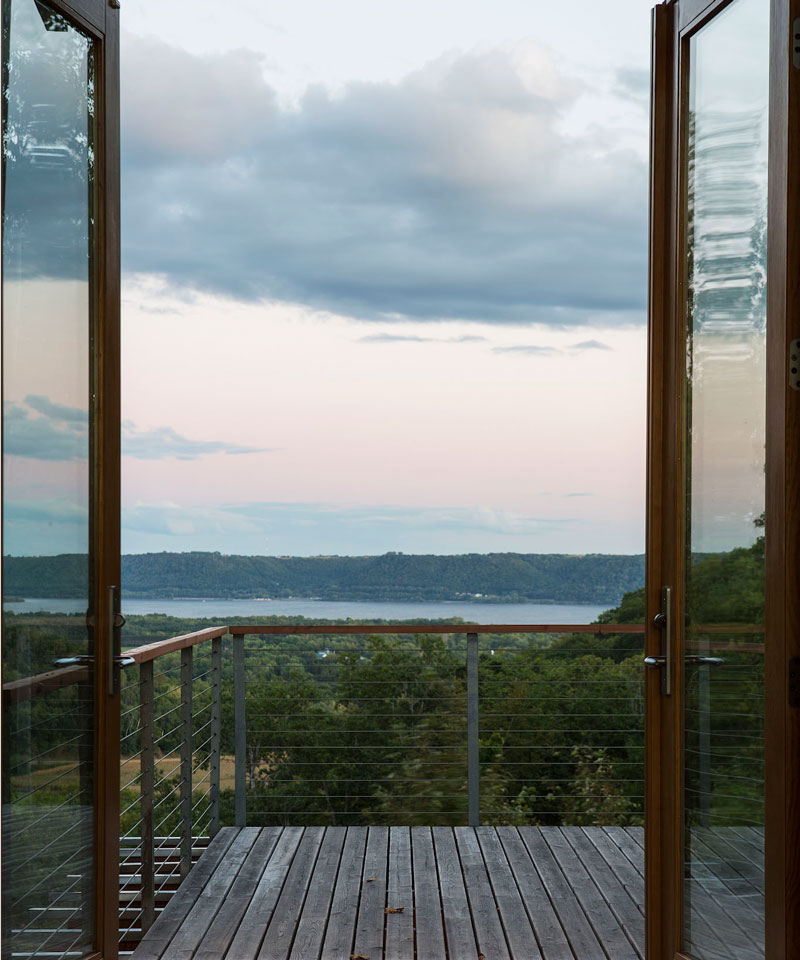 Although cable guardrails in residential applications are most commonly found on exterior decks where the object is almost universally to maximize the view, I also find them terribly useful in home interiors with open plans and multiple plane changes. Split-level plans are probably the best illustration of how a cable guardrail can create an open plan that allows light and views to flow freely from space to space while giving the feeling of one grand space as opposed to a collection of smaller rooms. And all of this with the homeowners safely restrained by the elegance of the nearly invisible.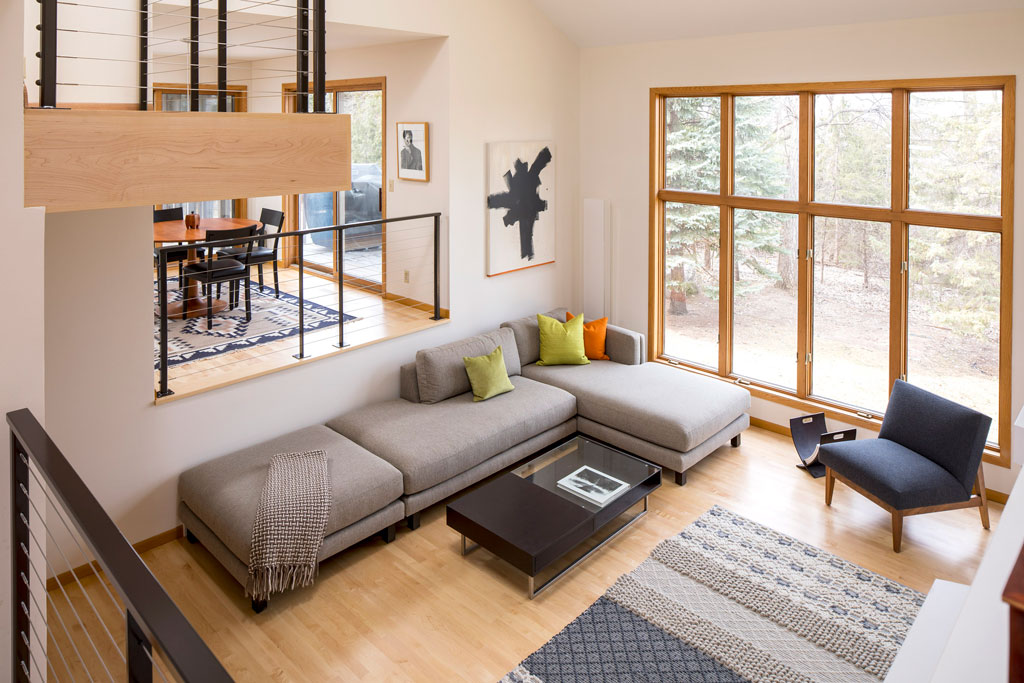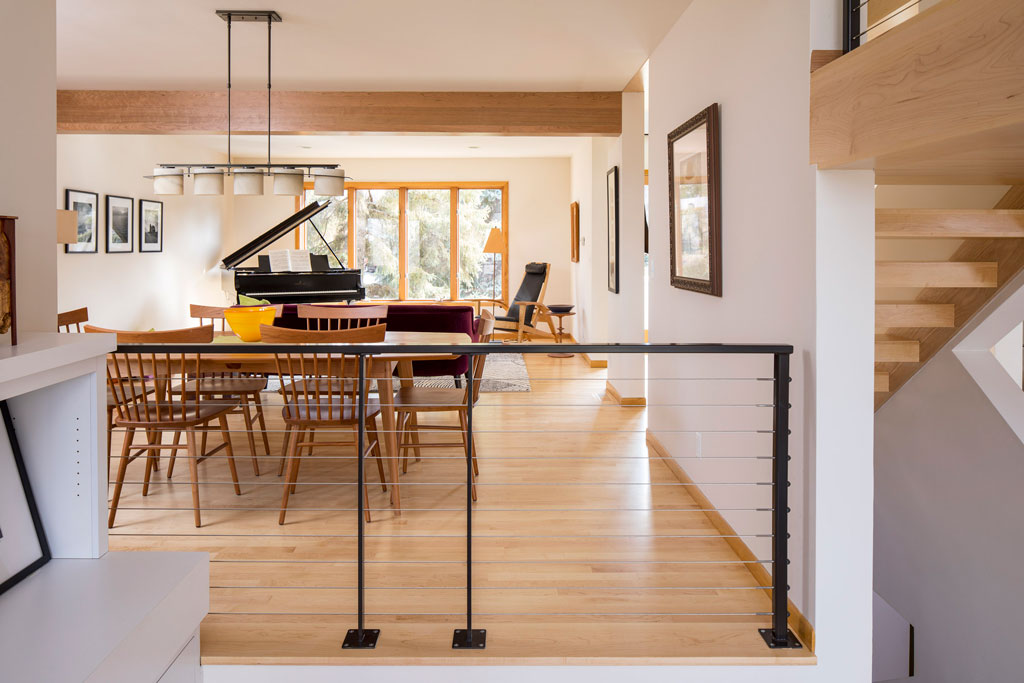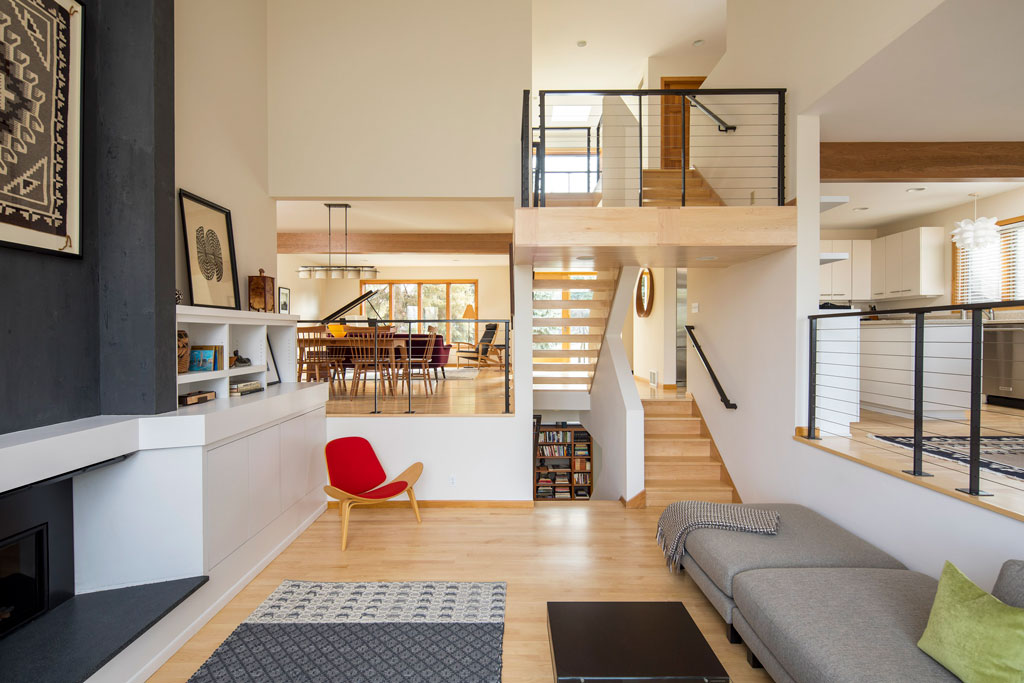 Are you interested in seeing the use of cable rail on the interior and exterior of Eric Odor's Fast Forward project? Stop by House #11  on this year's Homes By Architects Tour on September 15th and 16th from 10:00 am to 5:00 pm! For tickets, maps, and other tour information please visit AIA Minnesota's Homes By Architects Tour page. We look forward to seeing you all on the tour!!