It's time to begin planning your route for the 2018 Homes By Architects Tour September 15th and 16th from 10:00 am to 5:00 pm! SALA Architects is pleased to be showcasing three homes this year by David Wagner, Eric Odor and Bryan Anderson!
Home 5: Grey Duck at 200 Birch Bluff Road, Excelsior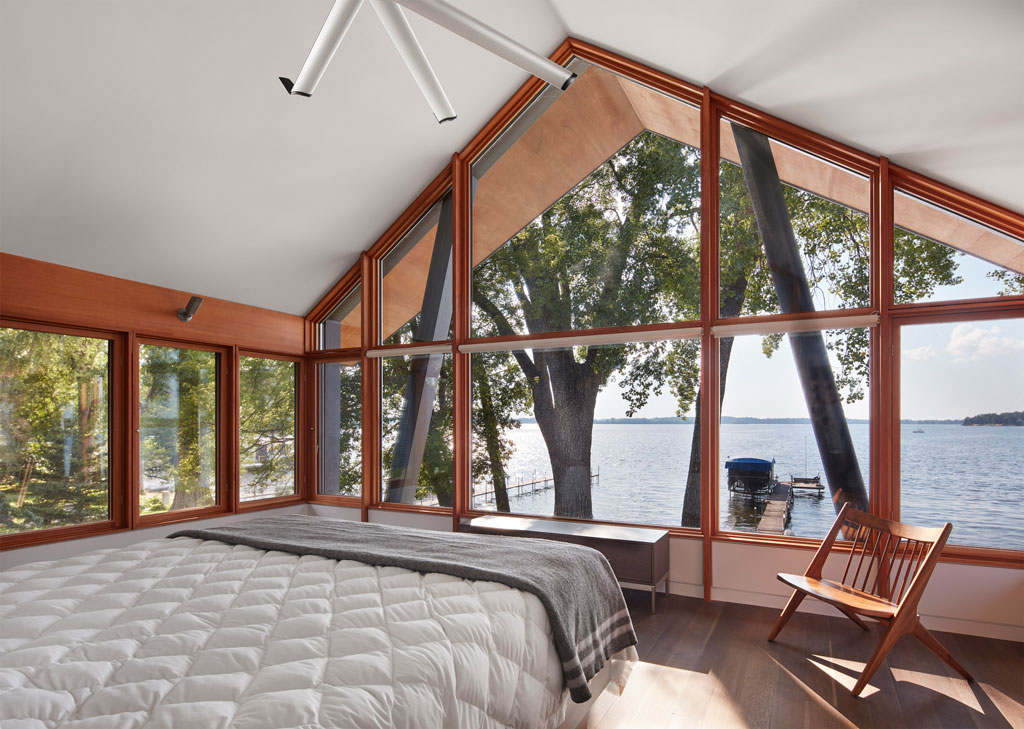 DESIGN TEAM: David O'Brien Wagner, AIA; Joe Messier; Jody McGuire, AIA; Ben Dose
PROJECT TYPE: New Construction
The homeowners sought to create a modest, modern, lakeside cottage, nestled into a narrow lakeside lot in Tonka Bay. The site inspired a modified shotgun style floor plan, with rooms laid out in succession from front to back. Careful planning provides both generous views west out to the lake and east toward wetlands across the road.
Abundant natural daylight is brought into living spaces through high, clerestory windows that run the length of the home and provide privacy among the tightly spaced neighboring houses. Large sliding doors invite activity to spill out to the deck where steps spill down into the landscape and toward the lakeshore.
Simple and authentic materials provide a soft and inviting palette for this modern home. Wood finishes in both warm and soft grey tones complement a combination of clean white walls, blue glass tiles, steel frames, and concrete surfaces.
Sustainable strategies were incorporated to provide healthy living and a net-positive-energy-use home. Onsite geothermal, solar panels, battery storage, insulation systems, and triple-pane windows combine to provide independence from frequent power outages, and supply excess power to the electrical grid. Green roofs, raingardens, and permeable paving contribute to clean water through storm water retention, while also providing habitat for birds, frogs, pollinators, and other wildlife.
Driving Directions: From I-494 head west on US-12 toward Wayzata (3.4 mi); take Cty Rd 15 W exit; merge onto Cty Rd 15/Shoreline Dr (4.9 mi); left onto Shadywood Rd; continue onto Manitou Rd; right onto Pleasant Ave; right onto Birch Bluff Rd. Destination is on the left.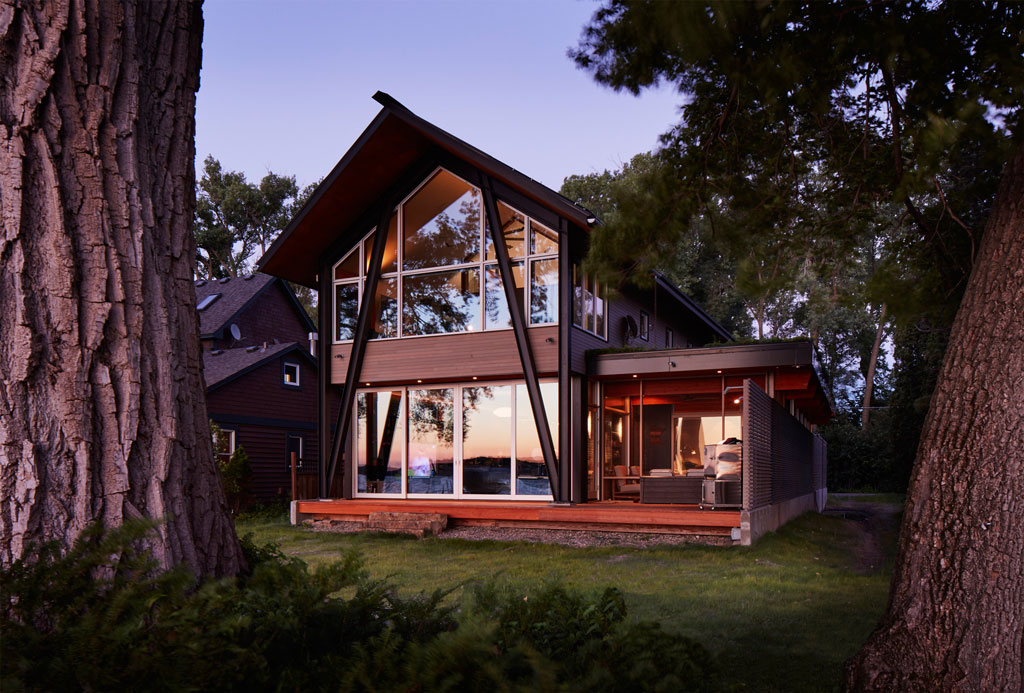 Home 11: Fast Forward at 7912 Rhode Island Circle, Bloomington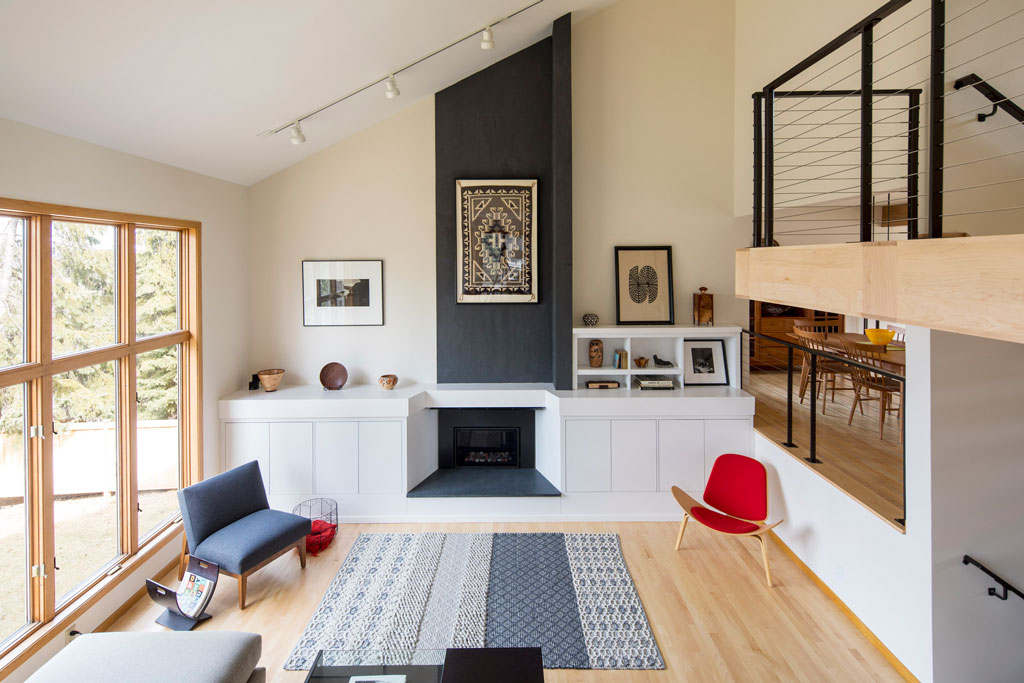 DESIGN TEAM: Eric Odor, AIA; Caitlin Dippo
PROJECT TYPE: Remodel
The home was originally a 1980s tract home in a developer's cul-de-sac in suburban Minneapolis. It had most of its windows on the front and back and virtually none in the longer sidewalls; it also used solid half walls and stair rails, which made it light on the ends and dark in the middle.
The design team opened the drywall boxes that limited light, leaving only a series of vertical drywall planes and horizontal wood slabs that allow the light and views to pass and the space to flow. A plane of natural wood also slips out the door onto the entry deck and down its stairs as a modest counterpoint and a foreshadowing of the updated interior.
What was once cordoned off and crowded is now open and expansive, with the warmth and variety of the homeowner's furniture and artwork reflected in the palette of transformation.
Driving Directions: From I-494 head south on E Bush Lk Rd (0.4 mi); right to stay on E Bush Lk Rd; right onto Highwood Dr (0.7 mi); right onto Rhode Island Ave S; right onto Rhode Island Cir. Destination is on the left.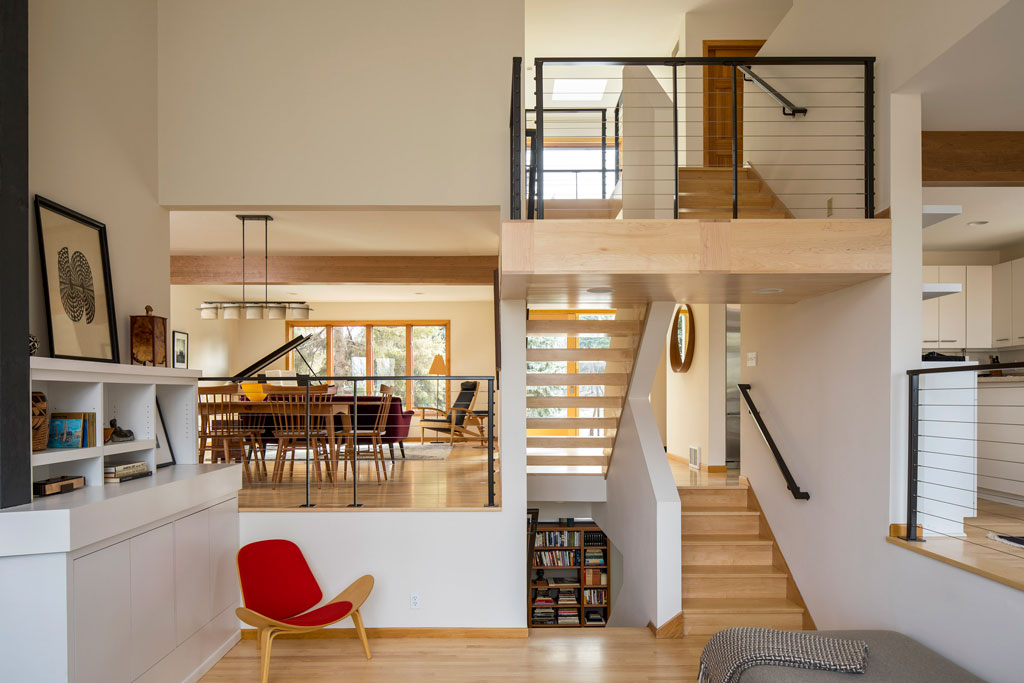 Home 19: Isanti Shanty at 28473 Blue Lake Drive NW, Princeton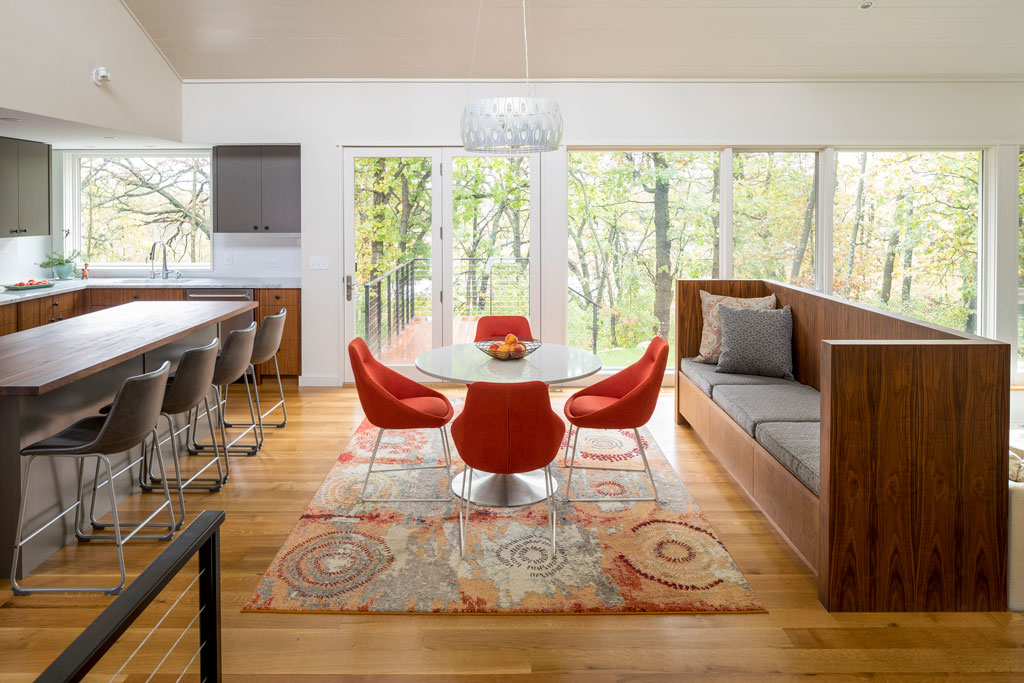 DESIGN TEAM: Bryan Anderson, AIA
PROJECT TYPE: New Construction
Compact single-level living with a panoramic lake view was the catalyst for design of this downsized home for empty-nest owners of a residential construction and remodeling company. Primary living spaces align under a continuous vault that draws light from above to track time and seasons. Along this same axis, ceiling heights and floor levels vary to introduce drama and intimacy.
Construction details highlight continuous exterior insulation, expansive bands of glass and deep overhangs for long-term durability and efficiency.
Driving Directions: From I-694 head west on I-94 in Maple Grove (8.7 mi); take the exit toward MN-101 N; keep right at the fork and follow signs for MN-101 Bypass N/Elk River; merge onto MN-101 N (7 mi); continue on to US-169 N (10.5 mi); right onto Cty Rd 4 at the stoplights; left too 104th St NW/Cty Rd 19 (2.6 mi); right onto 289th Ave/Cty Rd 28, which becomes Tiger Rd (1.8 mi); right onto Blue Lake Dr NW (0.5 mi). Destination is on the left.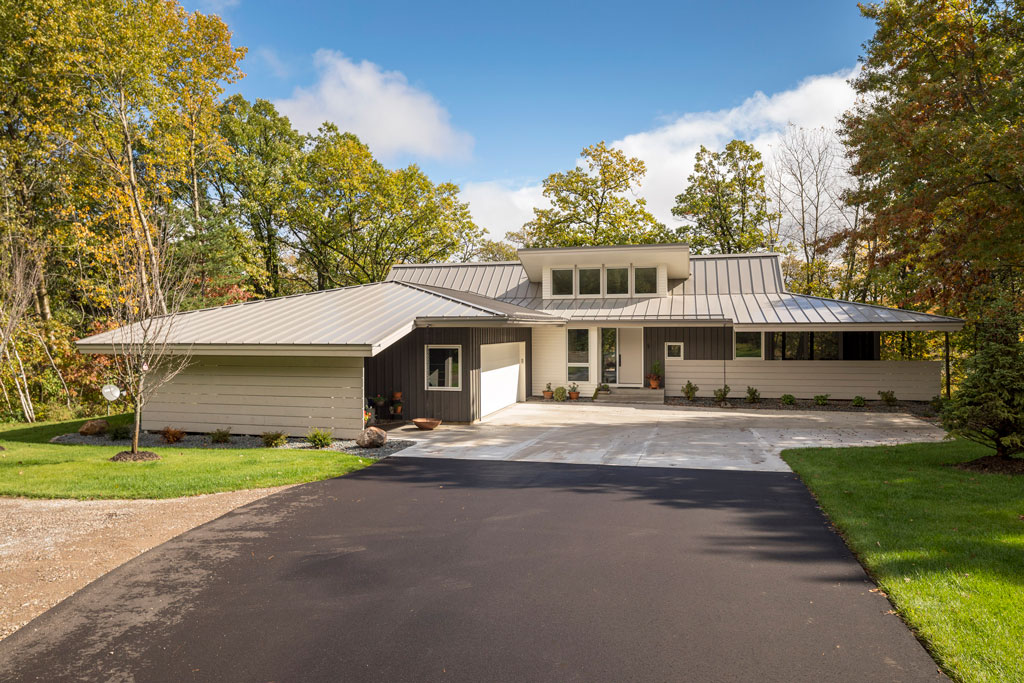 For tickets, maps, and other tour information please visit AIA Minnesota's Homes By Architects Tour page. We look forward to seeing you all on the tour!!