with Caitlin Dippo and Katie Leaf, AIA
A small lake in the north woods of Wisconsin was the summer tromping grounds for our clients in their youth. Now with their own family, they selected a nearby site with an existing dilapidated cabin on which to build a new retreat. Existing trees were protected and the new structures were pulled well back from the shoreline to avoid dominating the site. They desired a building that would be low-slung, fit into the contours of the site, and would invoke a modern, yet camp-like arrangement of gathering and sleeping spaces.
Awards:
2020 Home of the Month Award
Publications:
Case Study: Box Camp by SALA Architects, RD Magazine, March 2020
Lake Modern, Architecture MN, April 2019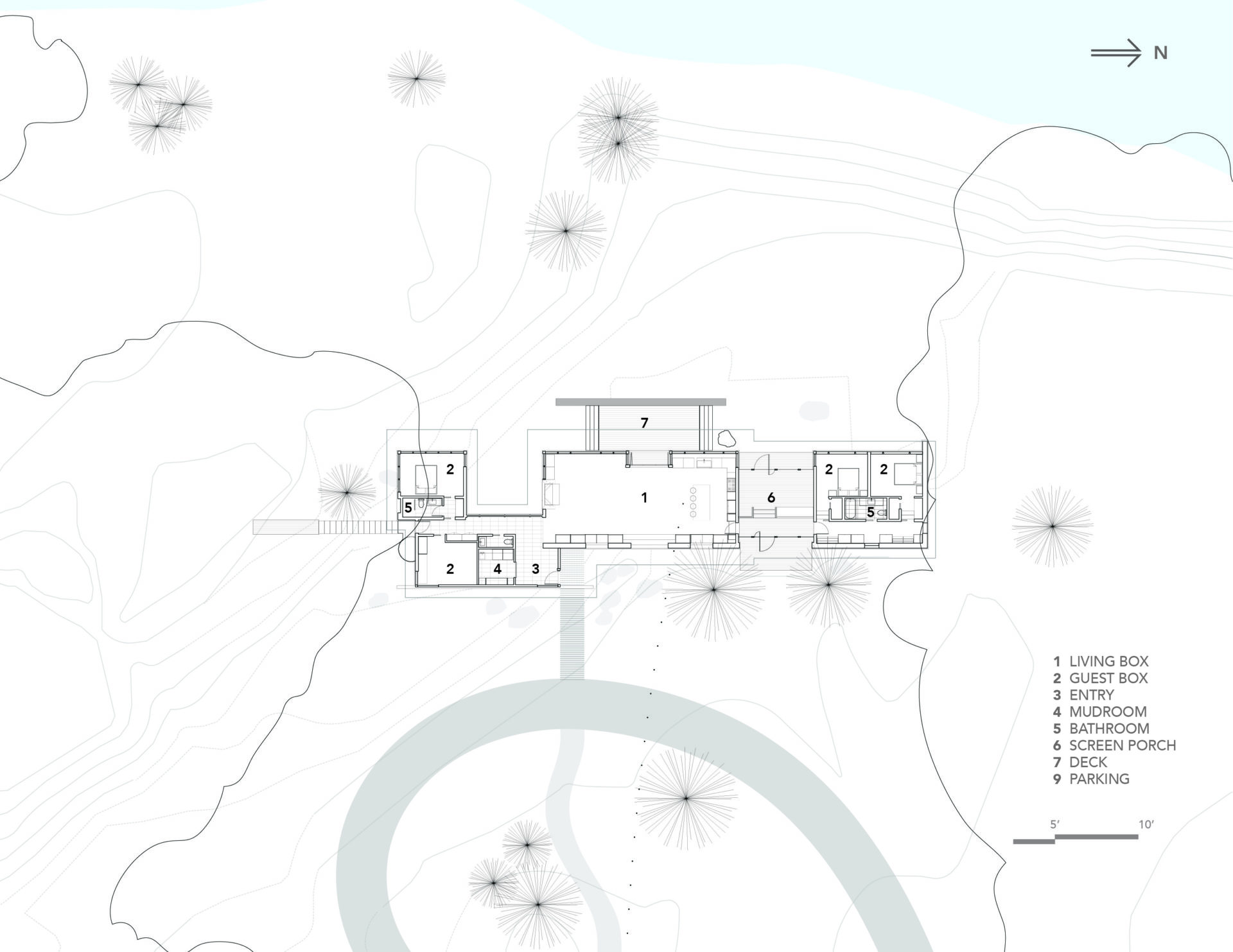 When approached from the circular drive, the building acts as a barrier to the lake's edge. A slatted cedar wall contrasts with the dark corrugated siding and helps mark the entry point for guests. A wooden boardwalk and low roof over the entry provide warmth and scale to the arrival experience. A large entry window is hidden behind the slatted cedar wall, allowing filtered glimpses to the water beyond.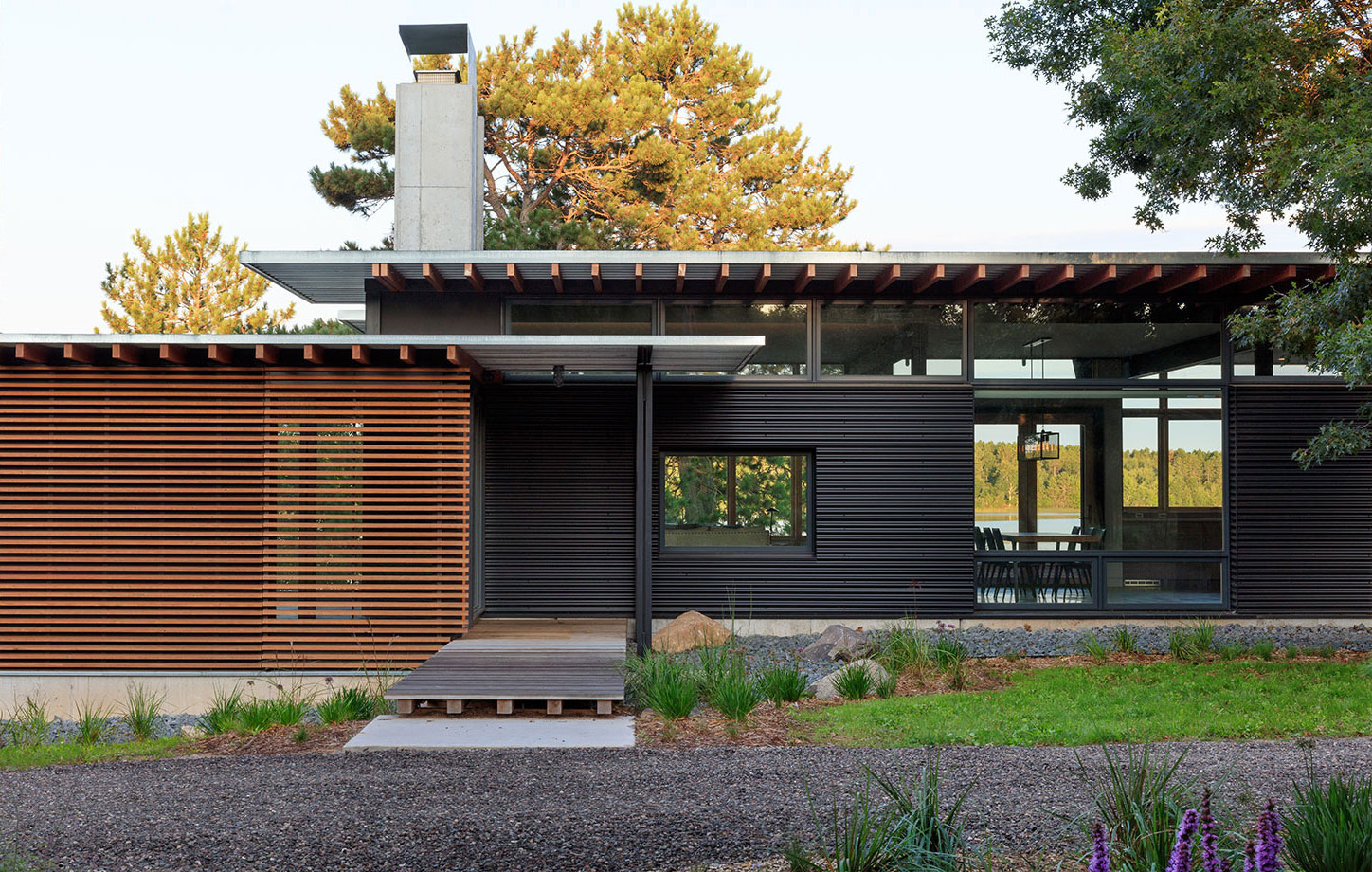 The plan unfolds as a long circulation spine visibly open from one end to the other that connects a string of wooden living and sleeping boxes. The heart of the camp is a central gathering box with tall ceilings, a commanding fireplace, and expansive windows facing toward the lake. Sleeping spaces are located in the north and south boxes like small satellites, and are reached either through a screened breezeway, or an enclosed but glassy connector. A future phase of construction is planned to the south where two additional sleeping boxes will be lofted into the trees and connected via a raised boardwalk.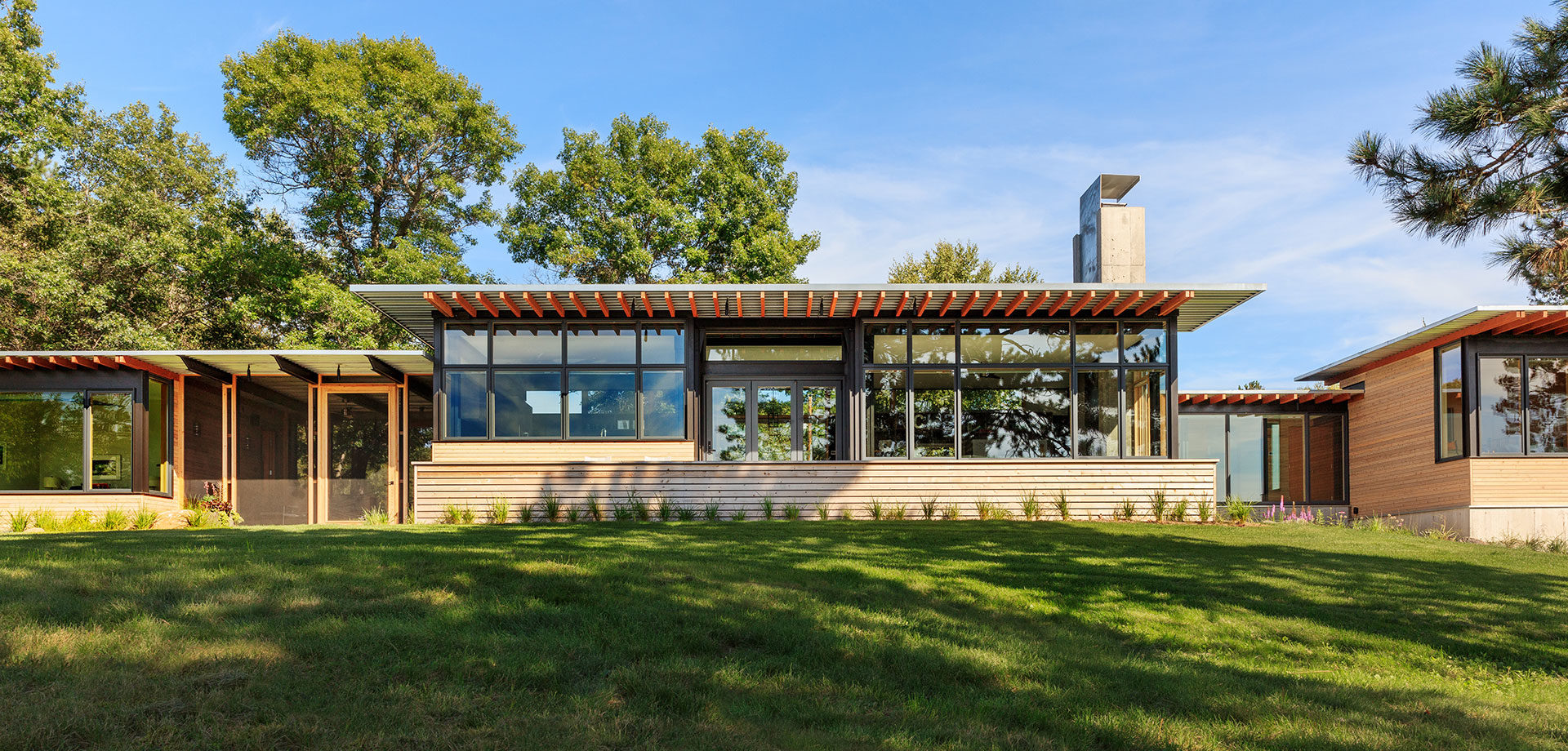 The large east and west projecting roof eaves are a unique feature of the retreat. Designed to protect the structure from both sun and weather, the eaves cantilever as much as six feet on the western side. Douglas fir roof joists were selected for their structural capacity, and are combined with an interior steel beam at their fulcrum. Windows skim past the interior beam and up to the bottom edge of the joists and impart a strikingly thin roof edge.
Visual and physical connections between inside and outside were important considerations for the family. Throughout the structure, wood acts as a mediator between interior and exterior spaces. A generous deck, set two steps lower than interior floor height, stretches across the lake front to accommodate outdoor living beneath a broad, protective overhang. The cedar screen porch acts as both a breezeway between buildings, but also a connecting element between the arrival side and lakeside of the site via large pivoting screen doors.
Construction by Tworek Construction
Structural Engineering by ALIGN Structural
Photographs by Paul Crosby