In the State of Minnesota, a non-portable ice house is legal if it is registered with the DNR and has at least two square-inches of reflective material on each side. This low threshold of legality creates an interesting loophole for artists and architects – without worry for typical building codes, you can build whatever you would like, and have it open to the public in the winter months, as long as you call it an ice house.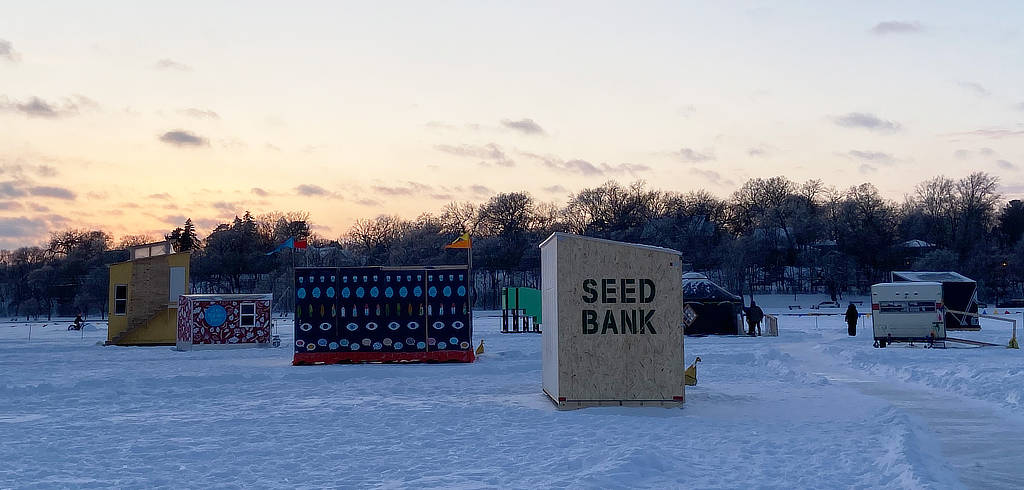 Eight out of twenty of the shanties for the 2020 festival on Lake Harriet
Starting in 2004, a group of artists started what would become the Art Shanty Projects. 16 years in, this month-long festival draws each winter efforts of around 100 artists and up to 40,000 visitors in a season. Each shanty is built by an artistic team from scratch, and programmed by them to offer festival goers an un-fussy, fun, and out of the ordinary artistic experience.
The shanties have to be relatively cheap to build, moveable to some degree, enticing to visitors and work to host the particular experience the artist wants you to have. Over the years I have attended this festival, I've collected some common on-ice building typologies: mobile structure, yurt or tent style; and borrowing from architectural theorists Denise Scott-Brown and Robert Venturi: decorated sheds and ducks.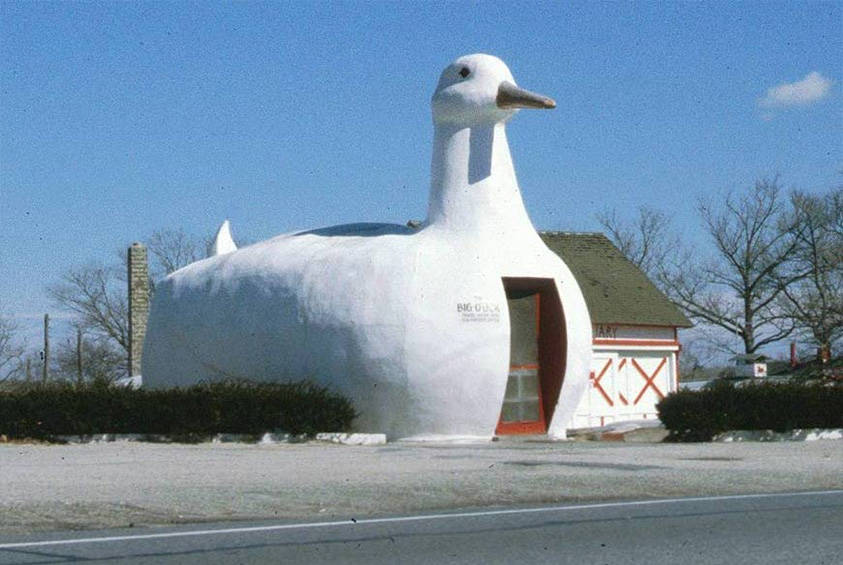 The original, and eponymous, Duck.
Mobile shanties are repurposed campers or have a trailer and wheelset integrated into the structure. It's fairly clear how to move the structure around, drop it off at its next bid location and use it again the upcoming year. This year's festival had two mobile shanties, the Minnesauna and The Shanty of Those Who Know Things. Sign up to sweat yourself into a warmer state of mind in one, and then ask people who are 65 years or older to share their expertise in the other.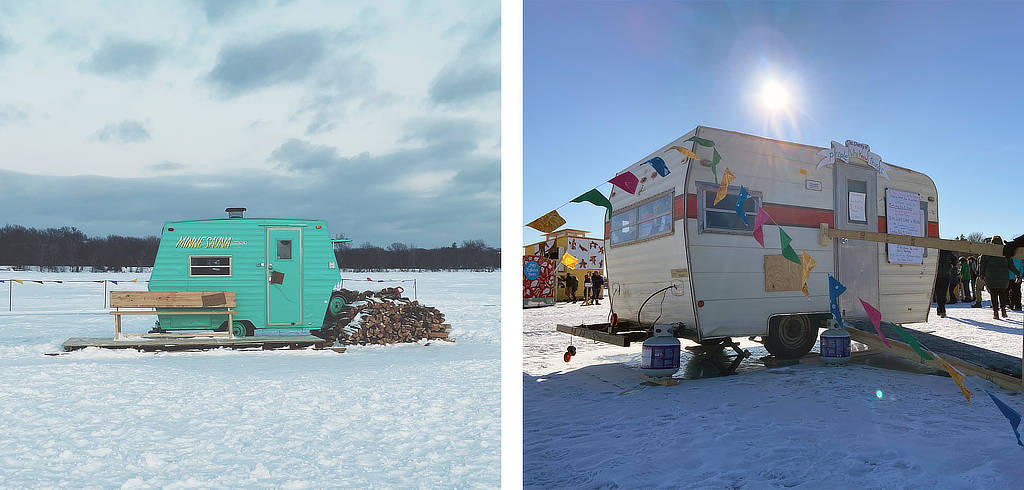 Minnesauna and the Shanty of Those Who Know Things
When the purpose of a shanty is to simply hold space for what's happening inside a yurt or tent style of construction is an easy choice. Lightweight, with an open floor-plan, and is designed to be disassembled. Using heavy black plastic to block sunlight, overtop a PVC pipe frame, the Opticon is a room sized camera obscura. Step inside and the periscope-like lens at the top projects the world outside the shanty at your feet. The shanty Archive of Apologies and Pardons creates space to write your own mea culpa or read ones left by others with a traditional yurt framing.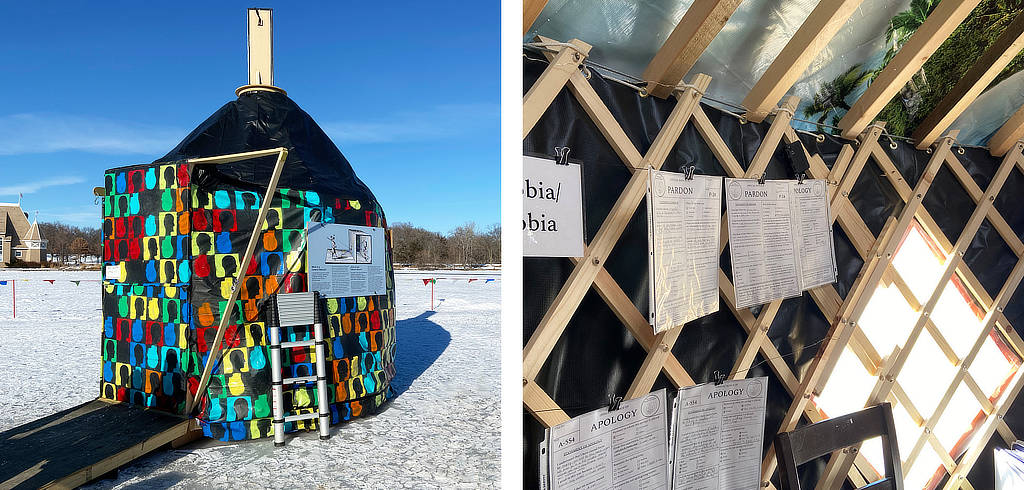 Opticon and The Archive of Apologies and Pardons
In 1972, Denise Scott-Brown, Robert Venturi and their friend Steven Izenour argued that there were two types of building; a decorated shed or a duck. The former uses symbols to describe its function, a decorated shed will explain itself through signage and decor. A duck, named for a duck shaped building in Eastern Long Island, is a symbol in itself. The literal shape of the building tells you how it is used. Of the 200+ shanties of the festival's past the vast majority of them are essentially decorated sheds. It's much easier to build a stable box to house an activity than a building that describes itself as its use.

The Box Studio, TeaHaus, The Holding Shanty and Ghost Shanty
Pictured here is an art studio, a tea house, a tower of nets to hold you safe, and a gallery of ghosts and memories. These shanties are defined by their decor and furnishing, not their form.

Sci-Fi Book Club, Human Hamster Wheel, and Shanti Shanty
A crash-landed spaceship from the future, a human hamster wheel to power a light display, and a supersized prayer wheel represent a selection of shanty 'ducks' throughout the years. The 2020 festival featured the Spectra Gigs, a larger than life kaleidoscope meant to disorient each viewer. The massive concave faceted mirror spins before you, taking up your whole field of vision. Standing as a symbol of itself and nothing else, leaving its victims disoriented and wondering 'how ismy spectra doing?'
Spectragigs in action
One of the key parts of the SALA design philosophy is to design towards timelessness. We create homes that are durable, beautiful and sustainable throughout their lives. This doesn't describe all that architecture can be – sometimes good architecture lasts only as long as it needs to make us feel something. Then it's done, carried away off the ice, awaiting the next winter to make its return transformed anew.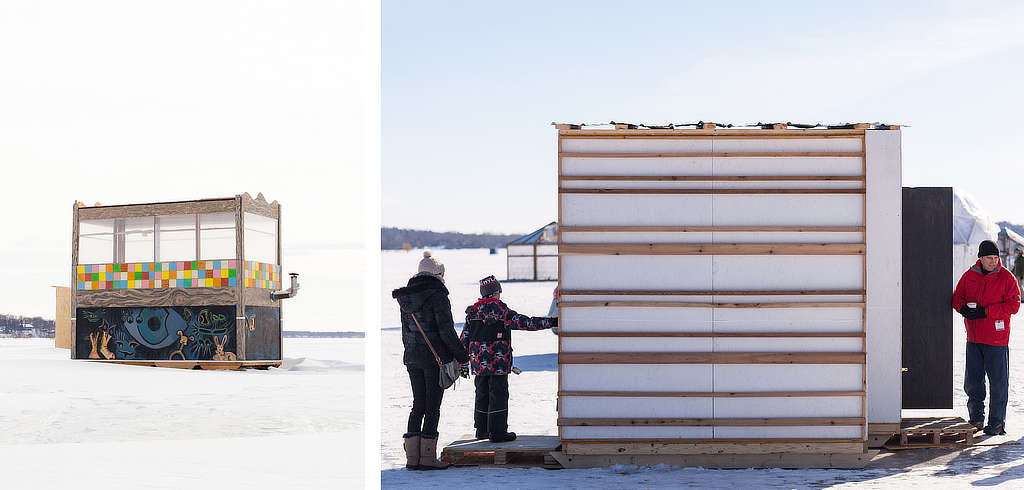 Slumber Party Shanty (a duck) and The Conversation Booth (a decorated shed), both designed by the author