It's a little late to be telling you this, but did you know May is National Bike Month? Here at SALA we have a number of enthusiastic bicycle commuters. The reasons to bike to work are plentiful, but for some really compelling motivation to hop on your bike, take a look at 35W around 5pm!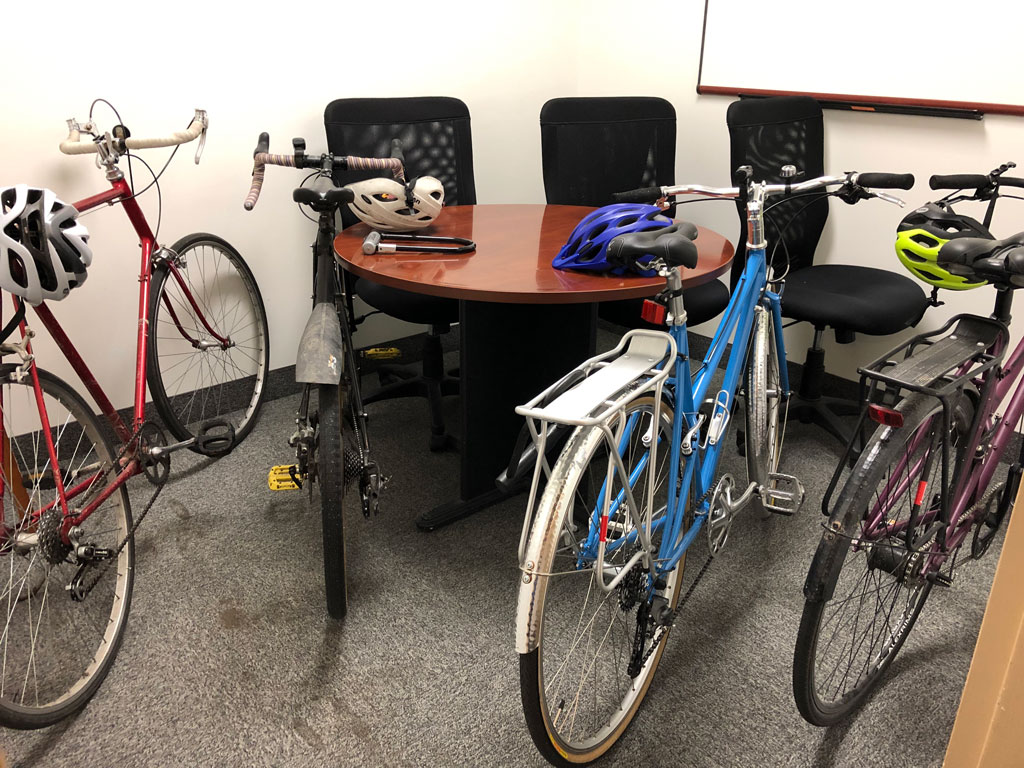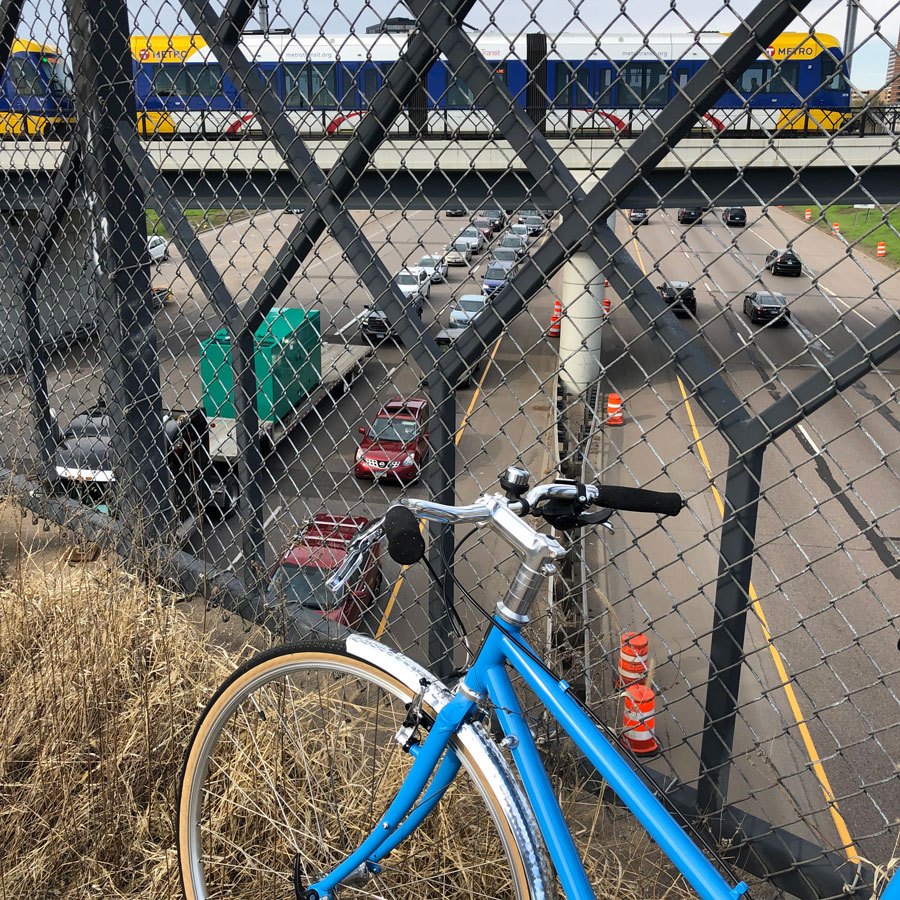 So, what does bicycling have to do with design? Well, through careful planning, thoughtfulness, and creativity (aka design), our city has created a safe, convenient, and extensive network of bicycle infrastructure that encourages this healthy and clean method of transportation! When I think about my commute via bicycle, I realize that design is everywhere, from my shiny new "Handsome" bike to the various devices used to weave bicycle routes into the urban fabric. (And lest you think this design has only benefited cyclists, remember that it has removed at least one car out of that 35W mess!)
I begin my ride in South Minneapolis, where 17th Avenue South has been designated as a "bicycle boulevard." Every time I ride along this otherwise-ordinary residential street, I think about the brilliant simplicity of its design. The only change that was made here was to replace stop signs with roundabouts. What's so great about that, you ask? The designers of this bikeway created a solution that both calms traffic for a safer environment while also attracting bicycles off of other streets since they can ride unimpeded by constant stop signs.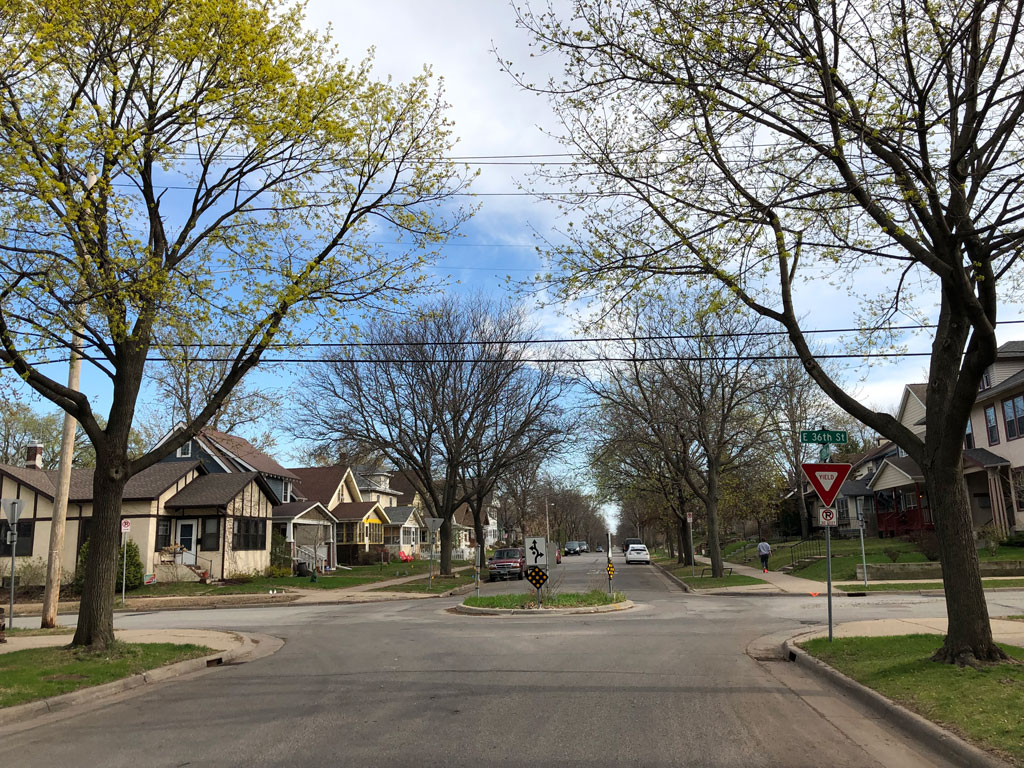 After a brief turn onto the Midtown Greenway, I next cross Hiawatha Avenue on the Martin Olav Sabo bridge. Forming a crucial bicycle and pedestrian link over a busy highway, the bridge is also a sculptural presence and space of beauty in an otherwise unattractive part of town. The bridge is suspended asymmetrically by cables hung from a single mast, which rise up around you as you cycle across and glow blue against the night sky.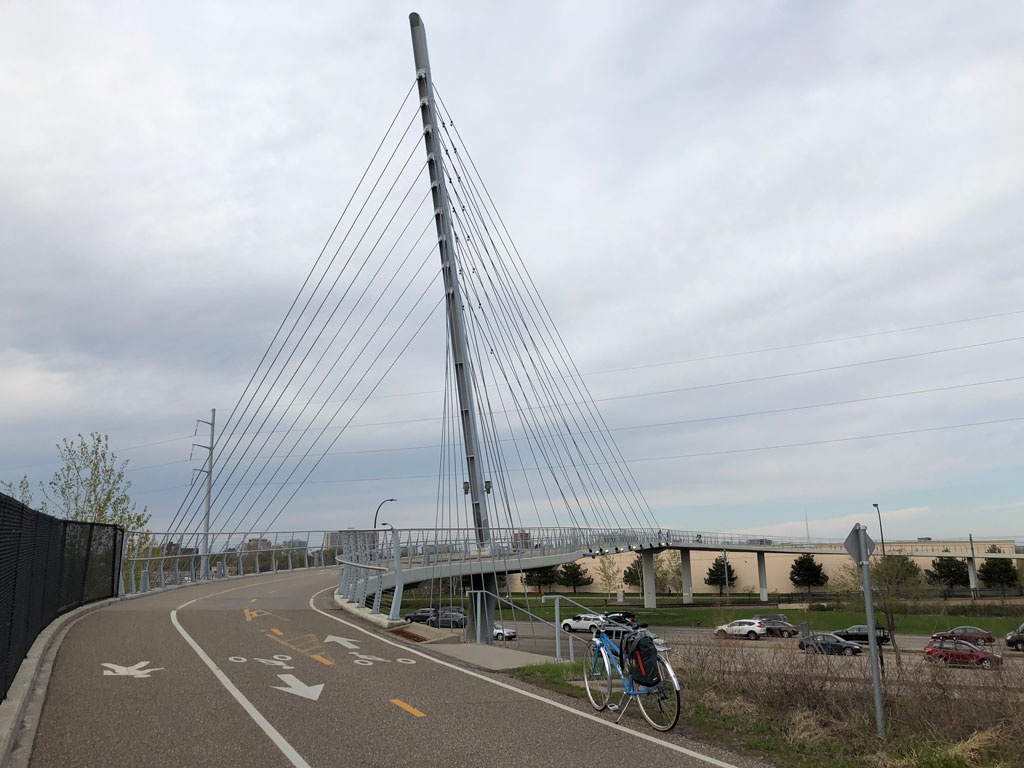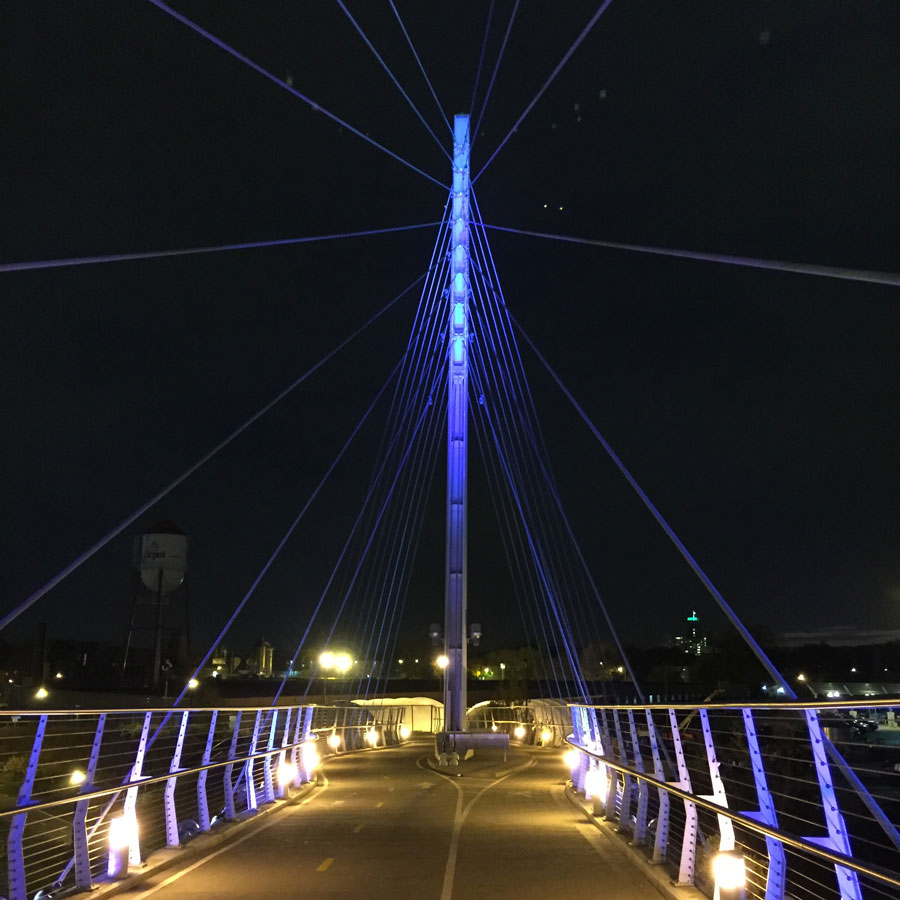 Bike lanes downtown primarily take the form of painted stripes and signage, but perform the important function of adding a layer of safety for timid bicyclists while allowing each type of traffic to flow at its own speed. They lead past the US Bank Stadium (which receives a mixed design review from this architect), across busy Washington Avenue and into the Mill District, where you can admire one of my favorite local "starchitect" buildings, the blocky blue and yellow Guthrie Theater.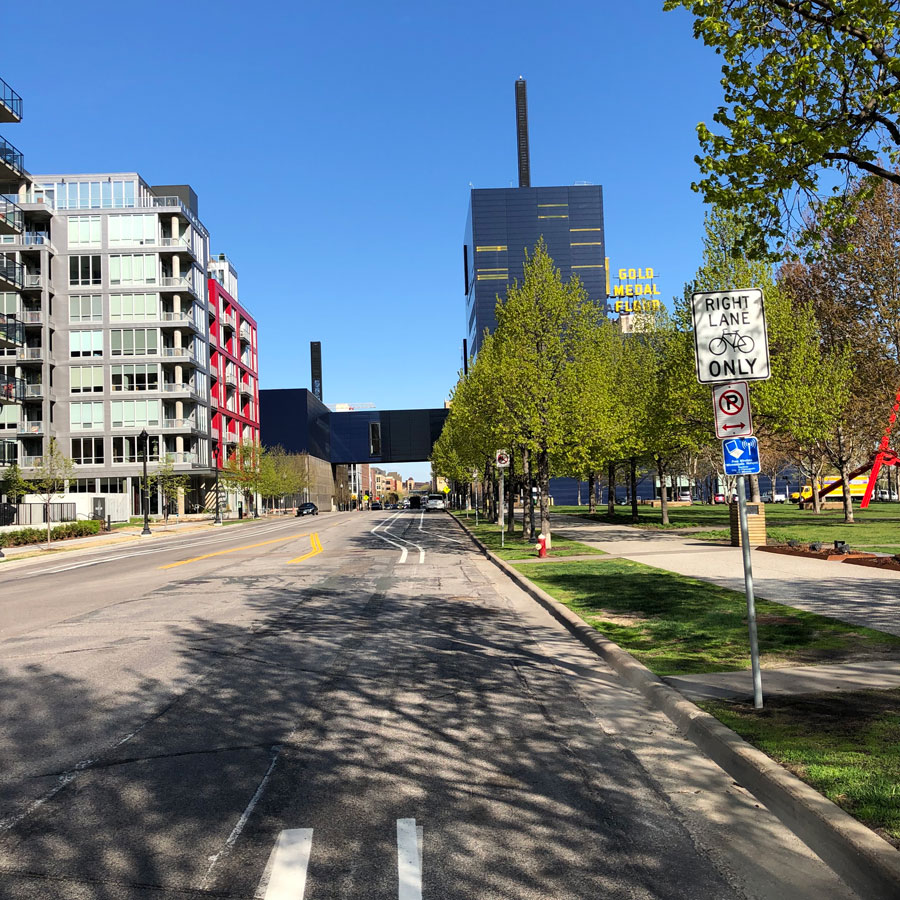 Finally, the lanes turn and head for a grand finale over the Mississippi River, where the historic mill buildings spread out before the skyline along St. Anthony Falls. What a great way to appreciate a lovely spring morning!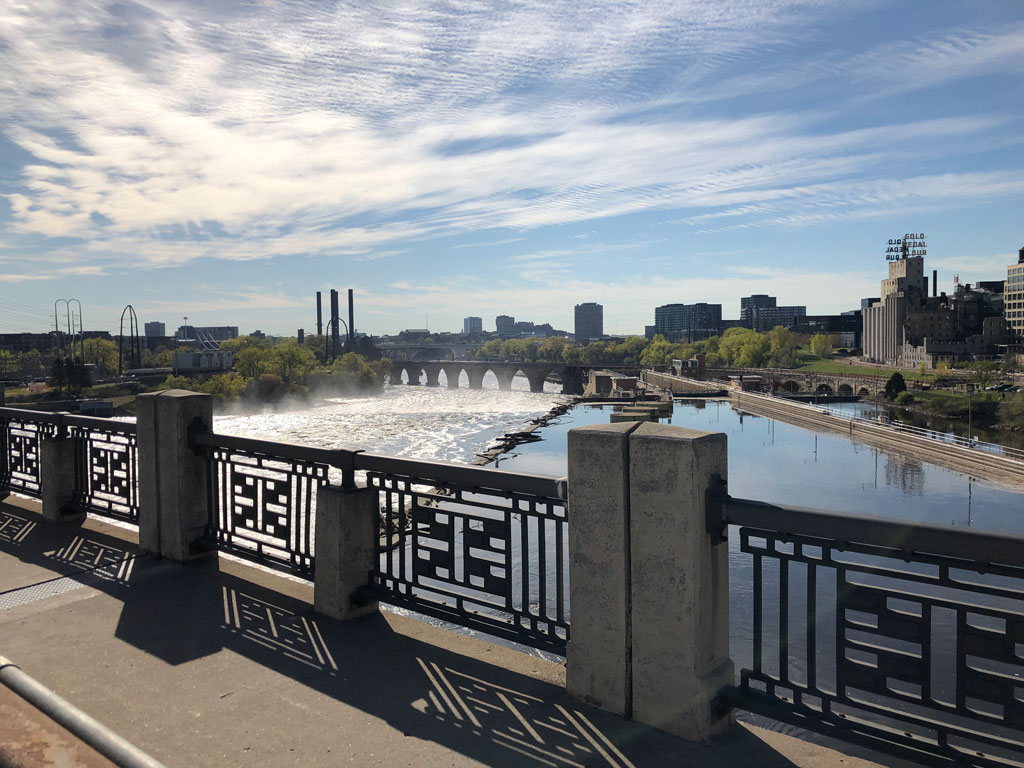 Thinking about my commute this way reminds me that design shapes our daily life, whether through buildings, products, media, or bike infrastructure. Good design is good for everyone!