In my time with SALA I've been fortunate to work with multiple clients more than once, but in the past few years I've enjoyed a first for me: designing a renovation to a cabin built from one of the first hand-drafted construction drawing sets to leave my desk—on October 11th, 1999.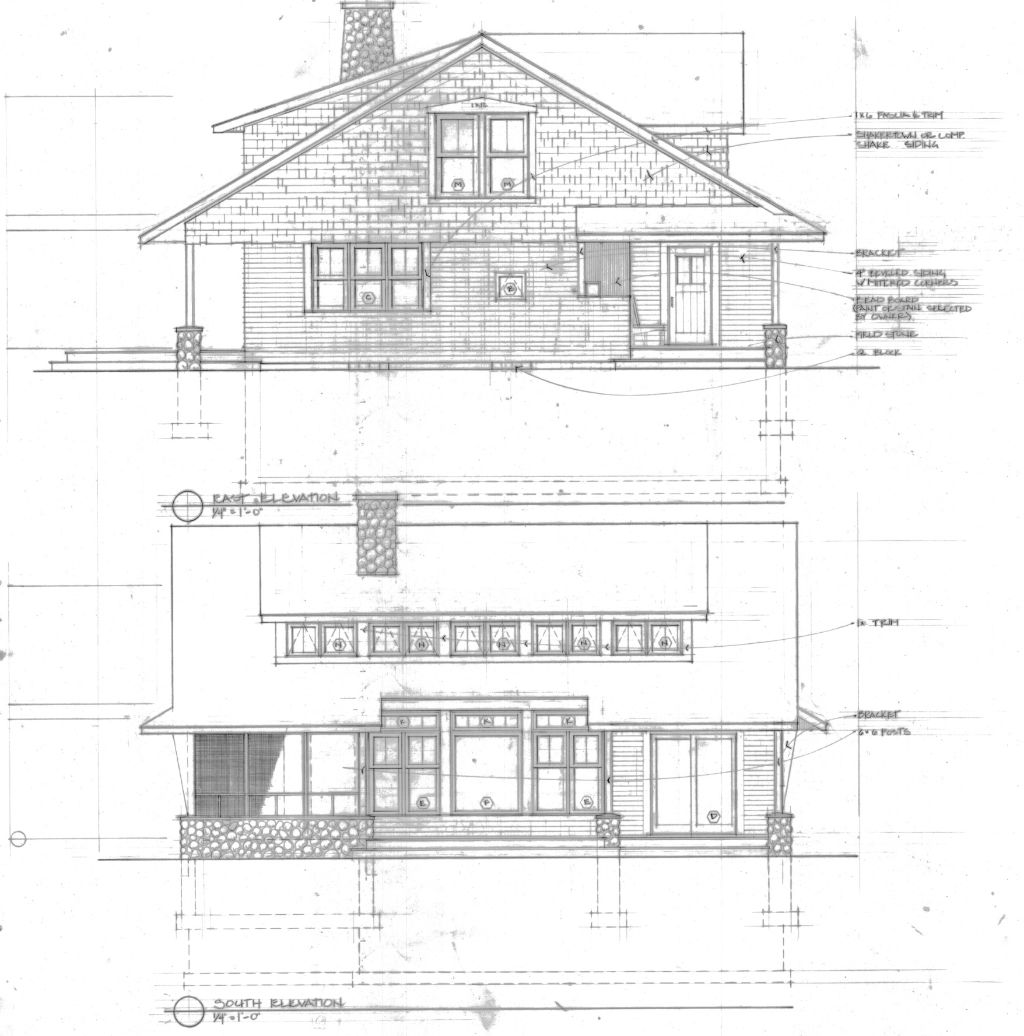 Back then, Dale Mulfinger led the design charge and engaged more directly with the owners, but I was living my earliest dream by developing Dale's design ideas into plan, elevation and section drawings line by line with HB lead on mylar sheets. I only recall meeting the owners once to hand over the completed drawing set, and never saw the project finished, so it's impossible to describe the excitement I felt when I was personally called back into service by the owners two decades later to revisit a project I knew every inch of, but only on paper.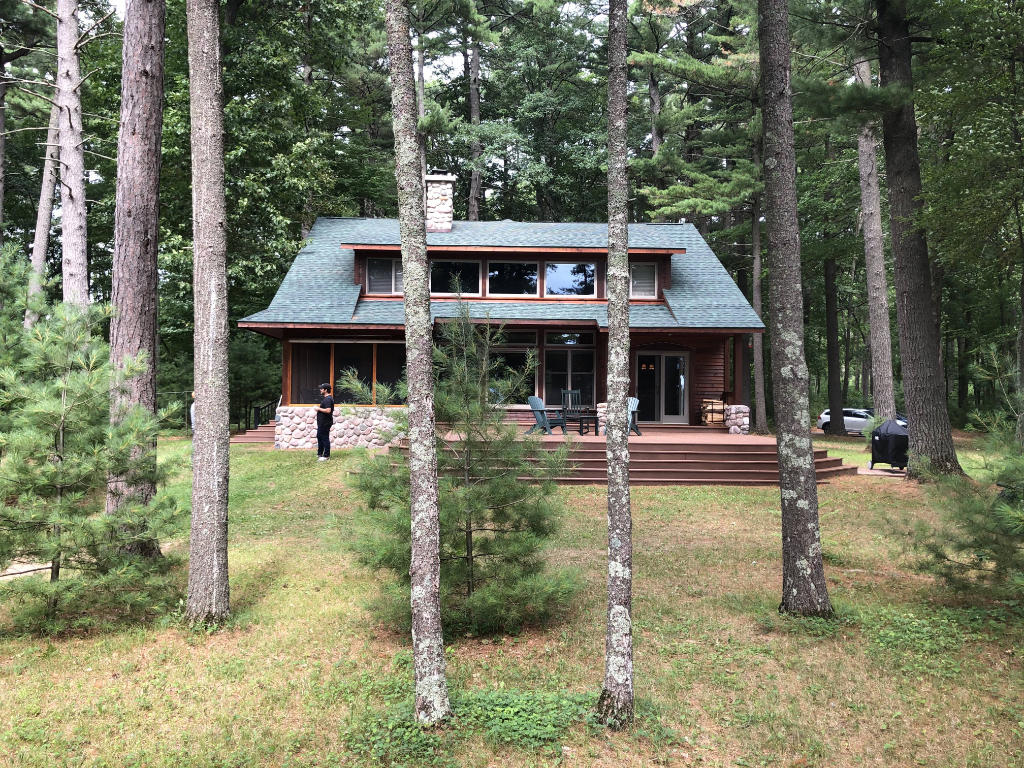 My first visit to the site was not only memorable for being IRL (a 21st century acronym for In Real Life that didn't exist when the cabin was built), but also to find myself near an area I frequent with my husband and friends for weekend getaways. It turned out I'd driven past one of the first projects I helped design countless times without ever knowing it!
The original cabin is relatively modest in size, designed for a family of four with extended family nearby. It is surrounded by mature mixed pine and oak in a dense, lush forest straight out of a Disney movie. The all-wood interior reflects its natural surroundings and is grounded by a hand-laid fieldstone fireplace at its two-story central hearth.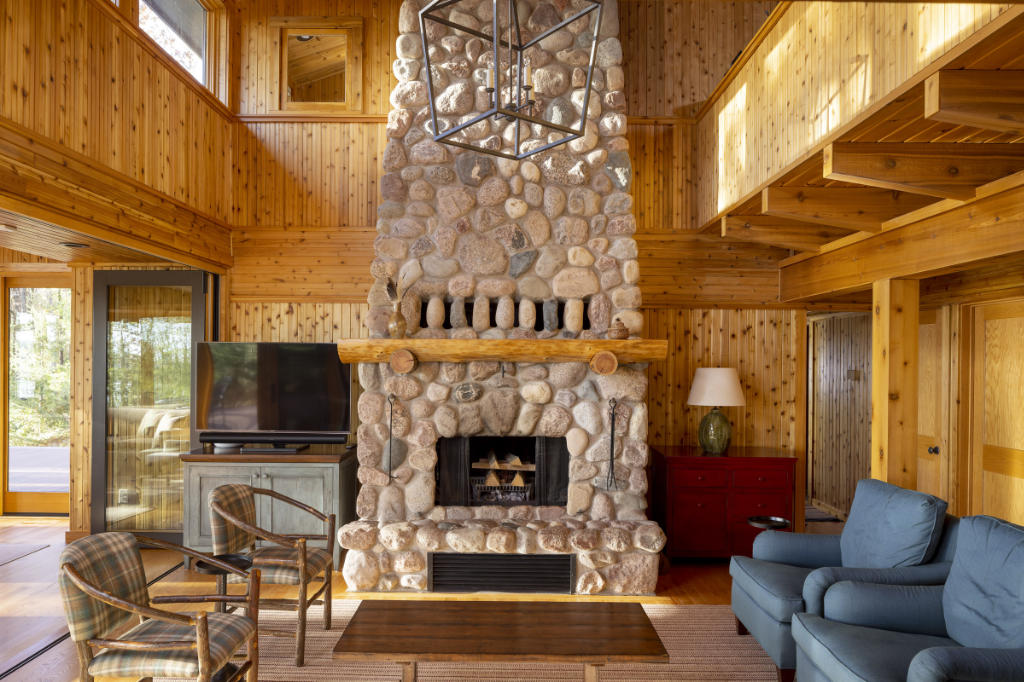 The family had enjoyed the cabin for all its years, but the family had grown, almost exponentially, and the need to simply have more space to accommodate larger gatherings was driving change. Driving the architectural challenge, was the need to expand a compact gabled form with concentric programmatic functions without undermining the daylight and view experience from the central living space.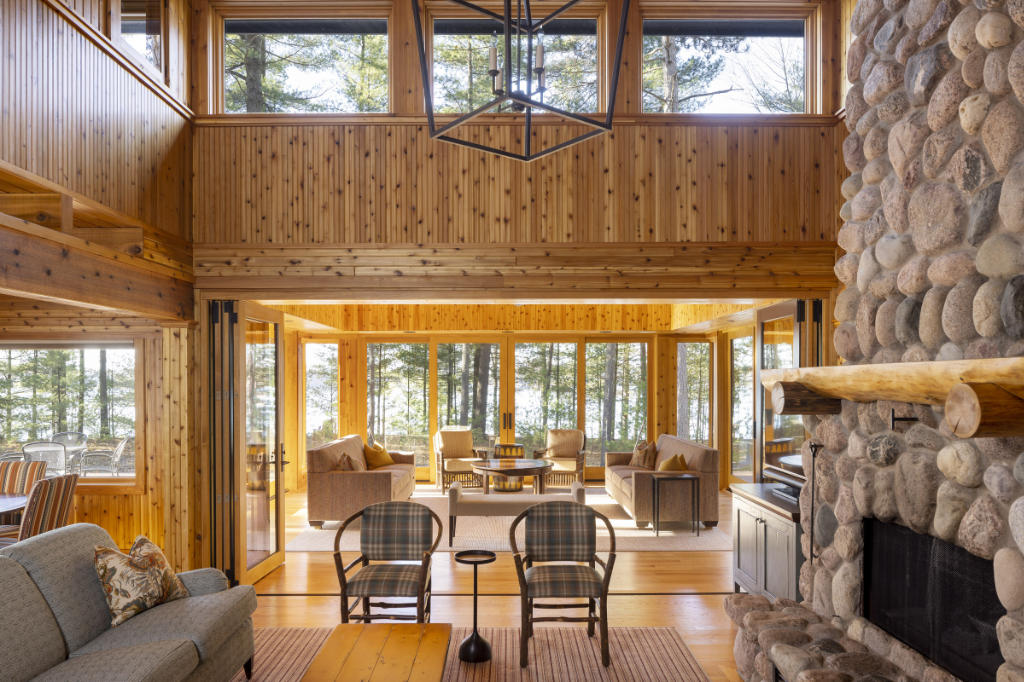 Joining me in the design process, were two young staff members at the beginning of their careers: Ben Dose and Nate Ehrlich. Exploring new ideas on an old project with the next generation of talent was a notable, and thoroughly enjoyable, role reversal for me. Our final design solution required expanding in four directions.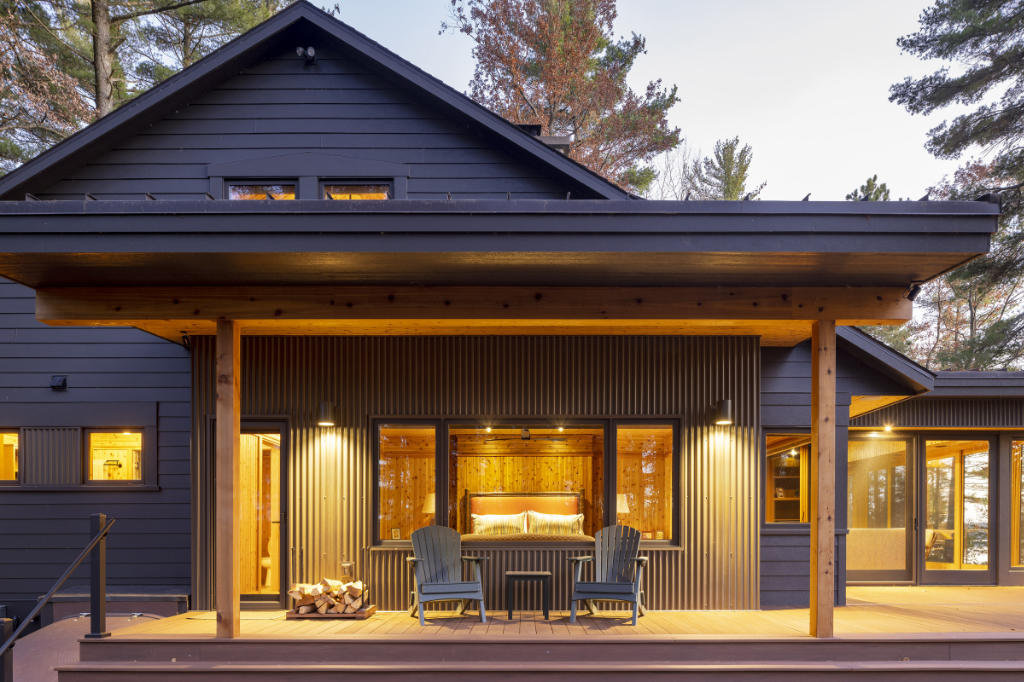 To the north: a reconfigured primary bed and bath (in the former screen porch location) to provide a dedicated retreat that gains lake views.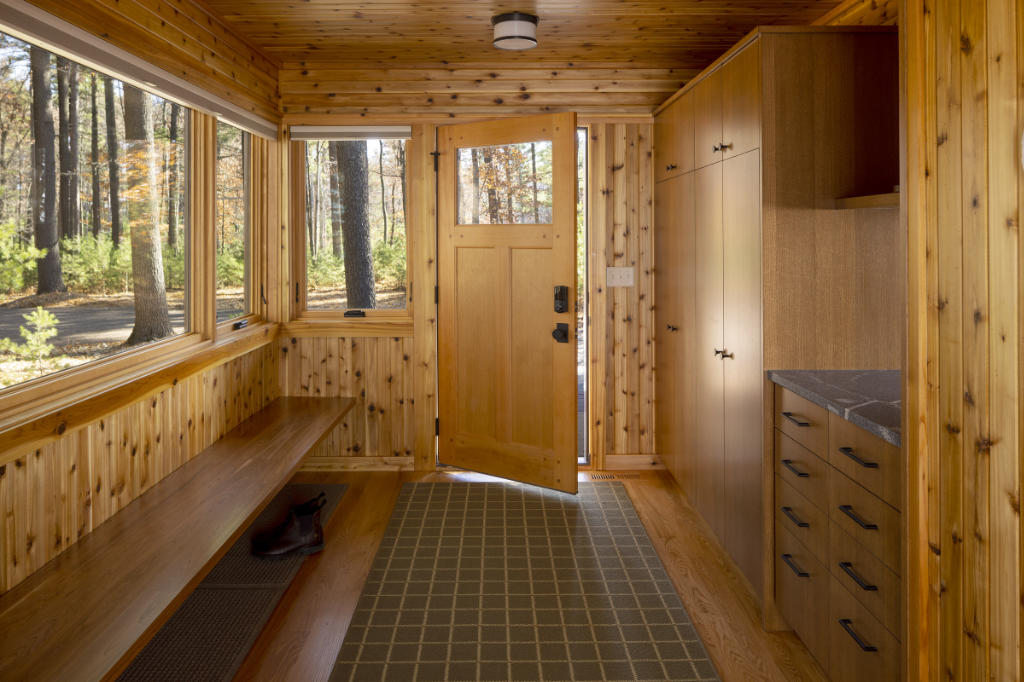 To the east: a gracious entry created by enclosing the original entry porch.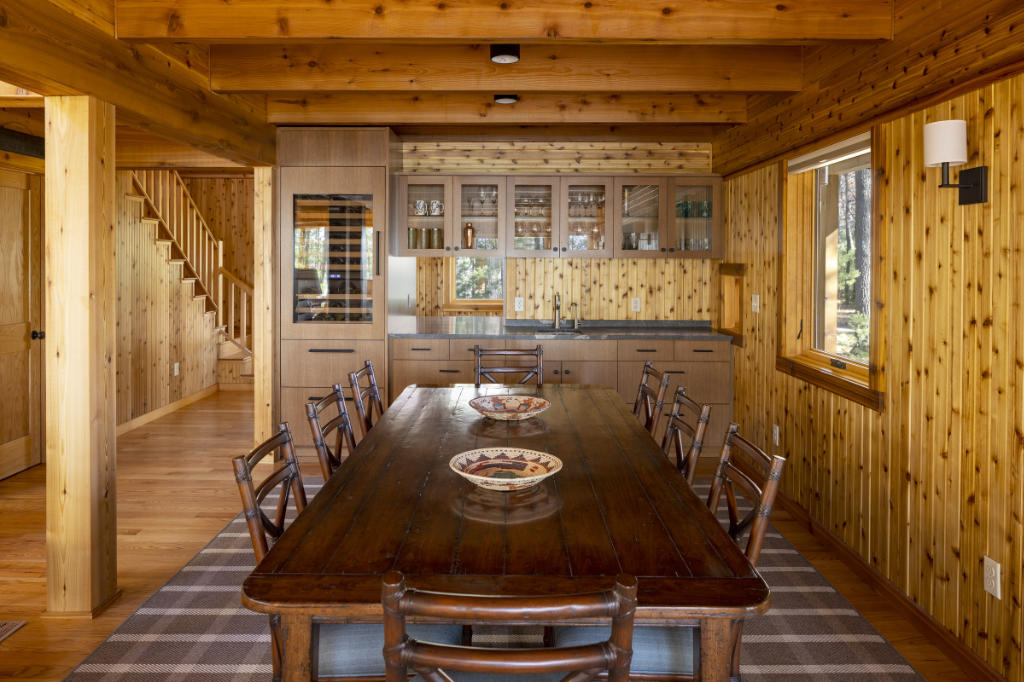 To the south: a generous kitchen to gain much needed dining space (in the previous kitchen's location) and provide direct access to the deck and grill area.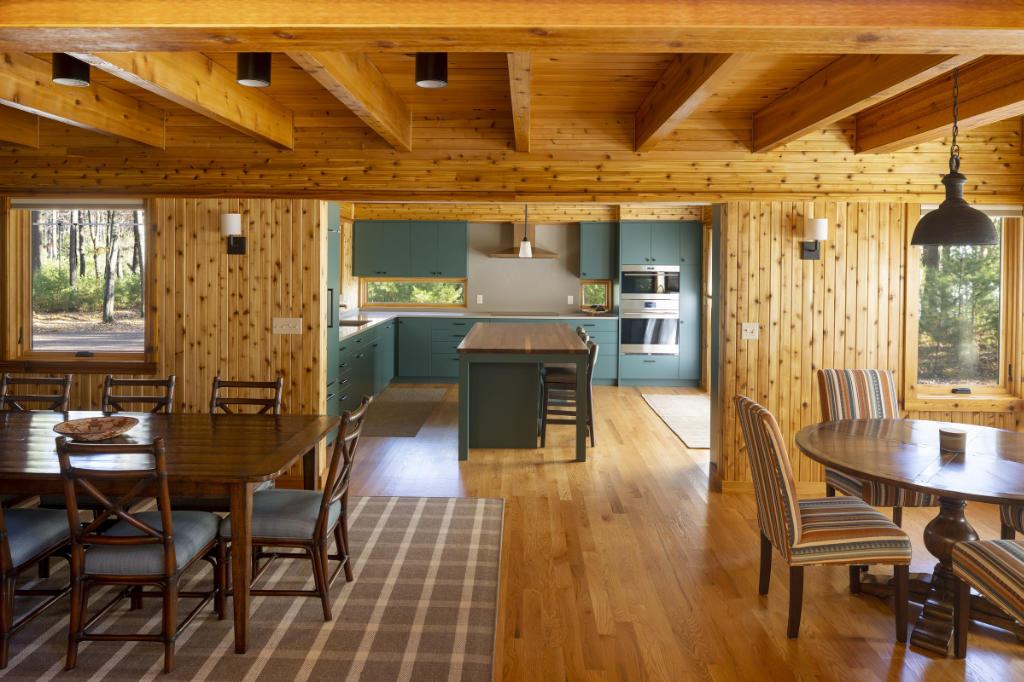 And to the west: an expansive sunroom (largely shaded form summer sun) that takes advantage of lake and forest views on three sides and opens (via a bi-fold door system) to the central living area.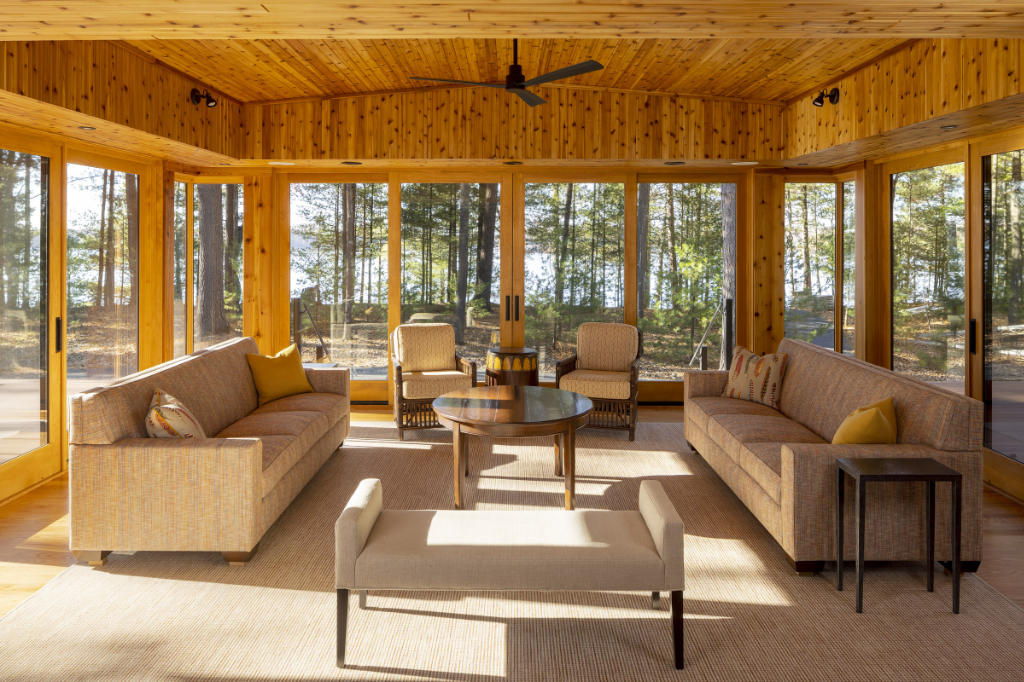 In plan view, these additions were straightforward, but in section they needed to be covered without obstructing any windows on the upper level. The owners were also clear that flat or planted roofs and skylights should be avoided given the abundant sloughing of sap, needles and cones from above. Ultimately, we landed on a low-slope, standing-seam covered roof that rises from east and west to a ridge centered on the sunroom that rests just below the sill of existing clerestory windows delivering light to the center of the house.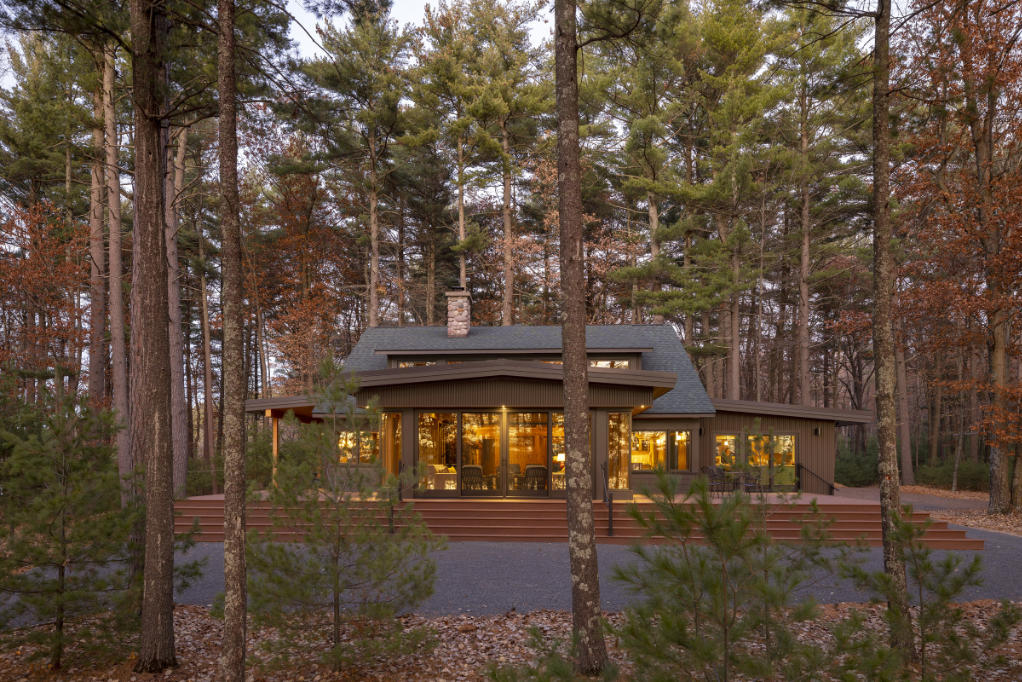 Ben relocated before the project was complete, but Nate saw it through and was there for finished photography. For me, two decades of anticipation were rewarded with an opportunity to get to know the owners better while helping them reimagine this special gathering place for their family. It was an unexpected bonus to witness the same pride and excitement I felt so many years ago handing over the finished drawings in the contributions of our next generation of designers.