With our kids having reached the ages of 13, 11, and 9, my wife and I felt we were at the perfect stage of their childhood to embark on our first big family trip abroad. After discussing possible destinations with them, France became the clear choice, giving us a wide range of cultural experiences, attractions, and ambiance to meet everyone's interests –storybook castles for one of my daughters, the Eifel Tower for the other, and a chance to use French language skills for my son.
For myself, I was excited about making a pilgrimage to the small village of Ronchamp, where the chapel of Notre Dame Du Haut sits high on a hill: a mid-century masterpiece designed by Le Corbusier. For both architectural and fine arts students, this building might be remembered from amongst the countless slides shown on large screens in dark college classrooms. The chapel, also known simply as Ronchamp, strikes a particularly memorable note, sitting atop its site with forceful whitewashed walls, and a peculiar, soaring concrete roof. This roof, above all else, is what everyone remembers –part ship's prow; part mushroom cap; altogether strange and enigmatic.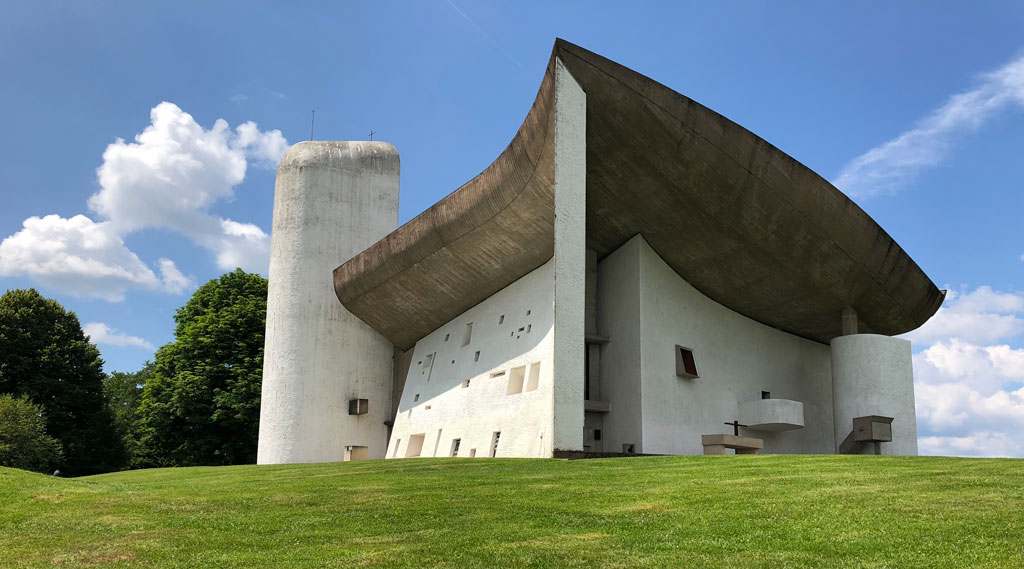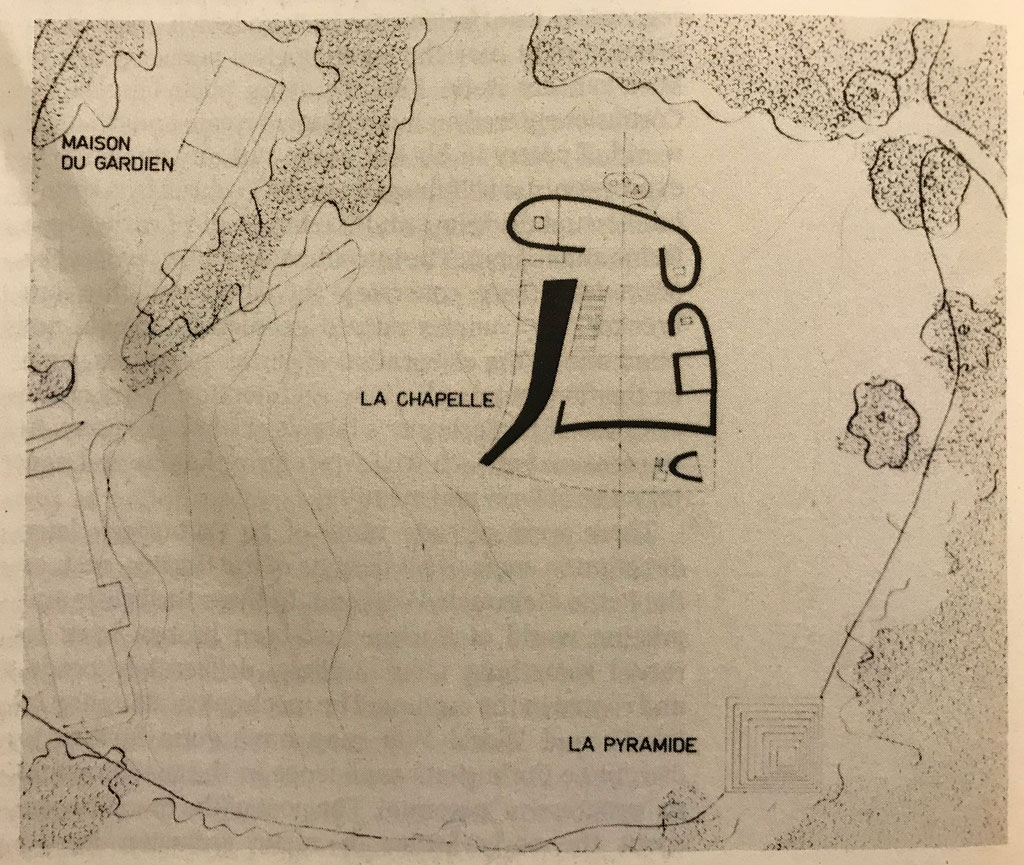 Ronchamp is one of those bucket-list items for most architects. Its powerful and mesmerizing image, beckons and pulls at the heartstrings. I was no exception to Ronchamp's allure, and though I had been to France twice before, Ronchamp's remote location –off the beaten path, and not conveniently reached by car or high speed trains raised the stakes for the visit. Was I about to take three precious days from my family's trip only to discover that our efforts might not bear fruit? In other words, would Corbu's emblematic masterpiece turn out to be a dud?
Our trip unfolded with many memorable moments, a visit to Monet's gardens in Giverny, experiencing the D-Day beaches in Normandy, hiking up the narrow medieval walkways and stairs of Mont-Saint-Michel, and touring the fantastical chateaux of the Loire.
From the Loire Valley we set out east across France's agrarian heartland and toward Dijon. There we would spend the night, and be within striking distance of Ronchamp. To our delight, Dijon turned out to be a lovely medieval city, where we enjoyed a great meal of boeuf bourguignon –one of the region's specialties–, and spent the night in a hotel converted from an historic monastery. We awoke to a beautiful sunny day, and after a quick petit dejeuner, we set off on our daytrip to Corbusier's chapel.
After a couple of hours of driving we reached the village of Ronchamp and followed the signs that led us along a narrow road and up through curving switchbacks shaded by leafy trees. The trees gave way to open sky, where we topped out in a modest parking area just below the peak of the hill. No sign of the chapel yet though. A small visitor's center greeted us to one side, and after paying a small fee we were directed to a footpath that wound further up the hill. As we walked along the path, we began to see the great sweeping roof of the chapel, my anticipation growing with each step. After another turn in the path, Notre Dame Du Haut emerged in full glory from beyond a grassy slope, its sharp profile cutting across clouds and blue sky. Here it was! Wonderous in shape and form! It's curving walls and monumental roof swept above us and were as majestic as I'd imagined!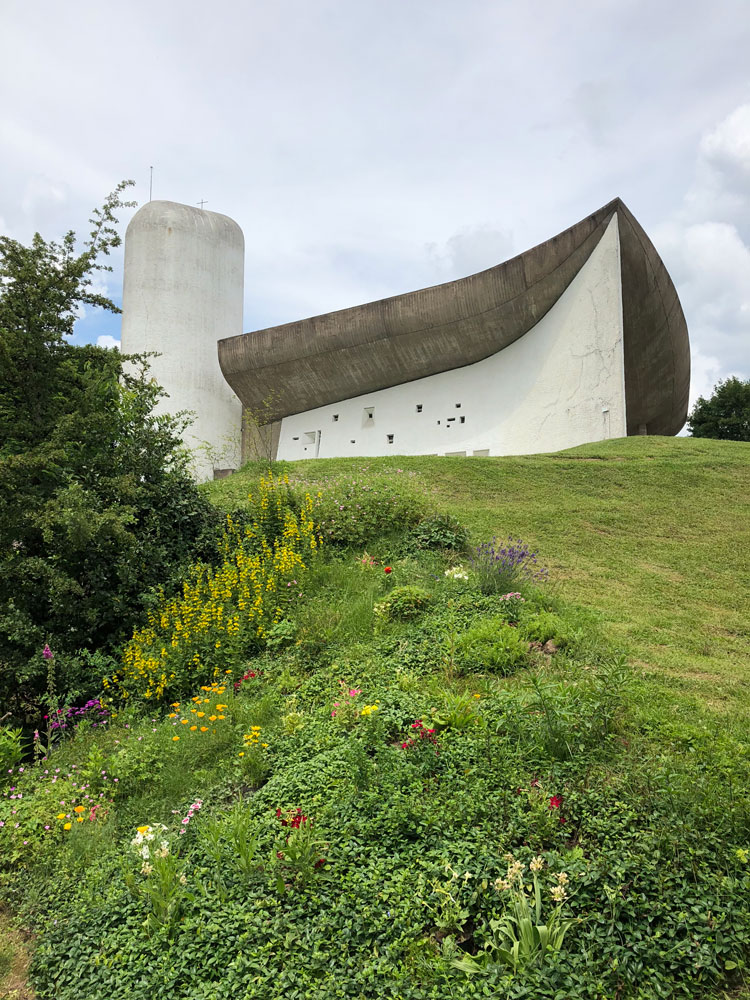 The hilltop had been home to a small church and the remains of a larger 4thcentury pilgrimage chapel, both bombed out and reduced to rubble during WWII. The new chapel, commissioned by a local association under the Roman Catholic Church, was to be a modern expression of the faith. Corbusier's plan for Ronchamp is simple in its program, a small main chapel formed by walls that curve in on themselves to form entries on opposite sides. While the interior of the main nave provides only a modest number of seats, an exterior altar, tucked under the roof, and set within the concavity of one of the massive whitewashed walls, connects to the surrounding lawn where larger services can be held in the open air.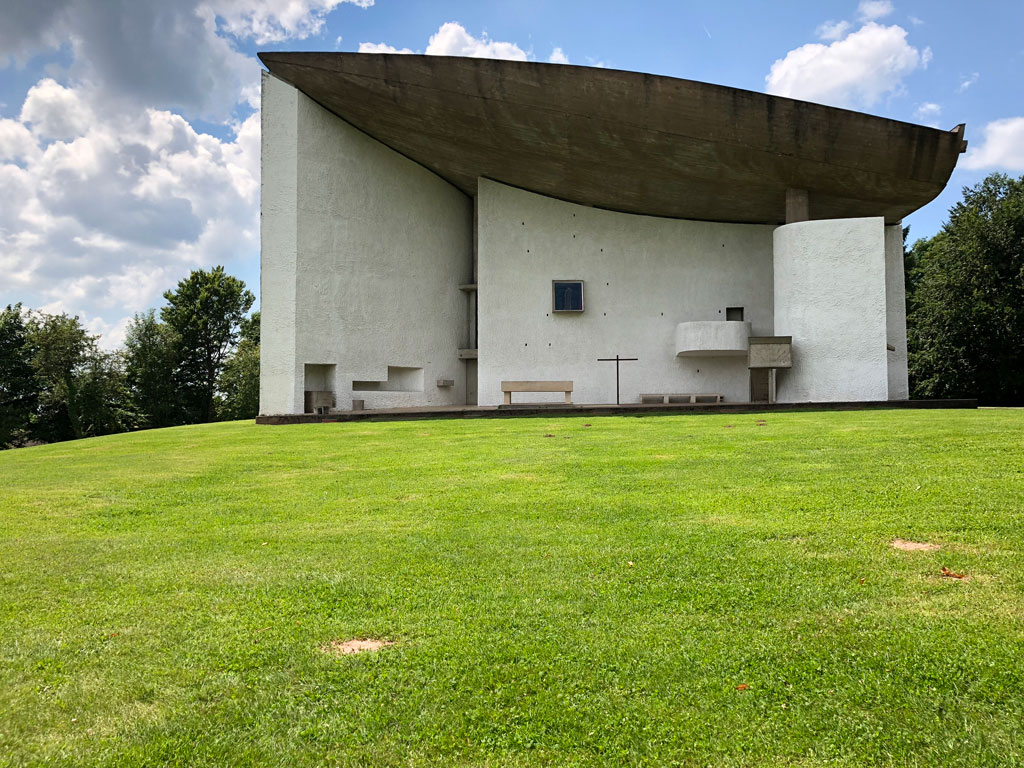 After circling the exterior shell and feeling the impressive weight of the building on the earth, we slipped in along one of two entrances that lead into its ambiguous internal realm. If the bizarre concrete roof and contrasting bright walls are Ronchamp's most dominating exterior features, the interior manifestation of darkness and light make for an equally startling counterpoint.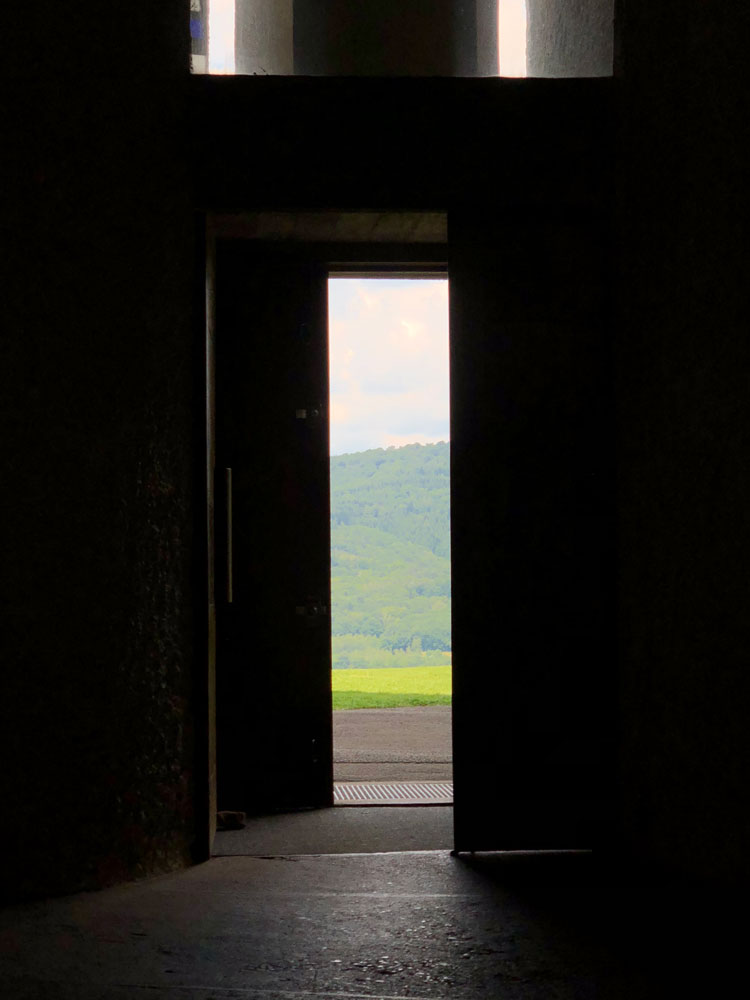 The shadowy interior possesses a primeval atmosphere, as if stepping into an ancient cave dwelling. Piercing the darkness, through the thick masonry walls, is a brilliant tapestry of light. Like inhabiting the very canvas of a Mondrian painting, our eyes were met with a vibrant and colorful composition of windows set against the black silhouette of the wall. Each window was of a different size, shape, and depth, filling the western wall from floor to rooftop. Flared window apertures expose the wall's impressive thickness. Strong light is cast through these openings yet spreads gently across surfaces to expose their textures.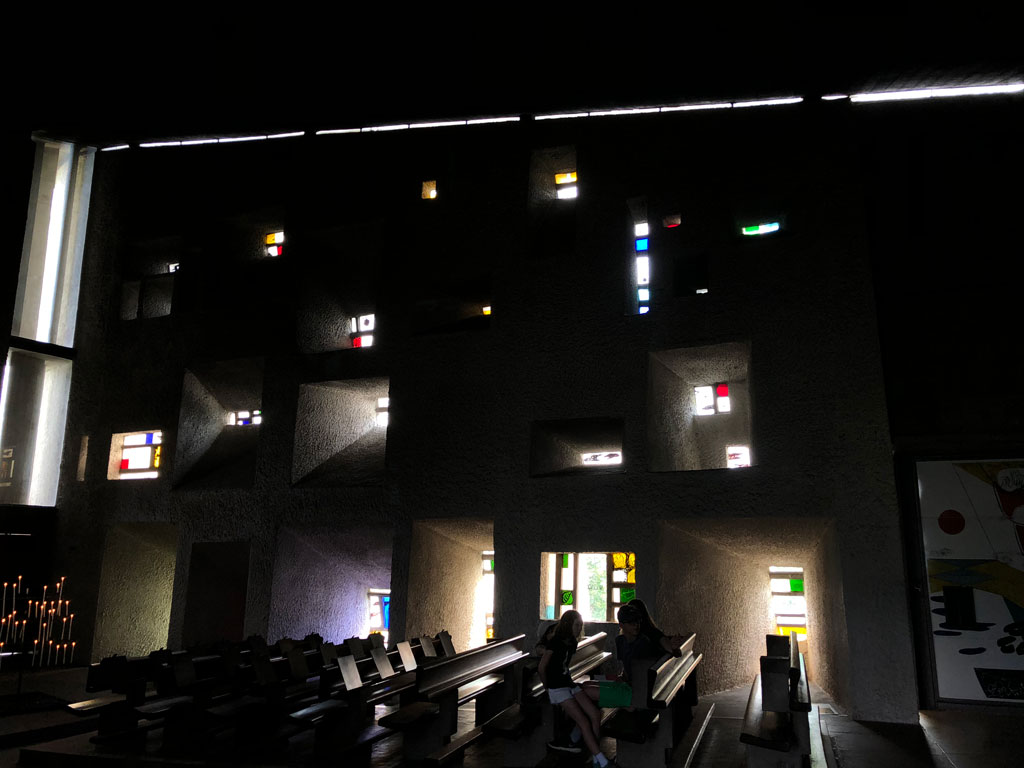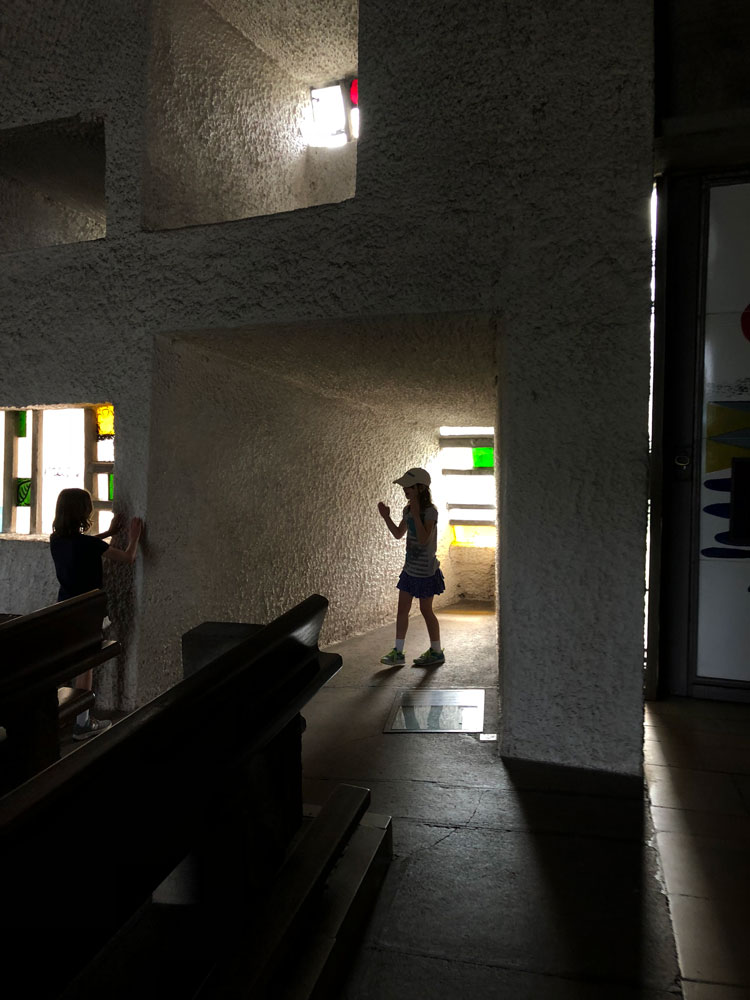 As our eyes adjusted we could see the floor slope down toward the altar imparting an increase of height and drama to the space. The floor beneath our feet at first appeared to be some kind of soft stone, but looking further we could see it was cast concrete. Its smooth and supple finish, obviously worked lovingly by hand, was like no other concrete I have seen. Its character further enhanced by decades of foot traffic from parishioners and pilgrims such as us.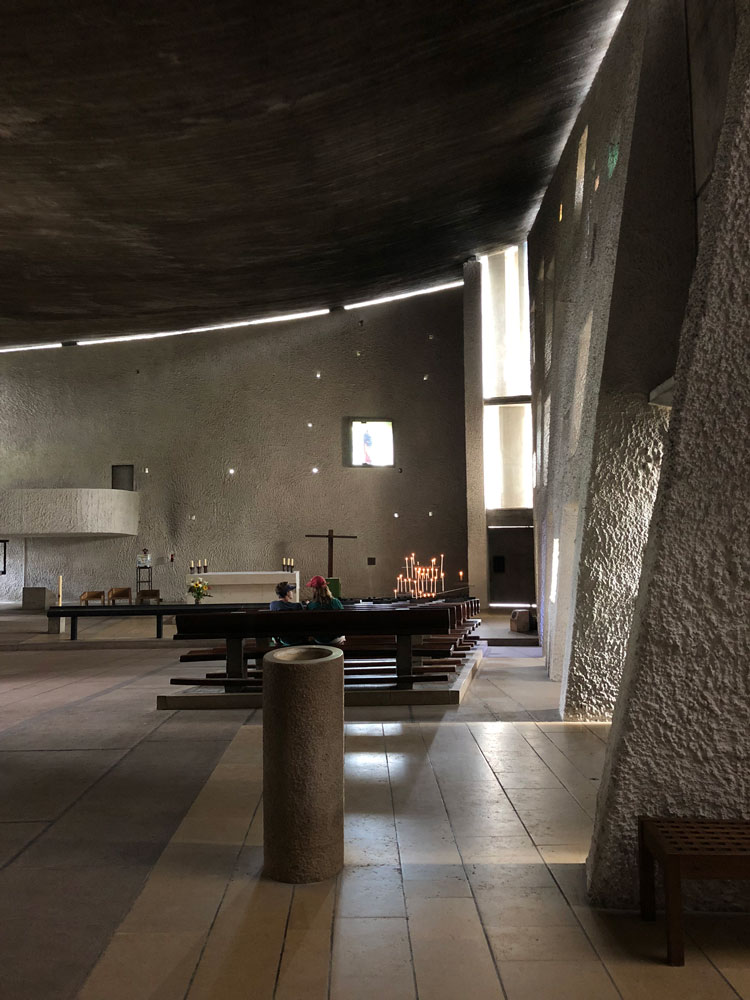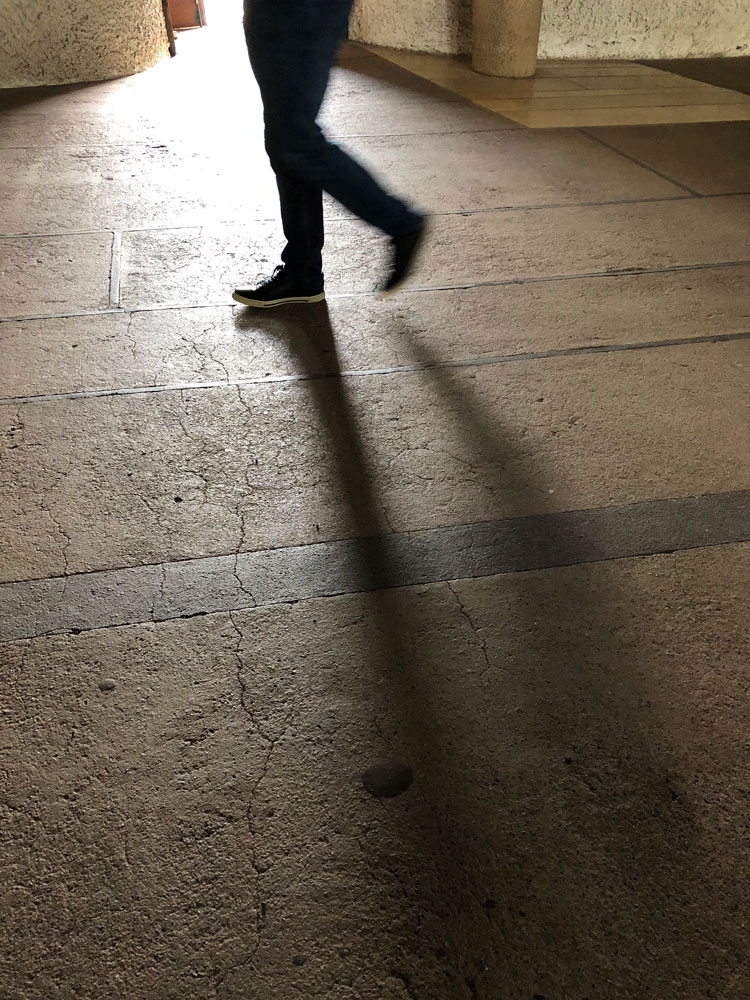 Turning away from the altar, the back wall of the chapel beckons with its own mysterious light. Exploring further we discovered a succession of three intimate side chapels, each reaching up toward the heavens, and awash with unseen sources of light from above. For such a small building, the layers of space, and the interplay of light and form were an unexpected joy to behold.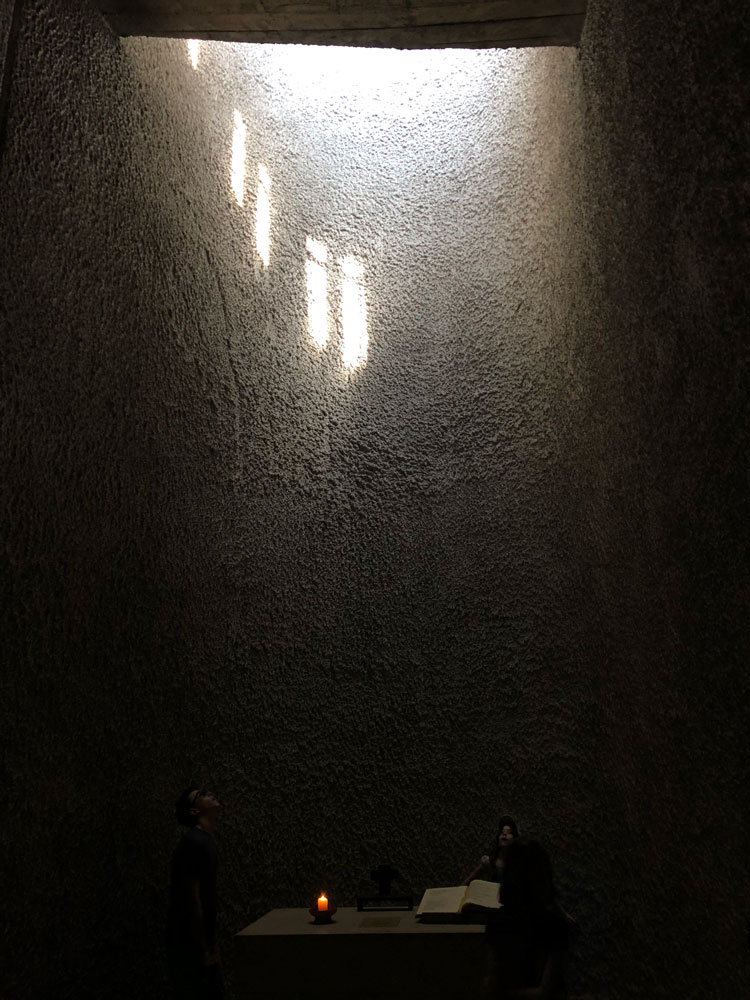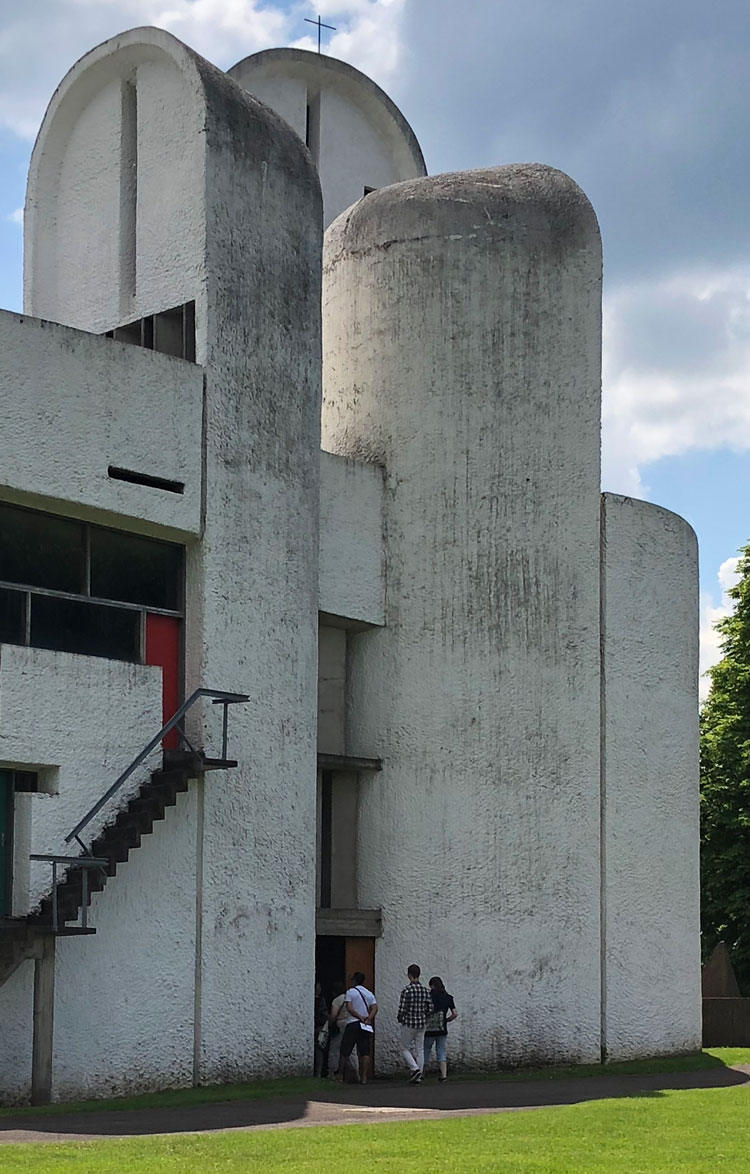 Emerging from the chapel, we were met by bright sky and sun, requiring our eyes to adjust yet again. The kids happily ran across the grass, climbing "La Pyramide", a stepped landscape form situated opposite the outdoor altar. Joining them atop these steps and turning back around to view Notre Dame Du Haut, I felt a mixture of wonder, satisfaction, and awe. Le Corbusier's creation is not easy to describe with words. It retains a mystical aura that the experience of visiting the chapel does not diminish, but rather intensifies. Even now as I try to explain the impressions it has left on me I struggle to define what I experienced. What I can say is that the experience bore fruit in abundance. More than just checking an item off of a bucket-list, the journey to Ronchamp planted many seeds of architectural wisdom in my head, and sowed many more ideas on which to contemplate and meditate for a lifetime.
Even my wife and kids agree, it was not a dud!