I find that the older I get, the less tolerant I've become of visual chaos and clutter.  I'm not sure if this is a universal inclination as we age, but for me, it seems to be more persistent as time moves on. I find myself straightening pictures on walls, realigning magazines and coasters on my coffee table, fluffing up wrinkled pillows, arranging my clothes by color and length, and sometimes tossing things in the trash bin in exasperation. I long to be surrounded by quiet, harmonious rooms with only a few treasured artifacts to keep me company. Pondering this, I came across two books that spoke to me. The first was Material World — a Global Family Portrait written by Peter Menzel and illustrated by Charles C. Mann. Both writer and photographer spent a week at statistically average homesteads in 30 nations. The culmination of each week was to photograph each family with everything they owned spread out on the ground. You can guess which family had the most stuff, an average family in Texas. It brought our mini-storage-obsessive needs into full focus. The second book was given to me by one of my colleagues, A Place for Everything by Peri Wolfmann and Charles Gold. The title states what the book is about. Though I wasn't necessarily drawn to some of their propositions, it simply opened my eyes to how we might "house" the necessary and often mundane paraphernalia in our lives.
I am sure there are many books on the subject. And there are numerous cabinet designers/ manufacturers who have devoted a great deal of time and money to help us hide our stuff. My interest, however, is in developing a frame of mind about how to artfully integrate our unique storage needs into the design process, not as an afterthought but at the outset of the process. We need to treat it as a significant design endeavor. After all, we all need to have toilet paper at the ready. The fist step is to identify exactly what we need to store…..
LOOKING FOR STORAGE IN ALL THE RIGHT PLACES
KITCHEN
Kitchens typically have the most demanding storage requirements of any room in the house. Drawers with appropriate dividers can serve all kinds of storage needs from pot covers to flatware. Drawers are favored more often these days because of smooth-sliding, self-closing hardware, but a combination of both cabinet doors, open shelves and drawers can be arranged not only to meet storage needs, but to create an artistic composition. If, like me, you desire serenity in the most active room of the house, cabinet faces and appliance panels can be built to visually blend together to look like a monolithic paneled wall, hiding the chaos of numerous items needed by the cook.
PANTRY
There are good reasons for the renewed interest in pantries and larders, especially because most homeowners prefer to have windows above counters rather than hard-to-reach upper cabinets. Pantries range from simple floor-to-ceiling, pullout cabinets to full-on rooms the size of a small bedroom. They are most conveniently located adjacent to the kitchen for easy access to stored food and kitchen equipment. Some need to be closed-off while others can be a simple extension of the kitchen itself. The pantry can be a good spot to store pet food or/and have a pet feeding station.
LAUNDRY
Laundry rooms are trending larger lately. Some have linen storage cabinets, utility sinks, folding counters, drying racks, and ironing stations in addition to the washer and dryer. If well lit, this room can also serve as a projects room and wrapping station with cabinets for related materials. Sometimes it makes sense to locate a small laundry near bedrooms so that folks can toss clothes directly in the washer at the end of the day.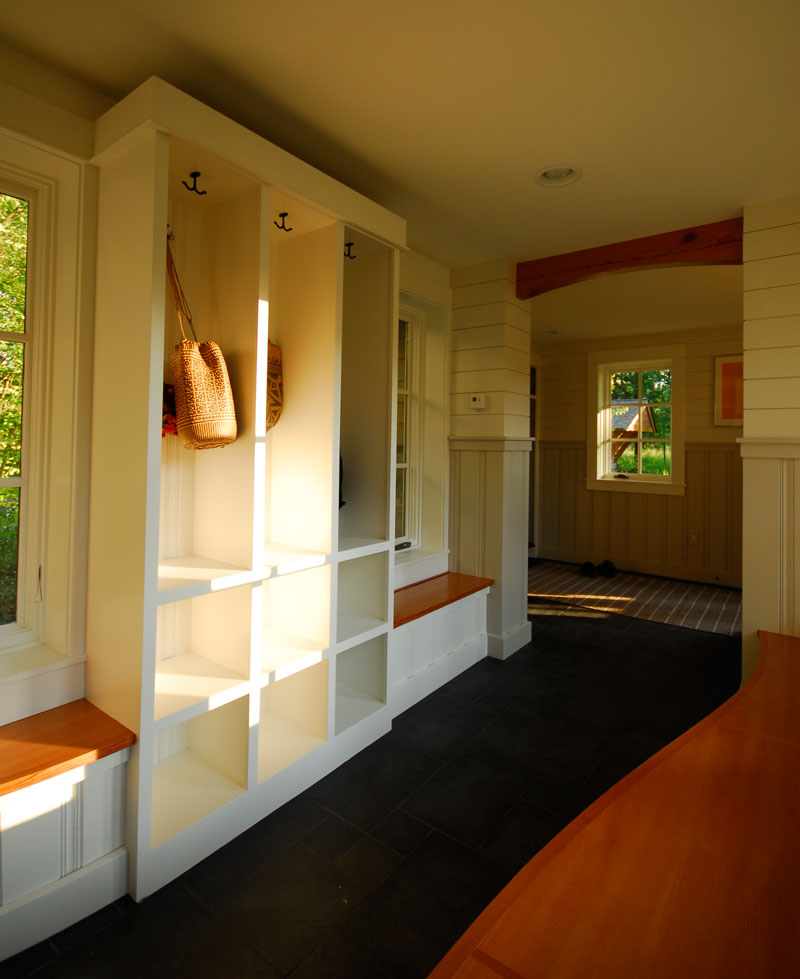 BROOM CLOSET
A broom closet is often overlooked, but will be sorely missed if omitted. Ideally the closet should be large enough to house a vacuum cleaner and hoses, brooms, mops, perhaps a bucket, fly swats, dusters, cleaning agents, grocery bags and pet leashes. Most broom closets in the past were only meant to house brooms, a bit too small for today's needs. Mine tends to pop open and spill its contents at my feet whenever I even think about opening the door.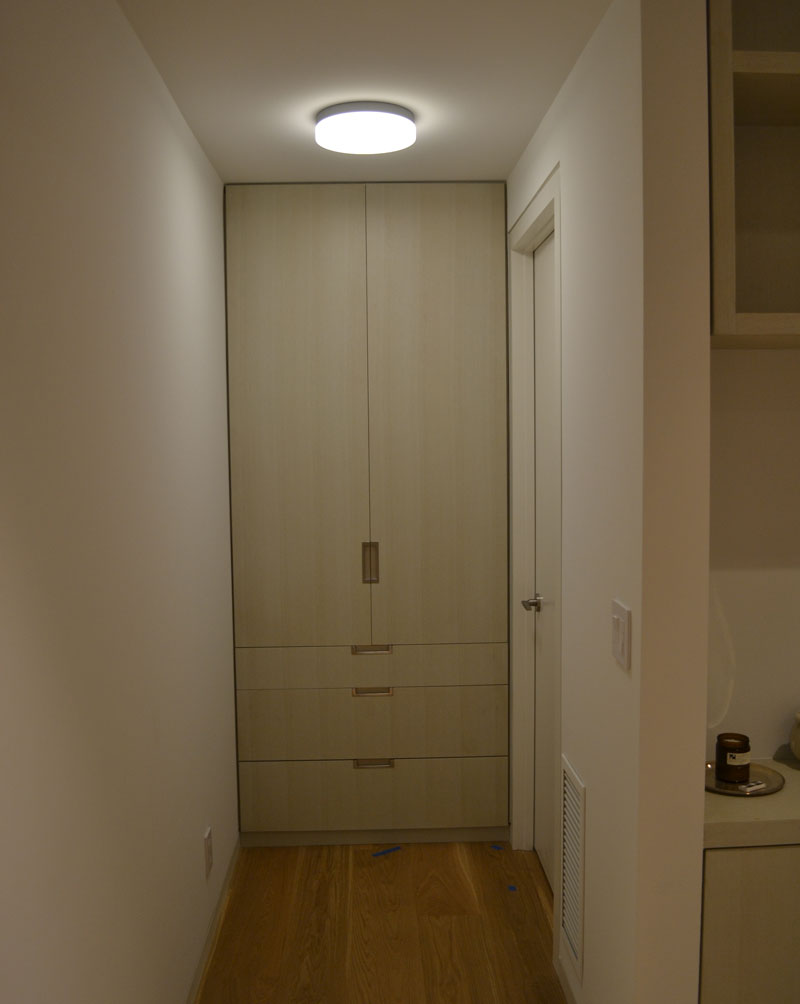 BATHROOM
The "medicine cabinet" has evolved into something a little more substantial than a 3" deep, mirrored cabinet hung above the sink. We seem to be taking more and more medications these days and oodles of supplements, therefore we need to designate a fairly substantial cabinet to organize, store and replenish all of these potions. We also need another cabinet or drawer for lotions, hair products, cleansing bars/gels, age-defying creams, and all the myriad cutaneous products we're convinced we need. Additionally, we need storage for bathroom cleansers, miscellaneous medical devices and the typical robe/towel hooks, tooth care products, hair dryers, curling irons and toilet paper. I'm sure I have forgotten some things in this list. Some of these items can be housed in drawers below the sink, some in recessed medicine cabinets, but it may be necessary to designate an actual closet or wall of drawers to meet the demand.
THE CLOAK ROOM
This place in the home doesn't necessarily serve as a living space. Its main purpose is to store outdoor attire; a place to disrobe, deposit book bags, brief cases, car keys, sort mail, recharge electronic devises and unload any other outdoor gear until we need it again. The goal is to arrange it so that we can FIND these things when we are on our way out again. Open cubby shelves and hooks reveal where things were put. Benches with storage below can house those things less used.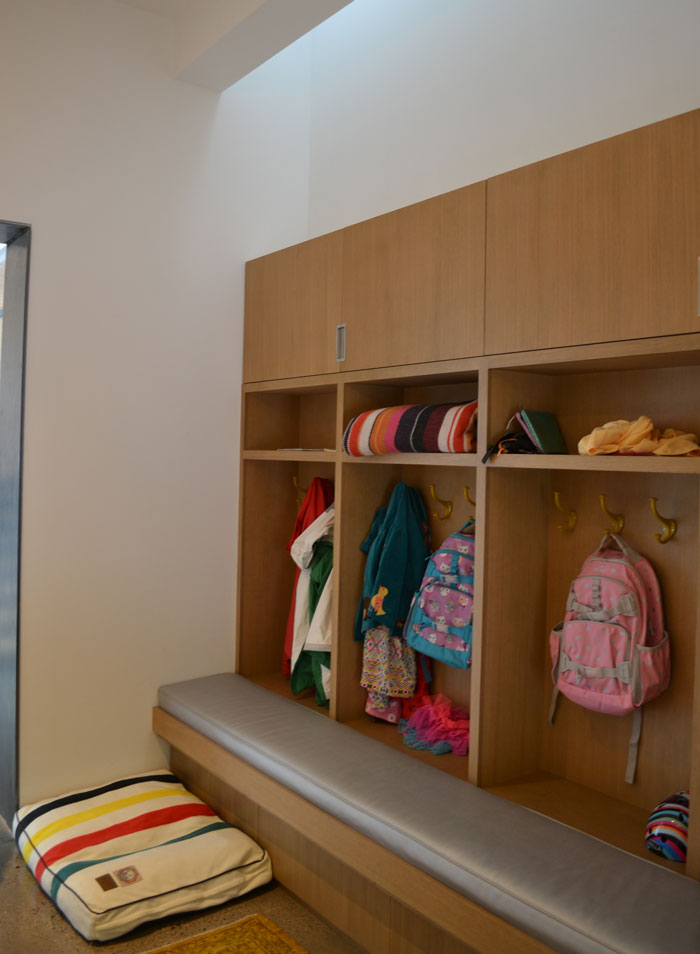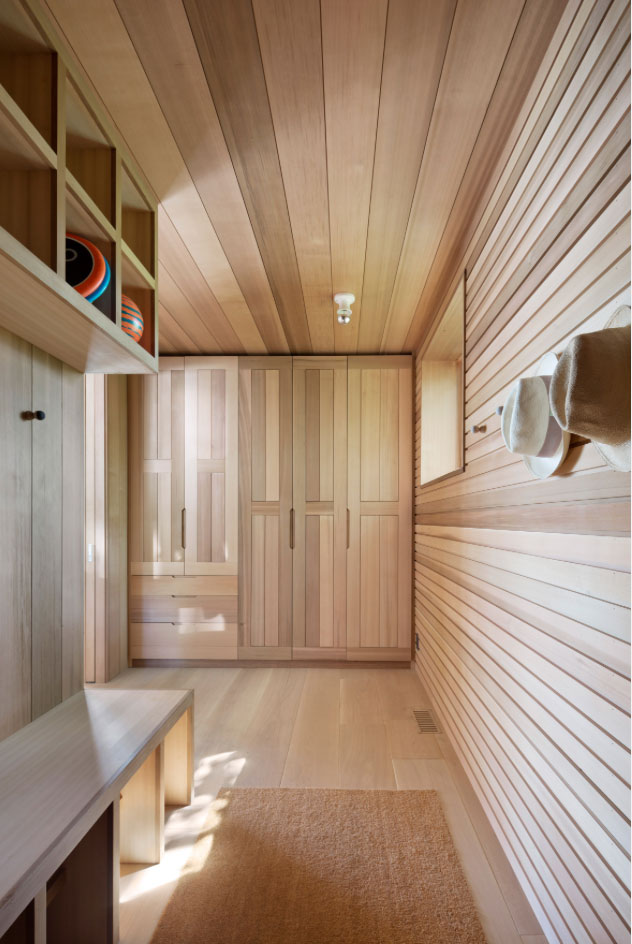 PET KENNELS
Not that we necessarily "store" our pets, but it's not a bad idea to integrate pet kennels and dog gates into the walls or cabinetry. It might also be a good idea to designate a hall or small space for pets that has a pet-height window and direct access to a pet yard.
GARAGE
The garage actually vies with the kitchen for storage duty. It typically needs to house all yard maintenance equipment and garden tools. Ladders and household tools need to be reasonably accessible. Bikes and sports equipment, yard furniture and grill, all need a winter home. And then there are all of the grown-up "toys" such as water craft, snowmobiles, motorcycles, and of course, trucks and cars! Appropriate zoning helps to keep things in memorable spots. Shelves and racks increase usable space above the floor.
ATTICS, SHEDS AND MINI-STORAGE
These are my least favorite storage solutions. Not only are they hard to access and items there often forgotten, they are an indication of having more stuff than we can handle. They tend to be repositories for the worn out, irrelevant, or foolish possessions that weigh us down. Items stored are better given away, recycled or destroyed. (I might be preaching to myself here.)