Over time our homes have changed drastically as the way we live in our homes has changed. But no room has changed more than the evolving kitchen. That evolution dictates special considerations when creating a historically appropriate kitchen today.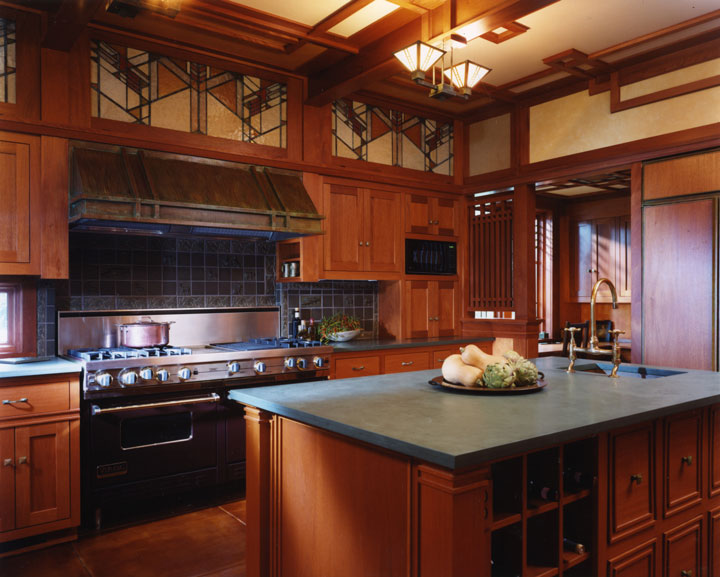 Until the beginning of the 20th century a kitchen was little more than a room containing a cooking stove, tables for food preparation, and sometimes a sink. Cabinets, called "dressers", existed but these were usually found in the pantry. The base cabinets were typically shorter and shallower than our present day cabinets with upper cabinets that blocked more of the view of the counter. It wasn't until about 1910 after pantries started to disappear, that similar cabinets started to make their way into the kitchen. At first these were also freestanding "dressers" and eventually these cabinets became large enough to cover an entire wall. In time they evolved into built-in cabinets that wrapped the room in a continuous band.
When old-house kitchens still exist, they often lack the conveniences of modern kitchens. And the kitchens that were previously "modernized" also lack the compatible historic character that old-home owners increasingly want. Creating a new kitchen that is convenient with historic character requires charting a new path. How do you create a kitchen with historic character if it's not a historic recreation? There are essentially two different paths, one reflecting the way we once lived and one reflecting the way we live now.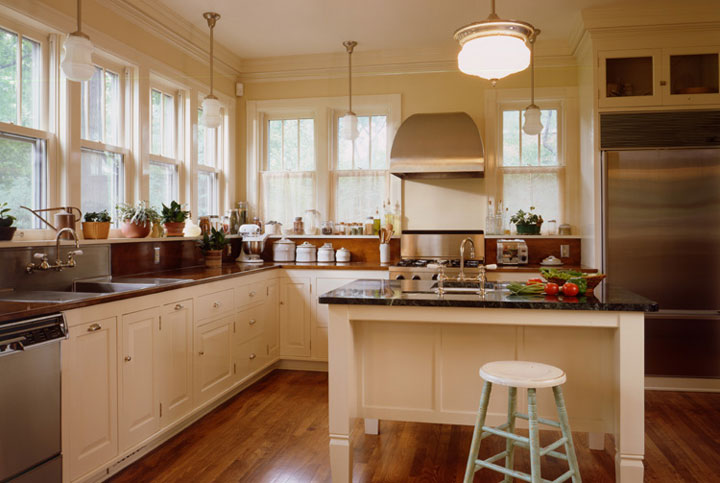 This kitchen follows a utilitarian approach by copying the painted cabinets from the original pantry.
Those kitchens of the past were primarily thought of as service spaces. For years they were the domain of domestic help for families that could afford them. Guests never entered the kitchen and families rarely used them. Their status as a utility area was reflected in their appearance. The earliest kitchens were places of functional equipment. When cabinets were eventually included they were less-expensive versions of the woodwork found in the rooms meant for visitors. Most obviously the expensive stained hardwoods were replaced with unstained birch or painted pine cabinets.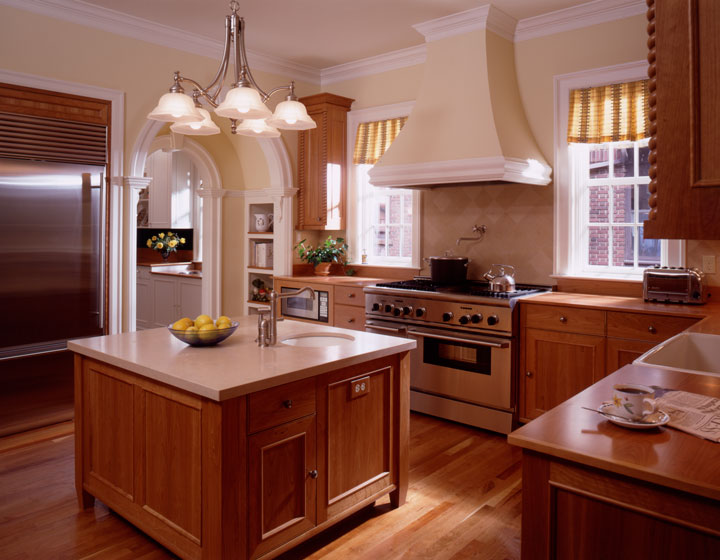 When this distinctive look is used for a modern kitchen it reflects the historic role of the kitchen. By adapting cabinet dimensions to accommodate modern conveniences, recalling historic cabinet details, grouping cabinets to suggest "dressers", and choosing major appliances with a look that is more functional than trendy, it's possible to create a kitchen that is a natural technological evolution of the historic kitchen.
But of course we have not only experienced a technological evolution but a cultural one. Far from being simply a service space, our kitchens have become the center of family life and entertaining. In many homes it is a rare party where most guest aren't congregated in the kitchen. If the inhabitants of our homes had lived like we do what would their kitchens have looked like?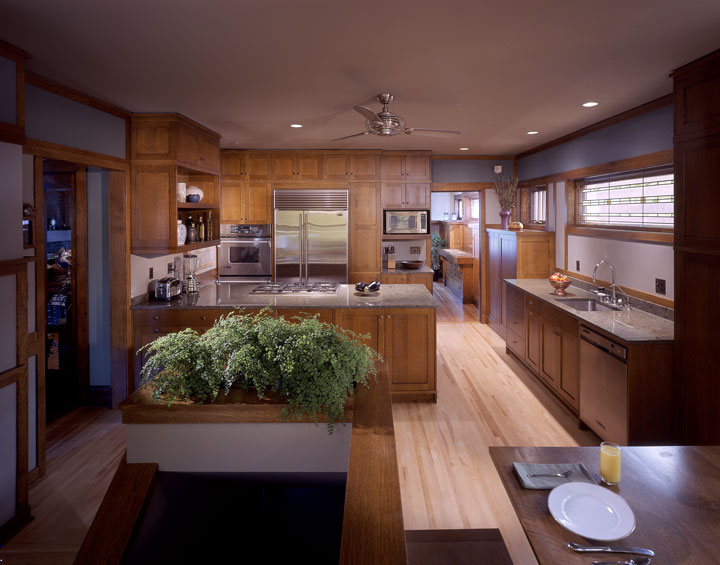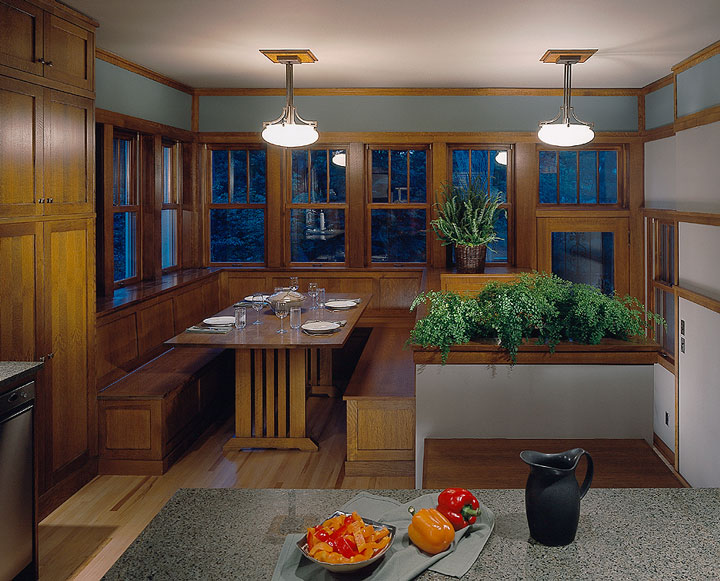 No doubt if the kitchen served a prominent place in family life this would have been reflected in its appearance. The kitchen would have been an extension of the rest of the house. Cabinet materials and finish would have matched the woodwork found in other areas meant for visitors. Cabinet details might be borrowed from woodwork and cabinets found in other rooms. There would be space around the kitchen for family and friends to gather. And technological conveniences would have continued to be integrated as they became prevalent in society.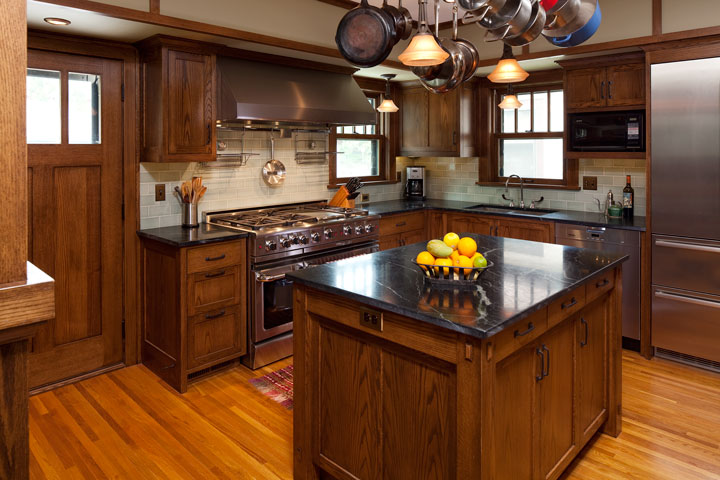 This south kitchen replicates cabinet details and stained finish found in the dining room.
This vision represents an alternate path, and appearance, for a modern kitchen with historic character. It's a path that also solves a problem typical of the first path when the kitchen opens up to other areas of the house. When this happens and the kitchen cabinet finishes are different, it can be difficult to make a transition between finishes. When the finishes are the same, no transition is necessary.
Either path can result in a kitchen featuring modern conveniences and historic character. What's most important for the ultimate success of the kitchen is consistency with whatever the chosen path.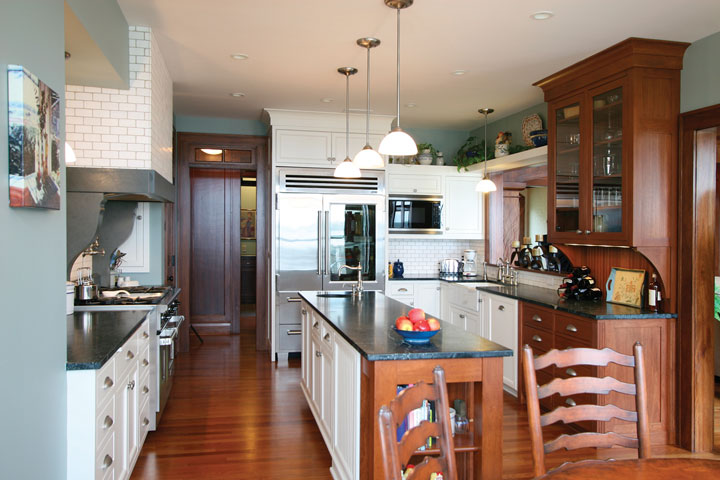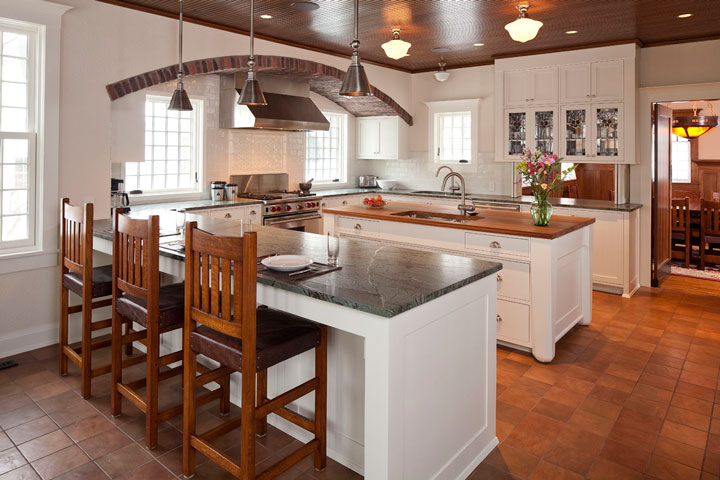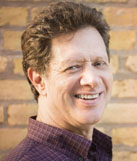 Joseph Metzler has a wealth of experience on remodels and restorations along with holding seats on local historic preservation boards. You can browse more of Joe's projects on his profile page. You can see more of his commentary where this post originally appeared in ConvenientOldHouse.com.