There's a special kind of magic that happens inside a cabin. It feels like a memory box, filled with years of holiday festivities, traditions, and old and new friends. In the 70's, my dad, his brothers, and his father built a cabin in New York that eventually became one of the reasons I wanted to become an architect. The home feels like a part of our family, and I look forward to seeing it just as I look forward to seeing the 30+ family members that join us there. When I went into architecture school, it was because I wanted to create spaces like our cabin for other people. I felt that everyone deserved to have a place that they loved to call home, as I did growing up both with the cabin and my parent's home. How serendipitous that I now get to work at SALA, a firm that is quite familiar with the magic inside a cabin.
I was cleaning through my computer recently and came across this essay that I wrote about my favorite tradition at our house in rural New York and I am sharing it now because I think it does a good job of capturing what it is like to be fortunate to have a family cabin, a home away from home.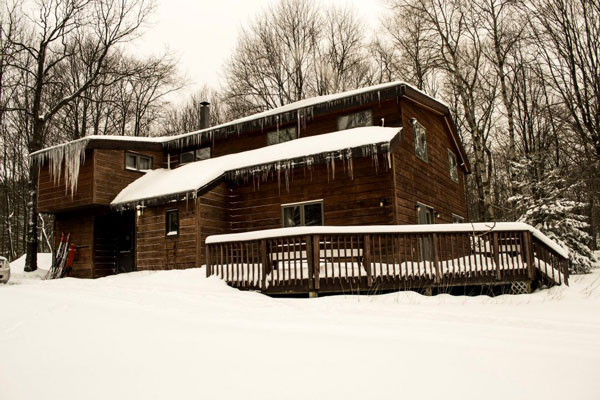 Outside of the vast, dark brown cabin are gutters lined with glistening icicles looking for any excuse to come crashing down. The perfect embodiment of its name, the Hodgepodge Lodge has taken many forms, with three additions and roofs slanting in every which way. Inside is a wide assortment of furniture, and people for that matter, who are conversing and howling at the top of their lungs. It is the dead of night, but the cabin has never looked so alive. While the first generation plays cards, the second generation, clothed in layers upon layers of mismatched long- johns and grandma's old snow gear, is preparing to visit the beloved golf course just beyond the woods.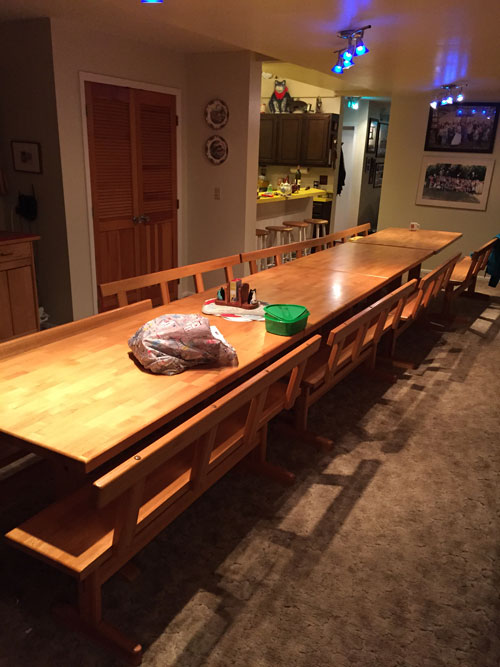 Those who are already sweating make their way outdoors to see which of the sleds remain. The lock to the shed is frozen over so they spit on it and pour beer on it until it melts. Inside, they find the infamous toboggan, along with a red saucer, two GT racers, and two cracked plastic torpedo sleds. Perfect. When the rest of the pack makes their way outside, coats stuffed with mittens, food, and drink, they begin the trek through the woods, each one of them carrying a sled. Somehow the youngest ends up with the toboggan again. She likes to complain about it but secretly, she is humbled to have been given the honor. The snow is the highest it has been in years, and soon silence falls all around, except for the sound of heavy breathing, the occasional chuckle, and the dog growling and leaping over heaps of snow. The air is cool and refreshing, making each of them feel fully awake. They follow the creek in and out of the trees and up the steep hill. Just as their calves start to burn, the woods clears and they arrive. The golf course stretches on and on towards the ski slopes. At the top of the hill is the landmark water tower, and at the bottom the pack can see the lights of the ski village, where each of them has learned to ski. In the distance, the moon shines brightly, and each star in the sky is crisp and scintillating, like one million flashlights shining upon them. No one knows what time it is. Very few even know what day it is. And not one of them cares. Nothing about this place had changed in the past twelve years. Of course each person has grown and matured, but it did not feel that way now.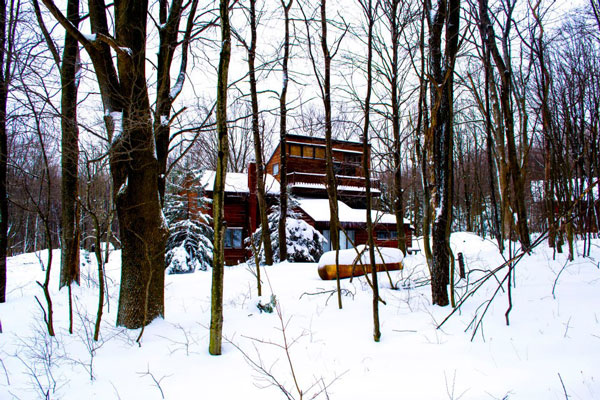 The snow on the left side of the hill has been packed down from the previous day's cross-country skiers. After brief consultation it is decided that this is where the night's sledding will take place. And they sled all night. They make a train. They hold races. They ride solo. They stand up on the sleds. They lay down on the sleds. They go down backwards. They fall off. They go fast. They go slow. They bring the dog. They make ramps. They make more trains. They try the right side of the hill. They fail. They succeed. They laugh. No matter what happens, they laugh. No matter if snow is thrown at their faces, or if their bodies are being crushed by others, or if the sled goes nowhere, or if they loose a mitten, or if they are so cold that they can no longer feel their feet. They always laugh.
The group of cousins eventually settles down. They each lay, gazing at the stars, thinking. The youngest thinks about the people around her. About where they are from, how they have changed, how much she loves them. She thinks about how different her life is, here in Findley Lake, New York. About how she has somehow escaped her life back home. No one here cares if she was not swimming fast, or if she had been asked to the winter dance, or if she had failed a vocabulary test, or if she had arrived home late last Friday night. And she liked it this way.
One by one, each cousin stands up, stretching, and begins the hike back home. Their cabin, built by their dads and grandfather, is waiting for them, with open arms, seven bunk beds, and a hot fire for them to warm their hands and dry their clothes.