In the past couple of years I've observed a shift in the aesthetic directives some of my clients impart, as we are about to commence the design of their cabin. Absent are the usual words of quaint, nostalgic, rustic, and log.  Refreshing, clean lines now replace those words, along with light filled, and open spaces. They still seek a place of relaxation and contemplation but they may ask to achieve that under a flat roof. Modern conveniences of bathroom, full kitchen, gas fired furnace with air conditioning and bedroom doors replacing curtains have all been employed in cabins now for fifty years, but they were disguised in a rustic structure, clad inside and out with wood. Today exterior wood has been replaced by metal, synthetic material such as cement board, or exposed concrete. Inside, painted sheet rock, tiled walls and concrete floors give sway.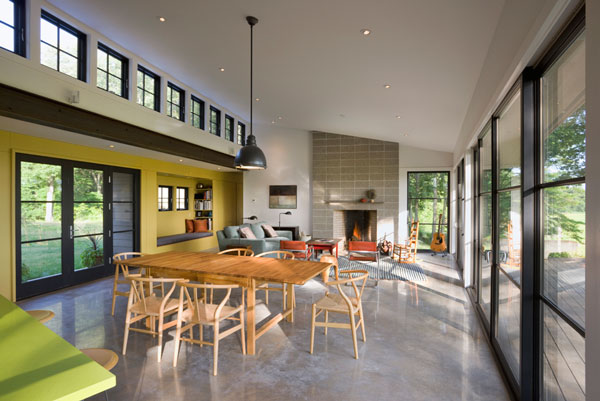 Some have referred to this trend as the Dwell/Ikea/Houzz movement, consumers having been influenced by products and social media. I've noticed that TV ads for cars, household goods and food products are much more likely to feature them inside or out of an ultra modern dwelling. Antiques stores are on the wane unless they feature mid-century modern furnishings. Books on modern cabins arrived before the recession such as CABINS IN THE NEW STYLE, 2006 and MODERN CABIN, 2007.  More recently they have been joined by the 460 page tomb, CABINS,HUTTENS & CABANES, 2014 and others which usually attest to the international influences on modern cabin design. In my own books, THE CABIN, BACK TO THE CABIN and THE FAMILY CABIN I've featured several modern cabins from across North America including Ralph Rapson's radical glass cube from 1972. Where-as a decade ago my clients regularly flagged the nostalgic cabin references with-in my books, now the Post-its are highlighting many modern examples. Having, myself, been schooled at the University of Minnesota under the tutelage of modernist architect Ralph Rapson, I'm delighted with the change. I had for several years been offering my clients both vernacular and modernist alternatives for their cabin and rarely was the modern selected.  Now I can just focus on variations of modern.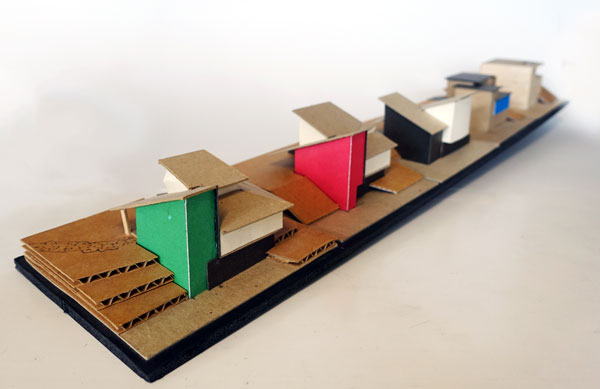 When I think of rationale for a modern design direction the following comes to mind:
1. The early birds got the good sites, easy to build on. The sites our clients bring to us are often challenging, with poor soils, steep slopes and limited views. A modern solution has the flexibility to address the idiosyncratic conditions of the site.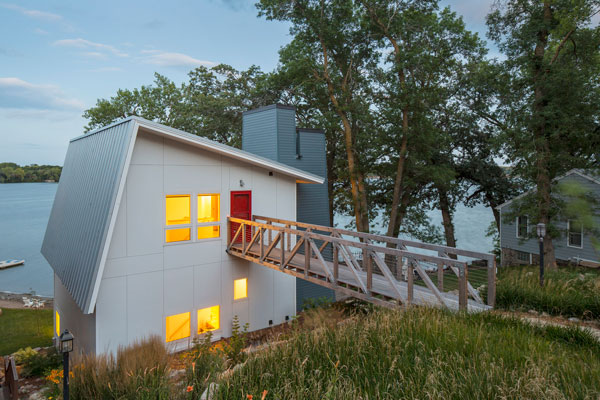 2. Modern floor plans are open, free to follow the best spatial flow, maximizing views both internally and externally. The plan is not controlled by a simple roof concept but rather the roof is an expression of a dynamic plan.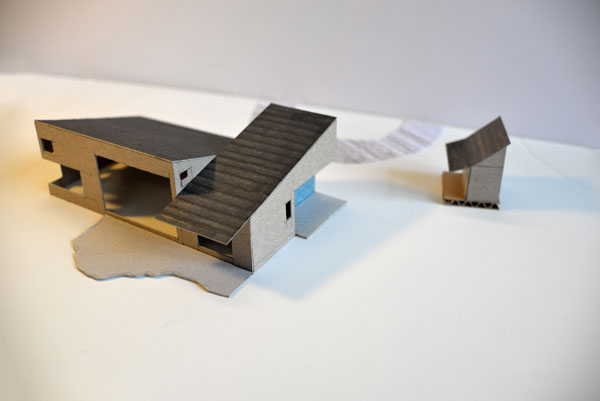 3. Modern designs employ large expanses of glass, bringing nature in and the viewer out. Glass companies have responded with better energy performance for glass along with modern styles and colors.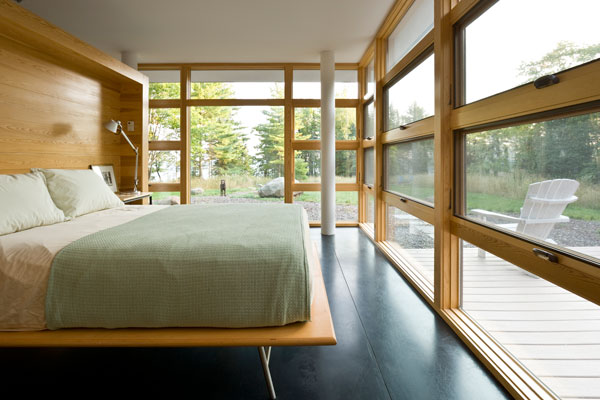 4. Cabin clients today are concerned with sustainability in their legacy investments and they seek to employ local materials and contractors. New exterior materials reduce the maintenance cost of a cabin.
5. Metals were rarely seen in rustic cabins, except for wrought iron hardware. In modern cabins metals may sheath the cabin in galvanized or rusted steel, both on walls and roof. On the inside metals may surface a prefab fireplace, provide open cabinets in the kitchen, and exposed structural beams.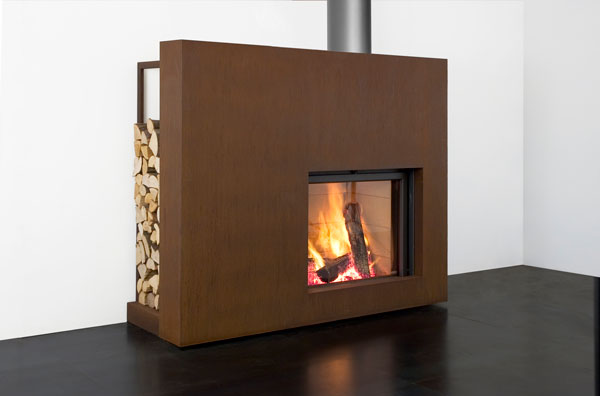 6. Modern cabins are often monochromatic in black, grey or white. Preserving a wood exterior by char-burning the wood (Shan Sugi Ban) is a popular contemporary look. When adding accent colors, vibrancy is preferred, such as a lime green entry door or raspberry red furniture.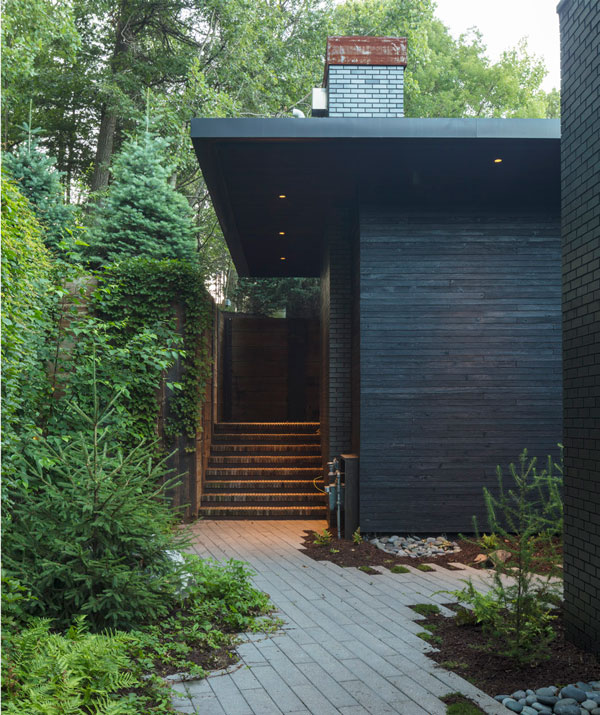 7. Interior decoration is less likely to be elk heads or mounted walleye and furniture is no longer "early attic" or "old schoolhouse". Minimalism prevails with Ikea furniture and Marimekko print fabrics. A compromising style backing away from starkly contemporary is Rustic Modern. It's origins and breadth of examples can be found in the Rocky Mountain states, particularly in ski country. It draws reference from vernacular mining structures, but the interior space is refreshingly modern. Repurposing old artifacts into useful objects is common to this style.
8. Rustic Modern is characterized by modern plans and forms sheathed in recycled rustic materials, particularly weathered wood siding and rusted steel roofs.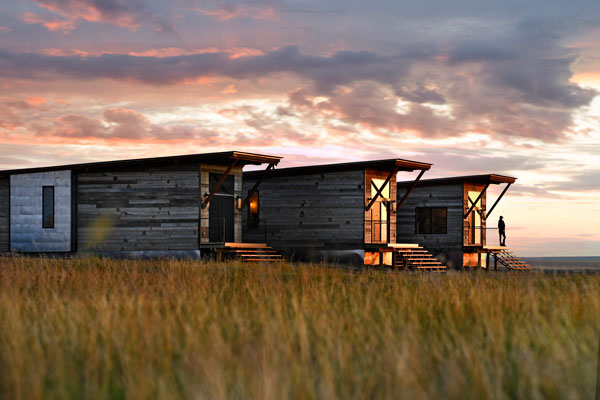 9. A common rustic artifact employed in modern interiors is the sliding barn door, featuring weathered barn wood.
10. A large farm sink helpful a century ago in canning pickles has found its return to modern cabin kitchens, along with the galvanized stock tank now employed as a bath tub.