It's time to begin planning your route for the 2017 Homes By Architects Tour September 16th and 17th! SALA Architects is pleased to be showcasing three homes this year by Katherine Hillbrand, Eric Odor and Marc Sloot!
Home #17: 15290 113th Street North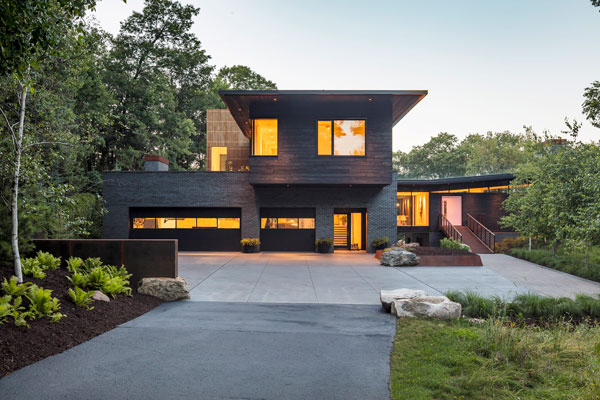 DESIGN TEAM: Katherine Hillbrand, AIA; Chris Meyer, AIA; Katie Leaf, Assoc. AIA; Max Mahaffey
PROJECT TYPE: New Construction
Designed for clients with a highly-developed sense of design, this sculptural home set deep into the hillside of Stillwater features charred wood siding (shou sugi ban), cantilevered roof overhangs, and a glass bridge that visually separates the public and private spaces of the house. The design team worked closely with the family to create a home with a strong, modern architectural statement yet filled with a variety of warm, light-filled living spaces large and small to accommodate the needs and lifestyle of a young and growing family.
The contrasting black exterior and white interiors with splashes of colorful wallpaper creates a lively balance. Energy-efficient design features and technology, such as solar photovoltaic panels, a green roof, and geothermal energy systems, allows the homeowners to eventually become energy independent.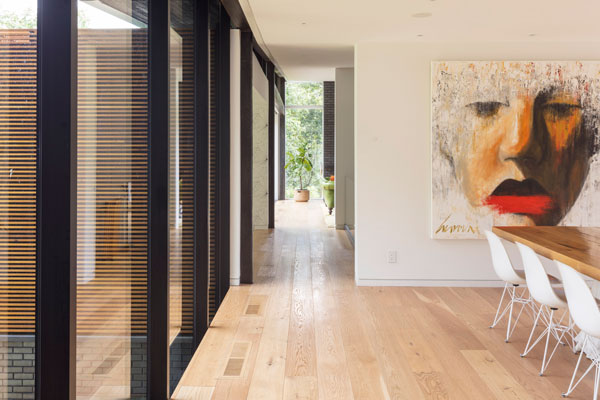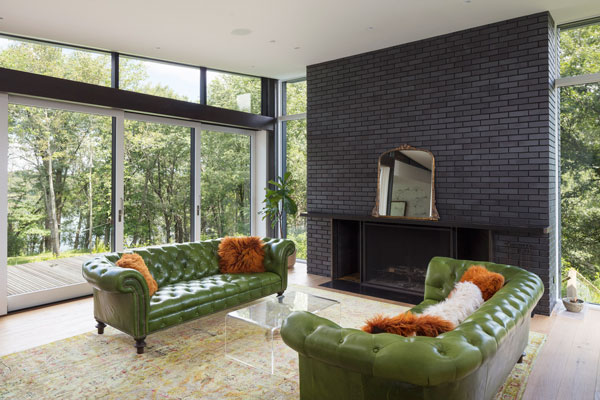 Interested readers can find additional information on the design process of this fantastic project in Katherine's blog article Mock It Up: Building Ideas Before Use On Projects! For more photos on this project, see the Shadow Box project page!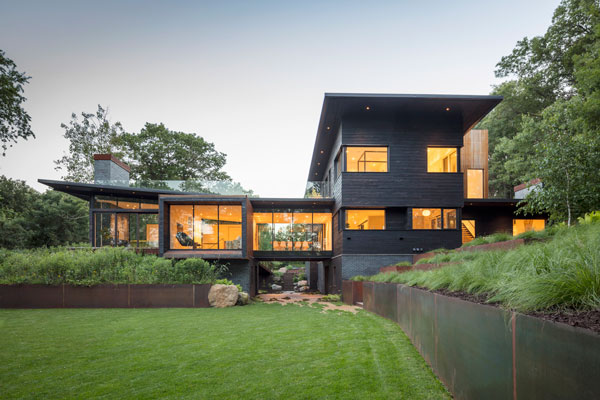 Home #6: 4824 West 41st Street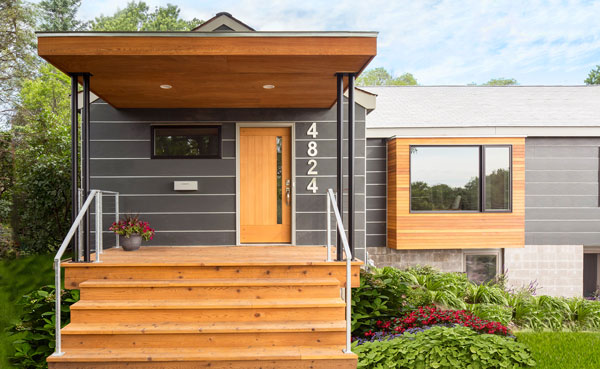 DESIGN TEAM: Eric Odor, AIA; Brittney Roberts; Paul Buum, AIA
PROJECT TYPE: Remodel
This is a remodel that shows how a small house can live big on every level. The existing house had plenty of square feet, it was just a disorganized jumble of smaller rooms. Working almost entirely within the existing envelope, the architect was able to open up and reorganize the space to create the homeowners' dream of large living in a smaller home. The main living level of kitchen/living/dining is flanked by a mudroom, laundry, bath and office wing as well as the couple's suite. All of this was raised eight inches to get eight-foot ceilings for the children's suite on the lower level. And finally, two wood bay windows, fore and aft, punch through the existing envelope to extend the main living space into the yards.
Thanks to the innovative solutions created by the architect, the former jumble of small rooms has been replaced by an elegantly crafted cabinet of large spaces and adjacent compartments.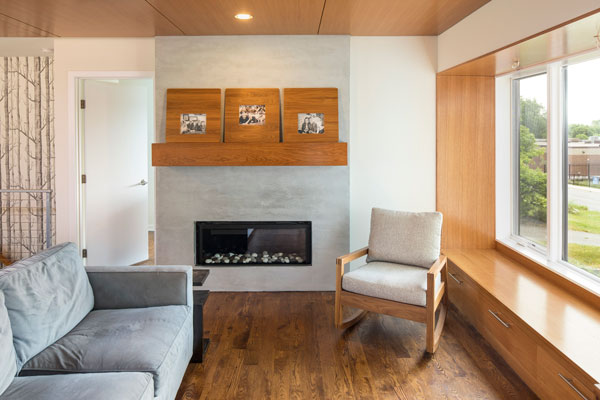 Home #12: 2021 Harriet Avenue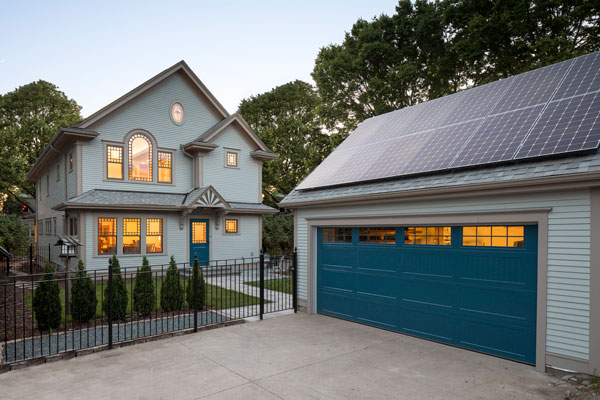 DESIGN TEAM: Marc Sloot, AIA; Katie Leaf, Assoc. AIA
PROJECT TYPE: Remodel
The goals in remodeling this 1907 Victorian were twofold: (1) preserve and enhance the traditional character of the home, and (2) seamlessly reach net zero energy living at the same time.
To achieve this, the architect applied his knowledge and expertise of net zero construction and design insights to revise the layout of the home to support modern living, while adding numerous energy efficiency and healthy home features. He created a whole which is truly greater than the sum of the parts, choreographing design strategies to complement each other like instruments in a symphony. And, many simultaneously helping to achieve both project goals, without you even knowing it.
The philosophy of 'conservation first' is carefully implemented through many innovative features including continuous air sealing and thick exterior insulation from footing to ridge, triple-paned windows, a high-efficiency ground source heat pump heating and cooling system, condensing clothes dryer and water heater which also use heat pump technology and LED lighting throughout. For the energy production that is needed, there is a 54-panel photovoltaic solar array on the house and garage.
Not only does this home delight the occupants, it is inspiring as proof that a charming 110 year-old home can be redesigned with respect to its history and be cutting edge with its energy conservation and technology.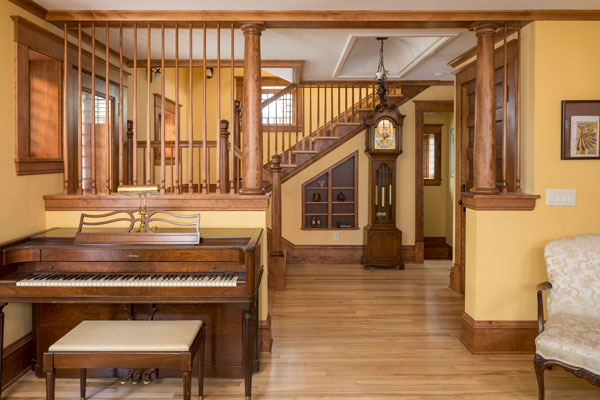 If you would like to know more on the insulation application on this Net Zero home, read Katie Leaf's blog article Putting the 'Zero' into Net-Zero! For more photos on this project, see the Minneapolis Net Zero Victorian project page! Here is Marc Sloot and Stewart Herman interviewed about the project by M.A. Rosko of Fox 9 News for the tour.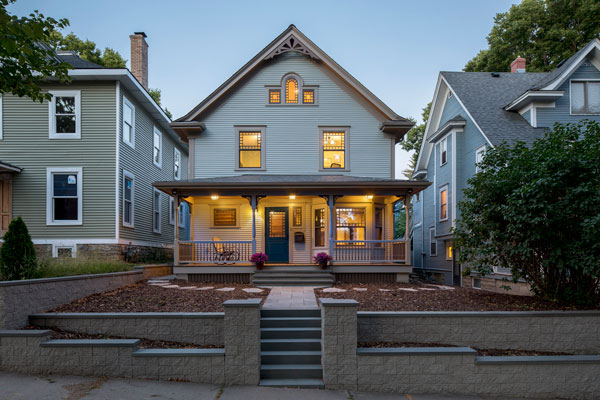 For tickets, maps, and other tour information please visit AIA Minnesota's Homes By Architects Tour page. We look forward to seeing you all on the tour!!